NFL Franchise Tag Tracker 2022: What It Is and Who Has Been Tagged
NFL free agency is days away and the activity should be at an all-time high. Until then, teams are determining whether or not to use the franchise tag for some of their key players. Some of the bigger tag candidates include Davante Adams, Chris Godwin, and Mike Williams.
First comes the NFL's franchise tag deadline, and then comes the time for free agency and the flurry of moves across the league. Free agency officially beings on March 16, although March 14 is the start of the legal tampering period.
Some teams don't have many options on players to tag, including the Atlanta Falcons, Denver Broncos, and Baltimore Ravens (although they might have to tag Lamar Jackson next year). Other teams have already decided not to use it, including the New Orleans Saints and the Arizona Cardinals.
What is the franchise tag?
The franchise tag has become more common as of late. Using the tag gives teams more financial flexibility and buys them time to work out a long-term deal with said player.
This year's list again includes some high-profile names, many of whom are expected to receive the tag and play at least one more season for their respective teams.
On the one hand, it's more of a benefit for the team. They get to buy time before handing out a long-term deal. For the players, they usually aren't as fond of the tag. The players have one more year to hit free agency and be paid big bucks.
But, players such as Godwin and Adams are expected to benefit from the tag usage, especially with their teams itching for a long-term deal. In that case, the team has the luxury of negotiating with that player instead of letting them test free agency.
It has its benefit, but there are some reasons why players usually aren't too thrilled about being hit with the tag (Adams was one player who didn't seem happy about the possibility).
With that being said, here is the tracker ahead of free agency.
Cleveland Browns
Tagged player: David Njoku, TE, $11 million
This is a surprise. Sure, reports surfaced that the Browns were working on brining Njoku back. But, this still doesn't make a ton of sense. Njoku has been a mixed bag since entering the NFL, and the Browns committing to him for one more year is a big question mark and one that osn't entirely a neccessity for them.
Kansas City Chiefs
Tagged player: Orlando Brown Jr., OL, $11.45 million
Keeping Brown on the OL helps protect the Chiefs most valuable asset: Super Bowl MVP-winning quarterback Patrick Mahomes.
Cincinnati Bengals
Tagged Player: Jessie Bates, Safety
The Bengals went back and forth with Bates all season long and couldn't come to an agreement. But, they tag him and will surely work on a long-term deal.
Los Angeles Chargers
Tag candidate: Mike Williams, WR
The Los Angeles Chargers decided not to tag Mike Williams. Instead, they signed him to a rich three-year deal woth $60 million, $40 million of which is guaranteed. The Chargers duo of Keenan Allen and Mike Williams is in LA for the foreseeable future.
Green Bay Packers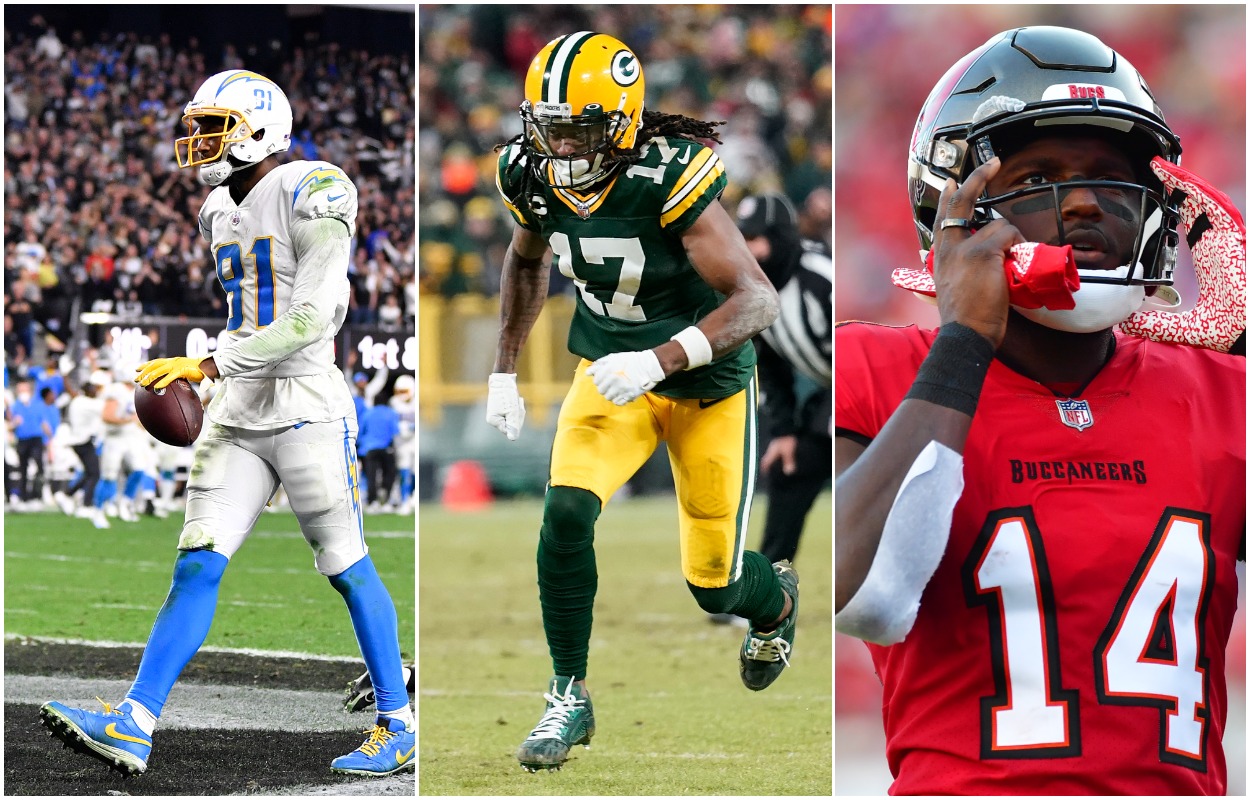 Tagged player: Davante Adams, WR
The Green Bay Packers needed to keep Adams, especially if Aaron Rodgers returned to Green Bay. Well, the NFL MVP announced his decision to return and got a massie $200 million deal — which allowed the Packers to use the tag on Adams. At least one more year for the talented QB-WR duo.
New England Patriots
Tag candidate: JC Jackson, CB
The New England Patriots decided not to use the tag on JC Jackson, who made the Pro Bowl. Now he hits the open market and will likely earn a massive contract, meaning a return to New England is unlikely.
Tennessee Titans
Tag candidate: Harold Landry, LB
The Tennessee Titans have a tough decision. They would love Landry back, but they also have other issues to fix on this team. They decided not to bring Landry back, and he should be one of the most sought-after at his position once free agency begins.
Dallas Cowboys
Tagged player: Dalton Schultz, TE
The Dallas Cowboys are reportedly floating Amari Cooper in the trade market. With that uncertainty, the Cowboys didn't take any chances and used the tag on Schultz. A long-term deal is in the works for Dallas and the talented tight end.
Miami Dolphins
Tagged player: Mike Gesicki, TE
The Miami Dolphins need playmakers, and Gesicki is just that. New head coach Mike McDaniel should be thrilled to have Gesicki back next year, and Tua Tagovailoa now gets his No. 2 pass-catcher back.
Tampa Bay Buccaneers
Tag candidate: Chris Godwin, WR
To no surprise, the Tampa Bay Buccaneers want Godwin to return. He is expected to sign the tag, and after a tough injury, this makes sense for him to recover and prove it one more year before hitting NFL free agency in 2023.
Ian Rapoport of NFL Network reported that the two sides on working on a long-term deal, and if they can't reach one, Godwin will be tagged as a placeholder. Either way, Godwin is returning to Tampa Bay in 2022.
New Orleans Saints
Tag candidate: The New Orleans Saints decided not to use the franchise tag on Marcus Williams. Instead, they are trying to ink him long-term.
Jacksonville Jaguars
Tagged player: Cam Robinson, OT
The Jascksonville Jaguars decided to use the tag on Cam Robinson, who now has received it for the second consecutive season.
NOTE: This will be updated.
Stats Courtesy of Pro Football Reference
RELATED: What is the NFL Franchise Tag and How Does it Work?