NFL: Franchise Tag Values and Predictions on Who Will Be Tagged
The first phase of NFL free agency kicks off in less than a week; when teams start using their franchise tags on impending free agents who they want to keep off the open market. Over the last few years, the franchise tag has developed into a tool that teams use to give themselves more time to negotiate long-term contract extensions with their most valuable free agents. This offseason, we expect several of the best available free agents around the league to be slapped with their team's franchise tag before they can test their value in free agency.
This begs the question, "What will it cost teams to use the franchise tag on each position?" Albert Breer of NFL.com recently released his projections of the franchise tag numbers for each position (based off of an expected $153 million salary cap for 2016). Here is a position-by-position look at what it will cost to use a franchise tag in 2016.
*Note: If the 2016 salary cap increases or decreases, franchise tag values will change accordingly (Higher cap = higher tag values, lower cap = lower tag values).
Quarterbacks: $19.6 million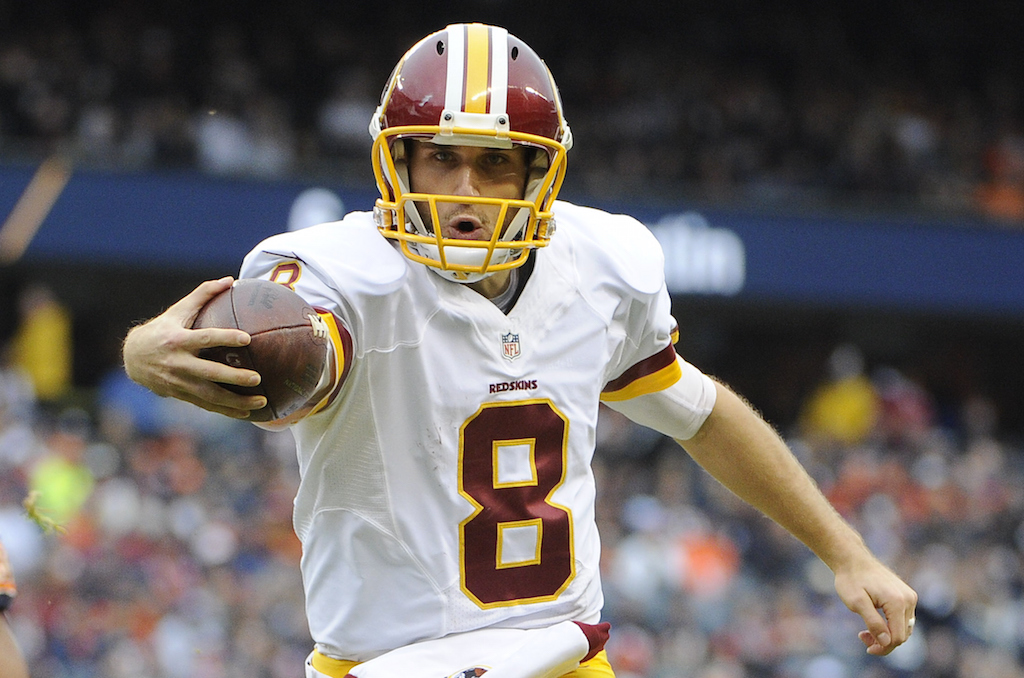 Top candidates:
Kirk Cousins, Washington Redskins
Brock Osweiler, Denver Broncos
The reality of the situation here is that using the franchise tag on a quarterback is nothing more than a maneuver to buy more time to work out a long-term deal. The only quarterbacks who are legitimate candidates for the tag this year are Cousins and Osweiler, who happen to be the top two potential free-agent signal callers on the market. Cousins will almost surely receive the distinction if he does not agree to a long-term deal with the Redskins by the March 1 franchise tag deadline. Osweiler, on the other hand, will only be slapped with the franchise tag if the Broncos somehow lock up outside linebacker Von Miller, the Super Bowl 50 MVP, by March 1.
Running backs: $11.5 million
Top candidates:
Lamar Miller, Miami Dolphins
Doug Martin, Tampa Bay Buccaneers
Chris Ivory, New York Jets
In today's NFL, $11.5 million for one season is a steep price to pay for a running back. For that reason, we ultimately do not believe that there will be a player at this position who receives the franchise tag in 2016. The Dolphins are tight on salary cap space, which substantially decreases the chances that they use their tag on Miller, and Ivory simply isn't an $11.5 million per year back. Martin could make sense here, but we just don't see it happening. If the Buccaneers want to keep him in the mix, we believe that they will work toward reaching a long-term contract extension rather than using the one-year tag on the 27-year-old back.
Wide receivers: $14.4 million
Top candidates:
Alshon Jeffery, Chicago Bears
Travis Benjamin, Cleveland Browns
$14.4 million is a steep price to pay a wide receiver for one season. That said, all signs are pointing toward the Bears using their franchise tag on Jeffery — despite his injury issues. As for Benjamin, we really like him as a complementary wide receiver, but he is just not worthy of a $14.4 million price tag.
Tight ends: $9 million
Top candidates:
There are no viable candidates to receive the franchise tag at the tight end position in 2016.
Offensive linemen: $13.5 million
Top candidates:
Donald Penn, Oakland Raiders
Russell Okung, Seattle Seahawks
Cordy Glenn, Buffalo Bills
NFL General Managers are more than willing to pay big money for a player who excels at protecting the blindside of their franchise quarterback. We are fairly confident that both Penn and Glenn will end up being tagged, but less confident about Okung given the Seahawks' tight salary cap situation.
Linebackers: $14 million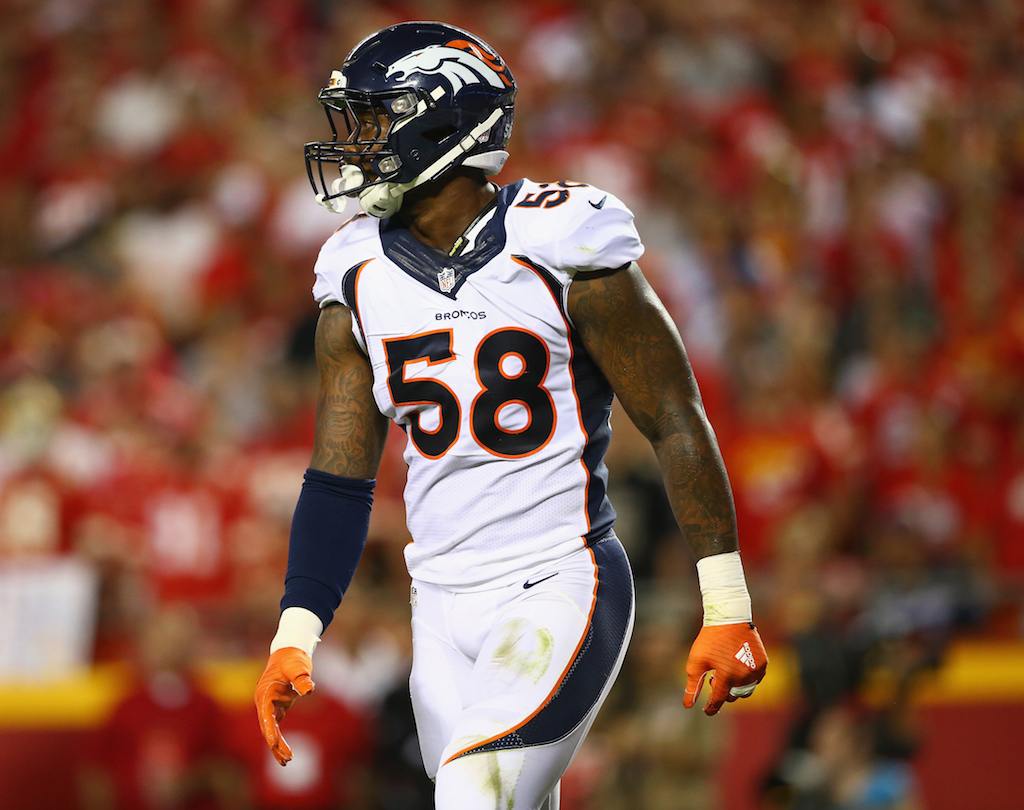 Top candidates:
Von Miller, Denver Broncos
Bruce Irvin, Seattle Seahawks
Barring any shocking developments, Miller will be slapped with the Broncos' franchise tag. That is at least until the two sides reach an agreement on a long-term extension — one which will likely make the 26-year-old outside linebacker the highest-paid defensive player in NFL history. Irvin is the only other linebacker around the league who makes a little sense, but he is still an extreme longshot here.
Safeties: $10.6 million
Top candidates:
Eric Berry, Kansas City Chiefs
The only safety in the league worthy of receiving his team's franchise tag is Berry. And we fully expect the 27-year-old All-Pro to be slapped with the tag if he does not sign a long-term extension before March 1.
Cornerbacks: $13.7 million
Top candidates:
Josh Norman, Carolina Panthers
Sean Smith, Kansas City Chiefs
We expect the Panthers to use their franchise tag on Norman, and then sign him to a lucrative contract extension before the training camp opens in July. Smith's status as a potential franchise tag player depends on two factors: whether or not the team uses their tag on Berry, or whether or not Smith lands a contract extension before the franchise tag deadline.
Defensive ends: $15.4 million
Top candidates:
Olivier Vernon, Miami Dolphins
Muhammad Wilkerson, New York Jets
If the Dolphins can find a way to free up the salary cap space, we are confident that they will use their franchise tag on Vernon. If not, we expect the fast-rising defensive end to sign with another team when free agency opens. Likewise, if the Jets can rework a couple of contracts, we fully expect them to use their franchise tag to lock up Wilkerson for at least one more season. And to be honest, it would be foolish of the Jets to let a player of Wilkerson's caliber test free agency.
Defensive tackles: $13.4 million
Top candidates:
Damon Harrison, New York Jets
Ian Williams, San Francisco 49ers
Stranger things have happened, but neither Harrison nor Williams are players who we feel are worthy of $13.4 million for one season. And we are pretty sure their teams agree with us.
Kickers/punters: $4.5 million
Top candidates:
Justin Tucker (kicker), Baltimore Ravens
Marquette King (punter), Oakland Raiders
Mason Crosby (kicker), Green Bay Packers
Bryan Anger (punter), Jacksonville Jaguars
$4.5 million guaranteed for one season is a steep price to pay for a kicking specialist. Nonetheless, we are confident that Tucker, Crosby, and Anger will all be tagged until they are able to reach long-term extensions with their respective teams. The only way we see King receiving the tag is if the team decides to let offensive tackle Donald Penn test free agency.
Statistics courtesy Pro-Football-Reference.com. Contract data courtesy of Spotrac.com. Franchise Tag values courtesy of NFL.com.