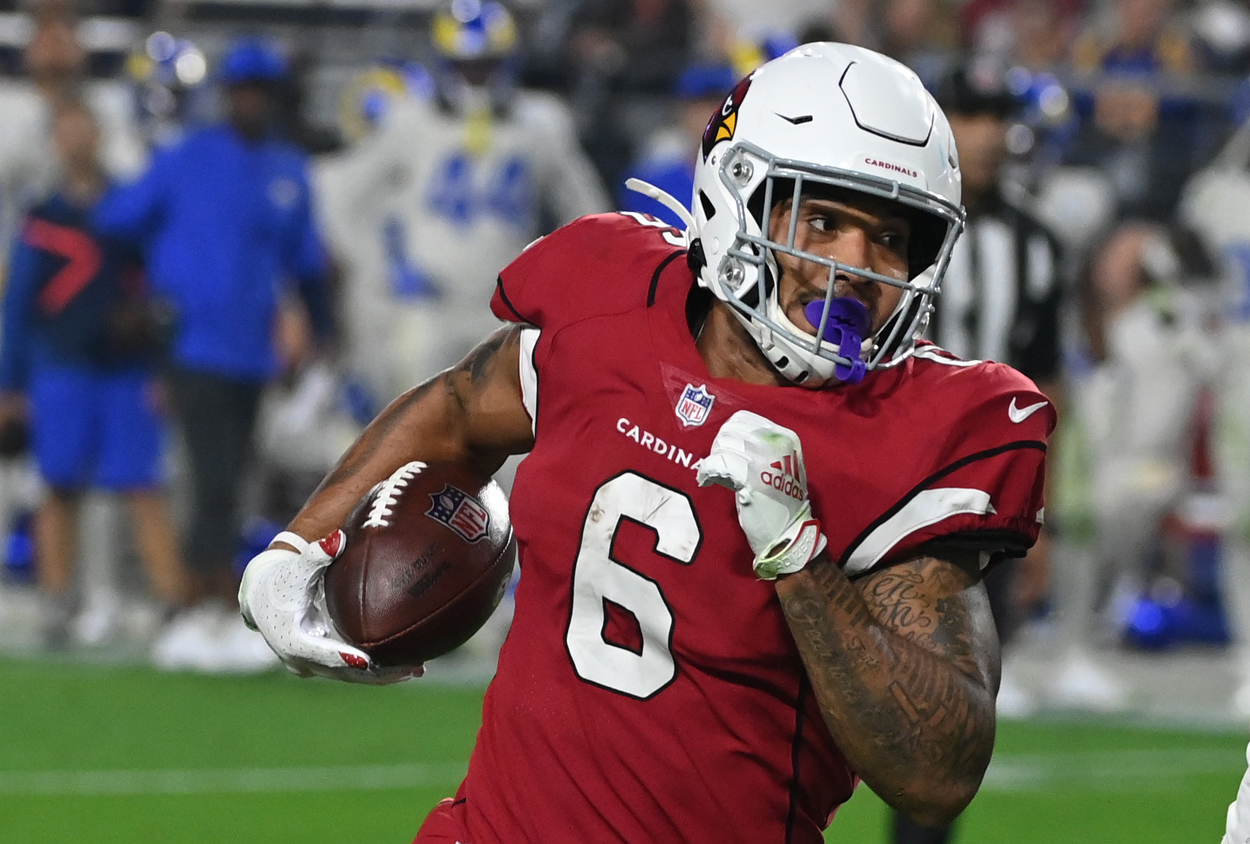 NFL Free Agency: 5 Best Destinations for Pro Bowl RB James Conner
After a Pro Bowl season in 2021, Arizona Cardinals running back James Conner should attract plenty of suitors in free agency. Where should he sign?
When the Arizona Cardinals signed former Pro Bowl running back James Conner to a one-year, $1.75 million deal during the 2021 NFL offseason, there was no guarantee the ex-Pittsburgh Steelers standout would even earn significant carries when the season began.
Little did we know Conner, a third-round selection in 2017, would become an invaluable member of a team that reached the postseason for the first time since 2015. Although the Pittsburgh Panthers product only averaged 3.7 yards per carry, he scored 18 all-purpose touchdowns (15 rushing, three receiving) and earned Pro Bowl honors for the second time in four years.
One year after seemingly no one wanted Conner, he could become a trendy name on the free-agent market. Now feels like the best time to rank the teams that could pursue his services.
For this list, we ranked the best potential teams based on everything from the current roster and cap space to whatever else might attract the player in question. In Conner's case, the possible appealing factors include money, a Super Bowl contender, and a team where he'd either be the full-fledged starter or be the 1A or 1B in a multi-back system.
Based on consideration of the aforementioned prerequisites, the best teams for Conner rank as follows.
5. Houston Texans
If Conner chases the money, he could do far worse than signing with the Texans. Spotrac projected the six-time AFC South champions would enter free agency with $19.8 million in cap space, which could bode well for a running back who will play the entire 2022 season at 27 years old.
Running backs have historically fared extremely well under new Texans head coach Lovie Smith's watch. Chicago Bears fans will happily remember how electric Matt Forte, a second-round pick in 2008, was in his five years with the veteran defensive mind. Doug Martin earned first-team All-Pro honors when he rushed for 1,402 yards and six touchdowns for Smith's Tampa Bay Buccaneers in 2015.
The Texans need a great many things to go their way if they're to finish in 2022. But, if Conner wants to sign with a team where he'd likely be the lead back and earn significant compensation for that role, he might want to consider moving to Houston.
4. Arizona Cardinals
As of publication, neither the Cardinals nor Conner had indicated they weren't interested in a reunion. Although Arizona is currently projected to only have $2.7 million available in cap space, that's because the 2008 NFC champions haven't begun the cap casualty process. As a pending free agent, Conner is not among those facing either a restructure, trade, or an outright release.
The key here could very well be what happens with young quarterback Kyler Murray. Conner might not want to re-sign with the Cardinals if the 2018 Heisman Trophy winner's recent reported frustration persists and he demands a trade.
For now, it isn't unrealistic to believe Conner will play for the Cardinals next season. However, the team's apparent dysfunction could dissuade him from committing to returning to Arizona just yet.
3. Los Angeles Chargers
Not only do the Chargers have a franchise quarterback in place, but they also have a projected $57.5 million available in cap space. Both should directly appeal to Conner, especially after Los Angeles narrowly missed the playoffs last season. Maybe the veteran running back can be the one who stands next to head coach Brandon Staley on the sidelines and persuades him not to call a timeout.
Fantasy football fans might hate this potential signing because the Chargers already have Austin Ekeler, who scored a league-high 20 touchdowns from scrimmage in 2021, still under contract. However, the Chargers could theoretically sign Conner as a change-of-pace back and have him be the 1B to Ekeler's 1A. The two could keep one another fresh ahead of a potential playoff run, which matters — or at least, should matter — far more than fantasy football.
2. Miami Dolphins
The Miami Dolphins need a reliable running back. Conner is a running back. The Dolphins are projected to lead the NFL in cap space. Conner might want a significant contract. See where we're going with this one?
In theory, these two sides are a match made in heaven. Conner would bring size and a proven track record to a Dolphins team desperately needing stability at running back; Miami hasn't had a 1,000-yard rusher since Jay Ajayi's 1,272 yards in 2016. Although the San Francisco 49ers preferred speedsters when new Dolphins head coach Mike McDaniel served on the staff there, he might want to add a bruiser to his arsenal.
As appealing as the Dolphins might be to Conner, there's another AFC team he must strongly consider joining this offseason.
1. Baltimore Ravens
Life in the NFL moves fast, so you may have forgotten the Ravens' string of bad luck last summer. Young running back J.K. Dobbins, a second-round pick in 2020, tore his ACL in the preseason. Gus Edwards, a versatile backup, also suffered a season-ending knee injury on the eve of the regular season. Justice Hill, who missed part of the preseason with an ankle injury, sustained a torn Achilles in early September.
After combining for 1,588 yards and 15 touchdowns in 2020, none played a single game in 2021. Although all are currently expected to return next season, Conner would be a valuable addition and a reliable insurance option, especially if any have setbacks along the way.
However, one must ask if signing with the Ravens would be too great a betrayal for Conner, who grew up in Erie, Pennsylvania, and played at the University of Pittsburgh. He stayed in the Steel City and spent his first four seasons with the Steelers. Suiting up for the Purple and Black would be sacrilege, right?
Well, the Ravens have Lamar Jackson and cap space, so perhaps not. The NFL is a business, and Conner would be wise to maximize his value, even if it means signing with a former rival.
Like Sportscasting on Facebook. Follow us on Twitter @sportscasting19.