NFL Free Agency: Ranking the 3 Players the Arizona Cardinals Must Target
The Arizona Cardinals are coming off an incredibly frustrating 2021 NFL season. Despite starting the year as the only undefeated team through seven games, they stumbled down the stretch. They lost six of their final 10 games and got bounced by the Los Angeles Rams in the first round of the playoffs.
Moving into the offseason, the Cardinals' front office needs to act aggressively. 2022 is the final year Kyler Murray will be on his rookie contract, meaning Arizona's window to make a hard push at a stacked roster is now.
Here are the top three free agents the Cardinals should be targeting this offseason.
Free-agent No. 1: The Cardinals need to bring back James Conner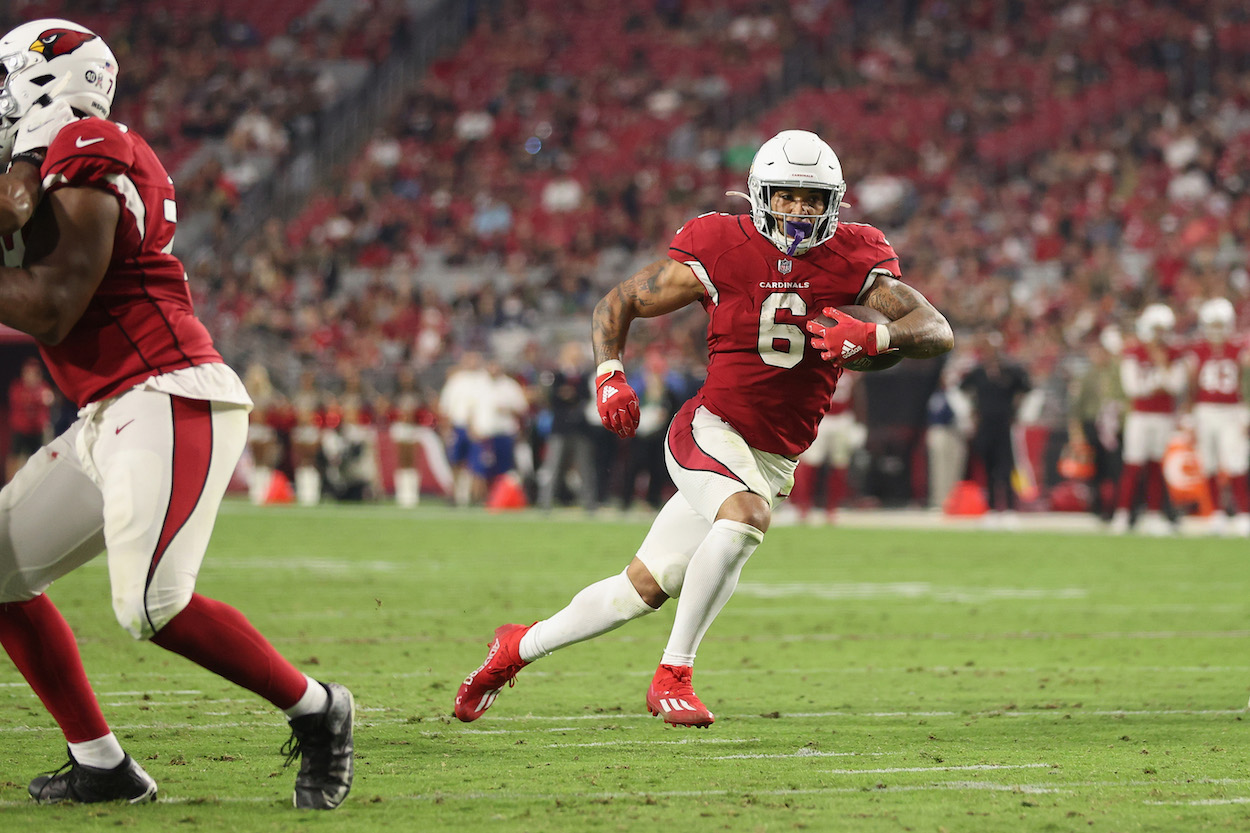 Paying running backs is always a tricky business in the NFL. However, this is a situation where Arizona needs to not overcomplicate things. James Conner rushed for 15 touchdowns in 2021. That's worthy of a second contract.
It's tough to know how much of Conner's success in 2021 was a product of his ability or a product of the Cardinals' revamped offensive line and strong offensive scheme. However, considering Arizona's desire to make a run at a championship in 2022, it shouldn't risk losing a player who had so much success.
Conner has proven he can score in abundance in Cardinals' red. Tossing him a few extra million should be of little problem to the Arizona front office.
Free-agent No. 2: The Cardinals need to replace Chandler Jones
For several seasons running, Chandler Jones has been the Cardinals' best pass rusher. However, a divorce between the two sides feels imminent. Jones has expressed frustration with the organization for at least two years now and is finally a free agent. The odds of him re-signing this offseason are slim.
Replacing 10.5 sacks is no easy task. However, the good news for Arizona is that there are a few good free-agent defensive ends and outside linebackers out there to be signed.
Considering his success in helping the LA Rams win a Super Bowl this past season, it'd make a lot of sense for Arizona to poke around the Von Miller market this summer. He's a proven winner who still has some elite pass-rushing skills inside him.
Miller racked up 9.5 sacks in just 15 games last season with the Rams and Denver Broncos. The Cardinals would benefit significantly from signing him to an (expensive) one-year deal.
Free-agent No. 3: Arizona needs a new tight end
The Cardinals are currently set to enter the 2022 offseason with less than $1 million in cap space, which obviously complicates their free agency plans. Assuming they're able to artificially create some cap space by way of restructures and adding dummy years, they should be able to make room for Conner and Miller.
However, after that, Arizona needs to be a little creative.
Bringing back tight end Zach Ertz makes an abundance of sense. However, the Cardinals are likely to be outbid. Instead, they could take a bit of a gamble at the TE position and target someone coming off a down year, like former New York Giants TE Evan Engram.
Engram has had success in the past. He racked up 700-plus receiving yards during his rookie season. However, since then, he's been unable to replicate that level of production.
The Cardinals can offer Engram a fresh start with a better quarterback — an opportunity to rebuild his value after several frustrating seasons. This should allow Arizona to land him on a more affordable contract.
All stats courtesy of Pro Football Reference.
RELATED: Kyler Murray's Agent Just Sent an Ominous Message to the Cardinals