NFL Free Agency: Ranking 4 Players the Kansas City Chiefs Must Target
The Kansas City Chiefs' 2021 season didn't end as planned, but there's plenty of hope for redemption in 2022. To get back to the Super Bowl, general manager Brett Veach and the front office must make some critical decisions in NFL free agency.
Navigating the offseason won't be an easy task for Kansas City, as the team has just over $3.7 million in cap space. With a long list of free agents of their own, it would be impossible for the Chiefs to keep everyone and add talent.
These players are reasonable possibilities, given the Chiefs' current financial situation. Each could help Andy Reid's squad improve in 2022 as well.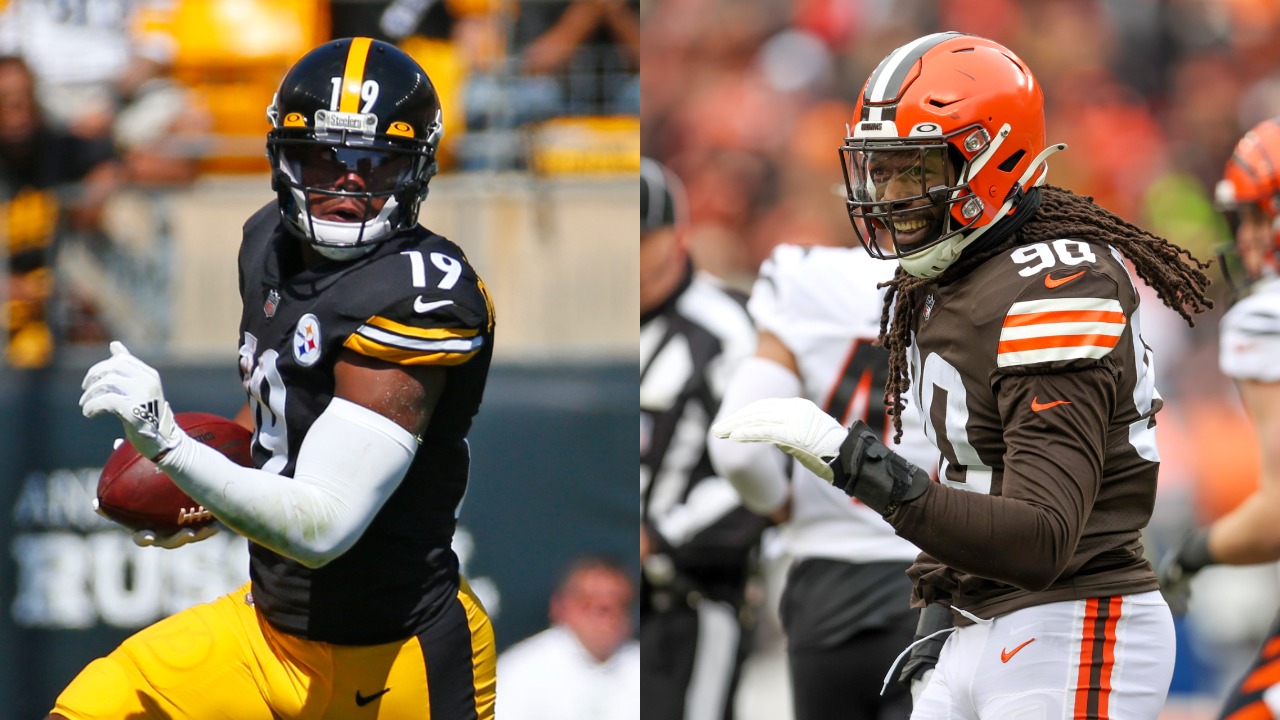 Honorable mention: OT Orlando Brown Jr. and S Tyrann Mathieu
According to Arrowhead Pride's Pete Sweeney, Brett Veach and the front office are making safety Tyrann Mathieu and offensive tackle Orlando Brown Jr. their top priorities heading into NFL free agency. Both players will be unrestricted free agents and were crucial to the Chiefs' success in 2021.
Brown is the most likely of the two to be back. Patrick Mahomes is the franchise quarterback, and Kansas City must protect him. The Pro Bowl left tackle came over from the Baltimore Ravens and has time to develop into the anchor of the offensive line.
As for Mathieu, his situation could be a little trickier. It seems like he wants to be back, and he's one of the veteran leaders on the defense. However, it's unclear whether or not the Chiefs can afford him.
4. EDGE Jadeveon Clowney, Cleveland Browns
The Chiefs should be looking to improve their pass-rushing efforts in 2022. Frank Clark should be back, but he didn't have the best season in 2021. He finished with just 22 tackles, 17 quarterback hits, and 4.5 sacks in 14 games. He had an up-and-down year and will need consistent help moving forward.
Trading for Melvin Ingram III proved to be an intelligent move for Kansas City, as his presence sparked the defensive turnaround in the second half of the season. Unfortunately, he'll also be a free agent. Jadeveon Clowney is a slightly younger and more athletic option than Ingram.
Clowney played well in his first season with the Cleveland Browns, recording 37 tackles, 19 quarterback hits, and nine sacks. He could provide a significant boost to Steve Spagnuolo's unit.
3. DT Sheldon Richardson, Minnesota Vikings
The Chiefs don't just need to get better on the edge. They must bolster their interior defensive line as well. Three-time Pro Bowl selection Chris Jones is one of the best in the business, but he needs help for Kansas City to re-establish dominance in the AFC.
The front office doesn't have much capital to work with, so older veterans could be the way to go in NFL free agency. Sheldon Richardson is a name that stands out. The 31-year-old defensive tackle had a decent 2021 season with the Minnesota Vikings. He finished with 39 tackles, 13 quarterback hits, and 2.5 sacks.
While Richardson is not the dominant player he was earlier in his career, he could be a solid piece to help fortify Kansas City's defensive front. The Chiefs were susceptible to the run at times, and the interior pass rush was inconsistent from everyone except Jones. Richardson could fill the void and wouldn't require breaking the bank.
2. WR JuJu Smith-Schuster, Pittsburgh Steelers
Kansas City's offense has been potent since Andy Reid, Eric Bieniemy, and Patrick Mahomes linked up. However, the unit wasn't quite as dominant as it had been in years past. The Chiefs started slow but got better down the stretch. Despite early-season woes, they finished with a top-five offense.
As crazy as it sounds, the Chiefs could stand to add more talent. Travis Kelce and Tyreek Hill are elite players for their positions. However, none of the other receiving weapons have been consistent difference-makers. JuJu Smith-Schuster could be a prime target once NFL free agency opens.
The Pittsburgh Steelers wideout struggled to claim the No. 1 receiver role once Antonio Brown left. With Big Ben gone, he needs to go to a situation that will maximize his talents. Andy Reid could be that coach. Smith-Schuster can be a legitimate third option and the possession receiver the Chiefs desperately need.
1. CB Rasul Douglas, Green Bay Packers
The Kansas City Chiefs' pass defense was abysmal in the first half of the 2021 season. Even though the unit improved somewhat, it was still pretty bad down the stretch. The Chiefs gave up the sixth-most passing yards in the NFL and must get better in the secondary.
If Kansas City can find a way to bring Tyrann Mathieu back, it must shift its focus to cornerback. L'Jarius Sneed and Charvarius Ward are young corners who have shown some promise. The latter is an unrestricted free agent, as is Mike Hughes. The Chiefs could lose at least one if not both.
Rasul Douglas's 2021 breakout could put him on the radar of many teams in the offseason. The Green Bay Packers cornerback put together his best season, recording 57 tackles, 13 pass defenses, and five interceptions (two for touchdowns). He has the ideal size for the position and could make an immediate impact in KC.
All stats courtesy of Pro Football Reference
RELATED: Kyler Murray: Ranking 4 Best Landing Spots for Frustrated Cardinals QB