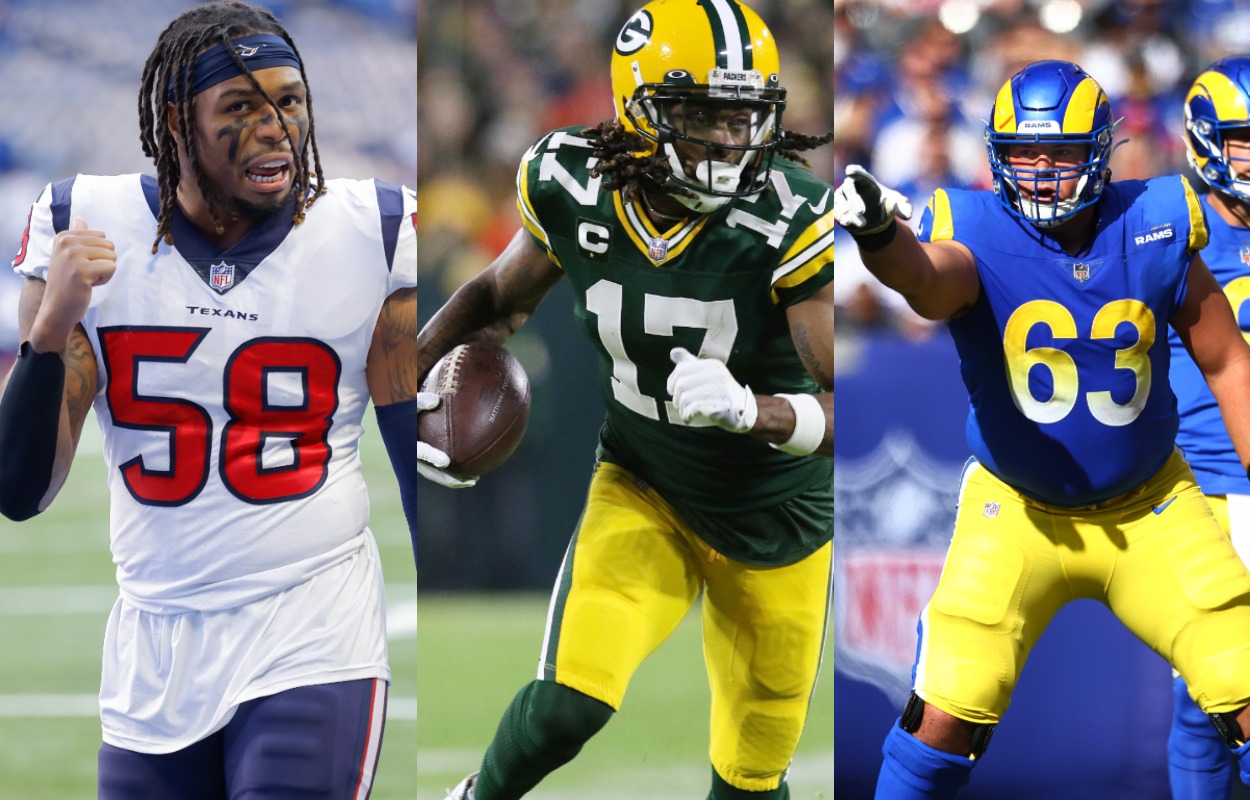 NFL Free Agency: Ranking the 6 Players the Las Vegas Raiders Must Target
After finally making it back to the postseason in 2021, the Las Vegas Raiders have several holes to address in free agency.
The Las Vegas Raiders have officially started over yet again. Former New England Patriots offensive coordinator Josh McDaniels is the new head coach of a franchise that has reached the playoffs only twice since 2003.
Luckily for McDaniels and new general manager Dave Ziegler, the Raiders already have a franchise quarterback in Derek Carr and several building blocks, including Pro Bowl pass-rusher Maxx Crosby and young safety Trevon Moehrig. That core helped the Silver and Black overcome several high-profile issues, including head coach Jon Gruden's resignation, to reach the playoffs last season.
With the 2022 NFL offseason officially underway, now feels like the perfect time to analyze several players who could prove instrumental in helping the Raiders reach the playoffs once again.
For this list, we tried focusing on the Raiders' most significant needs and eyeing players who best fit those holes. This list only includes players who are scheduled to become unrestricted free agents in March; restricted free agents, cap casualties, and little-known draft prospects who are likely to go undrafted were all ineligible.
Based on consideration of the aforementioned prerequisites, the best potential free agents for the Raiders rank as follows:
Honorable mention: Rob Gronkowski, TE, Tampa Bay Buccaneers
Although the Raiders already have Pro Bowl standout Darren Waller at tight end, there's no reason not to add Gronkowski. He's already extremely familiar with McDaniels, who worked with the All-Pro weapon on the Patriots from 2012-18, and likely won't cost too much in free agency. For what it's worth, Spotrac projected the Raiders had $19.7 million available in cap space at publication. However, the organization will likely create more space in the coming weeks.
At this stage in his career, Gronkowski (assuming he doesn't retire) wouldn't necessarily be ring chasing. Instead, the four-time Super Bowl champion might want to enjoy however much time remains in his time as an active player. Although the Arizona product said he wants to play for Joe Burrow and the Cincinnati Bengals before retiring, the Raiders also make sense.
6. Von Miller, OLB, Los Angeles Rams
Miller checks every box the Raiders should have regarding their need for a veteran pass-rusher. He's obviously experienced, he's still playing at a high level, and he's already familiar with the AFC West.
What's the problem? First off, Miller turns 33 in March, which could make a reunion with the Rams far more appealing. There is also the reality that the eight-time Pro Bowler spent the first decade of his career playing for the rival Denver Broncos. Would he really be willing to join the Silver and Black after spending so long terrorizing them?
Then again, Green Bay Packers legend Brett Favre spent the final two years of his career quarterbacking the Minnesota Vikings. Maybe the sight of Miller in a Raiders uniform wouldn't look so strange after all.
5. Christian Kirksey, LB, Houston Texans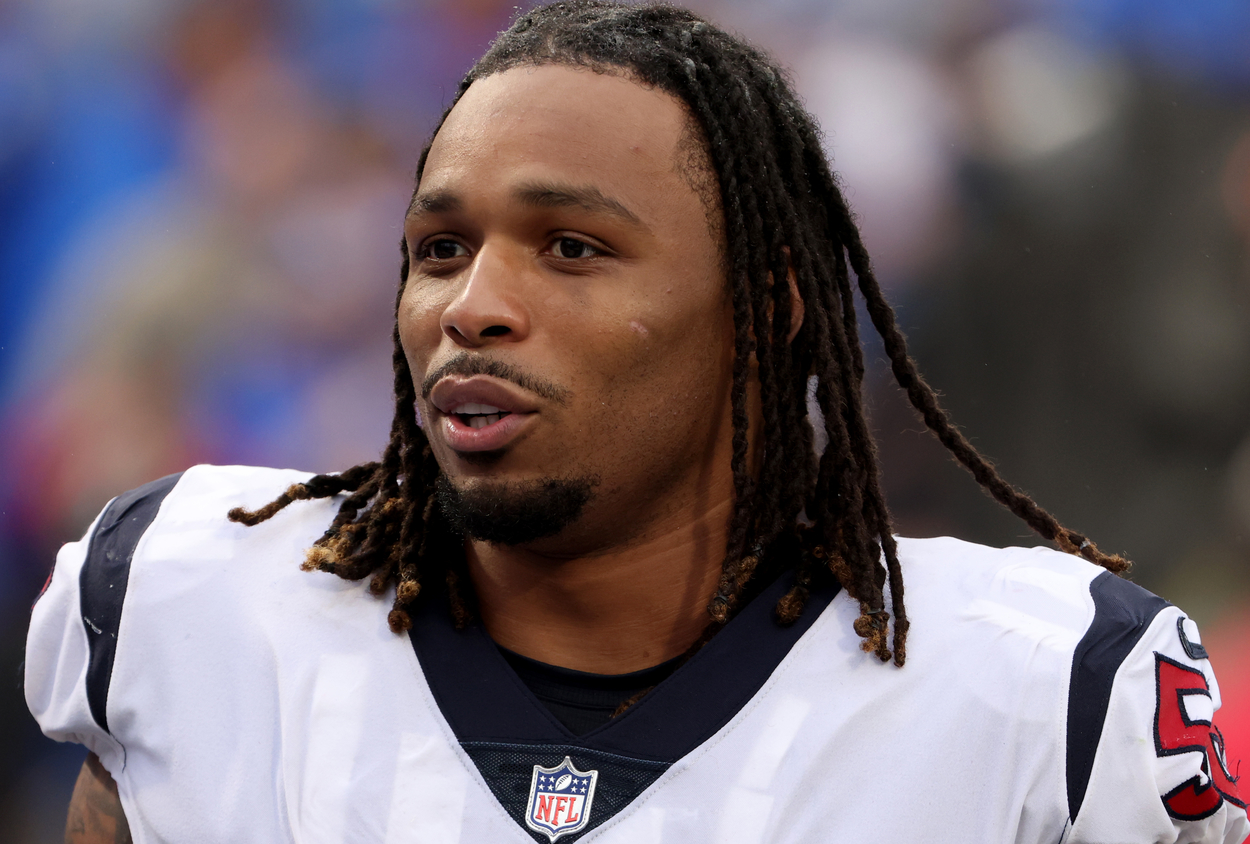 Kirksey isn't a sexy name, but he's nonetheless a solid outside linebacker who tallied 93 total tackles, an interception, and recovered two fumbles in 13 games for the lowly Texans last year. The Iowa product will play the entire 2022 season at 30 years old and should be relatively affordable.
Although the Raiders have the cap space to make a splash or three, Kirksey fits into the low-risk, high-reward territory — and there's nothing wrong with that, especially for a team hoping to reach the playoffs in consecutive years for the first time since the Paul Tagliabue Administration.
4. Chris Godwin, WR, Tampa Bay Buccaneers
If Godwin hadn't torn his ACL in December, he might have ranked significantly higher on this list. In fact, his knee injury actually might work in his favor if he and his representatives decide that returning to the Buccaneers on a one-year, prove-it deal could be the right move.
But, let's say Godwin (perhaps wisely) believes a team will offer him significant value, and an organization, maybe the Raiders, are indeed willing to give him a multi-year contract. The Penn State product hauled in 98 catches, 1,103 yards, and five touchdowns before his injury and will play the entire 2022 season at 26 years old.
If the Buccaneers don't re-sign Godwin, the Raiders must prioritize landing the 2019 Pro Bowl selection. He would be an excellent fit in McDaniels' offense and would provide Carr a legitimate No. 1 wideout for years to come.
3. Terron Armstead, OT, New Orleans Saints
Although injuries limited Armstead to only eight games in 2021, the three-time Pro Bowl selection remains in line for a significant contract. The Saints' cap issues will likely prevent them from re-signing the veteran left tackle if he chases the contract he knows he's worth.
With that said, the Raiders already have a reliable left tackle in Kolton Miller. Would Armstead consider switching to right tackle if it means joining a win-now team and getting paid in the process? Or is he only willing to play left tackle? That question could very well decide if he wears the Silver and Black in 2022.
2. Austin Corbett, G, Los Angeles Rams
The Raiders desperately need to upgrade their interior protection and Corbett, fresh off winning the Super Bowl, is a perfect fit. Spotrac currently projects the Nevada product, who will play the entire 2022 season at 27 years old, will sign a four-year, $35 million contract in free agency. 
If the Raiders are willing to heed our advice, we only have three words to offer: make it happen.
1. Davante Adams, WR, Green Bay Packers
Adams, who remains arguably the NFL's top wide receiver, is an interesting position because the Packers can franchise tag him. However, Green Bay has significant cap issues to address, which might require the difficult decision to part ways with the Fresno State product.
If Adams doesn't return to Green Bay in 2022, don't be surprised if he moves to Las Vegas. He and Carr played together at Fresno State from 2011-13 and have remained close since entering the league in 2014. Adams set career-highs in catches (123) and receiving yards (1,553) and added 11 touchdowns in 2021 en route to earning first-team All-Pro honors.
If the Raiders are serious about partying with the Lombardi Trophy next February, they'll put up the money this spring to reunite Adams and Carr.
Like Sportscasting on Facebook. Follow us on Twitter @sportscasting19.