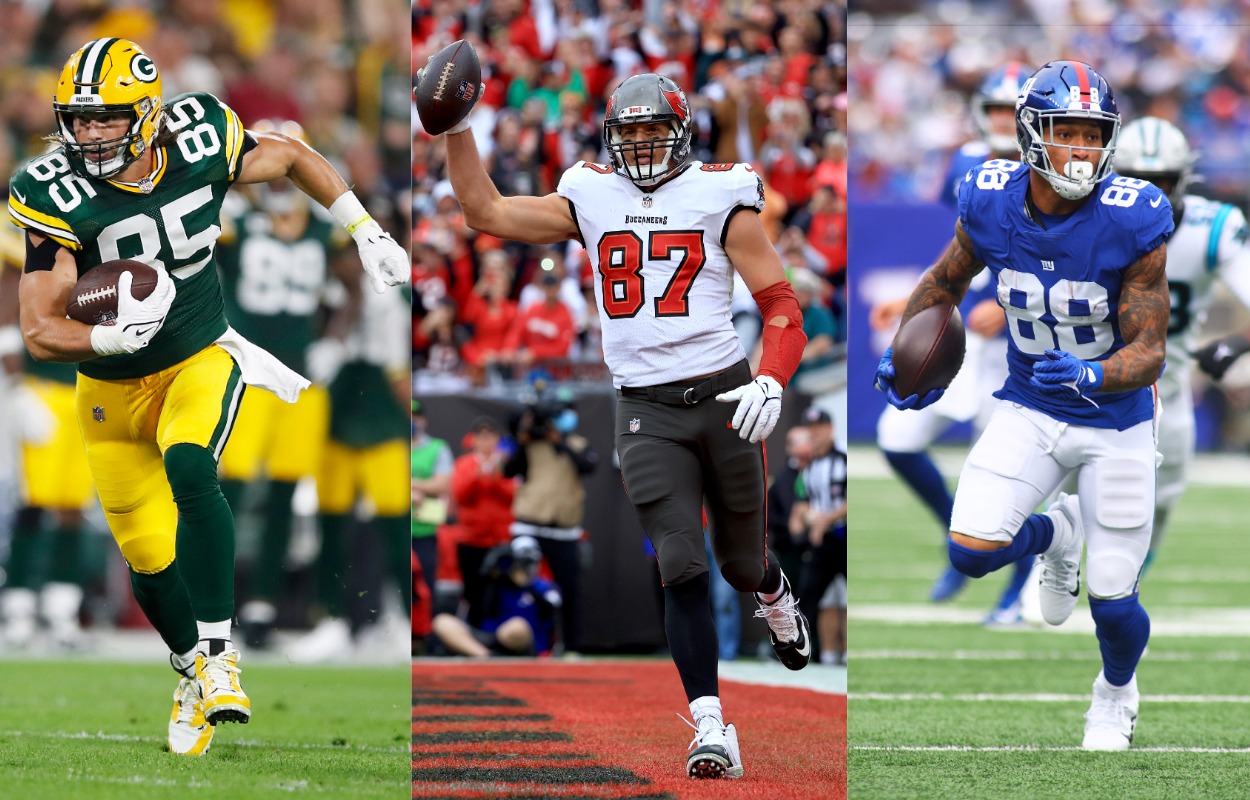 NFL Free Agency: Ranking Rob Gronkowski and the Top 6 Tight Ends On the Market
The NFL offseason is rapidly approaching, and Tampa Bay Buccaneers star Rob Gronkowski leads an impressive tight end class of free agents.
With the Super Bowl in our rearview mirror, football fans can now turn their thoughts to speculating where Mike Gesicki, Rob Gronkowski, and other proven tight ends will land when NFL free agency starts in March.
As the new league year rapidly approaches, now feels like the perfect time to analyze the upcoming crop of free-agent tight ends ahead of what could be an extremely busy offseason. For this list, we ranked the best potential tight ends based on age, skillset, and recent success. Restricted free agents, possible cap casualties, and trade targets were ineligible for this list. Older players, such as Gronkowski and Arizona Cardinals tight end Zach Ertz, were eligible because they had not retired as of publication.
Based on consideration of the aforementioned prerequisites, the best tight ends of the 2022 free agency class rank as follows.
Honorable mention: Rob Gronkowski, Tampa Bay Buccaneers
Honorable mention feels like the wrong term here. If Gronkowski had said after the season that he definitely intended to play in 2022, he'd have a legitimate place on the list. However, as of publication, he still hadn't announced his plans, so we're going to include him as an honorable mention.
If Gronkowski does return next season, don't be surprised to see him join the Cincinnati Bengals. The four-time Super Bowl champion expressed interest in teaming up with Bengals quarterback Joe Burrow ahead of Super Bowl 56, and a partnership makes sense for all parties.
6. Evan Engram, New York Giants
Engram, who will play the entire 2020 season at 28 years old, is in an intriguing position. At times with the Giants, he resembled a dangerous vertical weapon and even earned Pro Bowl honors after a 63-catch, 654-yard showing in 2020. However, the 6-foot-3, 240-pound weapon has a history of drops, and he had a career-low 408 yards in 2021.
Why does Engram rank above Minnesota Vikings standout Tyler Conklin, who had 61 catches, 593 yards, and three touchdowns in 2021? Engram averaged 52 receptions, 567 yards, and three touchdowns in his five years with the Giants, whereas Conklin only entered the 2021 season with 32 career catches in three seasons. The history of relative success won out here over a breakout year.
Engram makes sense as a low-risk, high-reward target for teams that use multiple tight ends. Don't be surprised if he winds up replacing one of the players ranked above him on this list.
5. Robert Tonyan, Green Bay Packers
We're buying high on Tonyan, who exploded for 52 catches, 586 yards, and 11 touchdowns for the Packers in 2020. Although he missed most of the 2021 season with a torn ACL, that only raises his value, at least with regards to this list. The Indiana State product will likely need to consider signing a one-year, prove-it deal to have a better attempt at inking a long-term contract in 2023.
Tonyan, who will play all of next season at 28, hauled in 18 catches, 204 yards, and two touchdowns in eight games last season. He makes perfect sense for the New York Jets, a team desperately in need of an explosive tight end for young quarterback Zach Wilson.
4. Zach Ertz, Arizona Cardinals
Ertz looked right at home after a midseason trade to the Cardinals, hauling in 56 catches for 574 yards and three touchdowns in 11 games. The three-time Pro Bowler added another three receptions for 21 yards in the NFC Wild Card Round.
Familiarity could win out here if the 31-year-old wants to return to the Cardinals next season. However, Philadelphia Eagles should not expect to reunite with the veteran tight end, especially after Dallas Goedert's excellent 2021 season. Although it appears he still has plenty of gas left in the tank, his age prevents him from a higher finish.
3. C.J. Uzomah, Cincinnati Bengals
If diamonds are a girl's best friend, where does Uzomah rank for Joe Burrow? The Auburn product set career-highs in catches (49), receiving yards (493), and touchdowns (five) in 16 games last season. The 6-foot-6 tight end used his size to turn 15 catches into 146 yards and a touchdown in four playoff games.
Cincinnati has the cap space to bring Uzomah back, but he could easily opt to sign elsewhere. If he does look to begin a life without Burrow, the Buccaneers make sense, especially if Gronkowski does not return for a third season in Tampa Bay. Indianapolis Colts fans should also be intrigued in Uzomah if Mo Alie-Cox walks in free agency.
2. Dalton Schultz, Dallas Cowboys
Schultz has quietly been among the league's most productive tight ends in the pandemic era, recording 141 catches, 1,423 yards, and 12 touchdowns since the start of the 2020 season. The Stanford product added seven catches for 89 yards in the NFC Wild Card Round.
If the Cowboys want Schultz back, the odds should favor America's Team getting its way. But if the 25-year-old wants a payday the Cowboys don't want to commit to, football fans should expect the Jets, the Jacksonville Jaguars, and Los Angeles Chargers to get in the mix.
1. Mike Gesicki, Miami Dolphins
Fantasy football managers might be cringing after seeing Gesicki atop this list after he only scored twice during the 2021 campaign. However, regardless of his lack of scores, it's hard to dispute the Penn State graduate's improving place as one of the league's most reliable tight ends. Gesicki set career-highs in catches (73) and receiving yards (780) last season despite the Dolphins' constant quarterback drama.
Gesicki's best option might be remaining in Miami, and not only because of the state's income tax laws. New Dolphins head coach Mike McDaniel oversaw George Kittle's rise to All-Pro tight end with the San Francisco 49ers, and the 26-year-old could be in line for similar growth.
Who knows? Maybe Gesicki will depart for the Chargers, and the Dolphins will sign Gronkowski, a New England Patriots legend who has nine touchdowns in 13 career games against the Dolphins. Maybe then, Miami will have a tight end who actually scores touchdowns and helps managers win their fantasy games.
Do we sound bitter? We're not bitter. Not at all.
Like Sportscasting on Facebook. Follow us on Twitter @sportscasting19.