NFL Free Agency: Ranking the 3 Players the Indianapolis Colts Must Target
The Indianapolis Colts are coming off an incredibly frustrating 2021 NFL season. Despite trading a first-round pick for Carson Wentz and rostering the best running back in the league (Jonathan Taylor), they could not crack the postseason.
Moving forward, the Colts appear poised to make drastic roster changes. They're reportedly discussing dumping Wentz after just one season and could jump into the trade market for a new quarterback. This would likely cost them additional future first-round picks.
Regardless of what they do in the trade market, the Colts also need to hit on some free agents this offseason. General manager Chris Ballard has become notorious for penny-pinching. That needs to change this spring.
Free-agent target No. 3: The Colts need to beef up their pass rush
With DeForest Buckner holding down things at defensive tackle, the Colts have an above-average defensive line. However, concerns are starting to emerge regarding the team's defensive end group.
They selected Kwity Paye during the first round of last year's draft, and he projects to be a solid pass rusher moving forward. However, his rookie sack numbers were far from impressive. He only logged four — Indy needs way more production from their defensive ends moving forward.
With that in mind, dipping into free agency to stack a veteran next to Paye makes a ton of sense. Someone like Emmanuel Ogbah, who's coming off back-to-back nine-sack seasons with the Miami Dolphins, fits the bill on paper.
Ogbah is still just 28 years old on paper as well. The Colts could easily ustify handing him a three or four-year contract.
Free-agent target No. 2: Time to permanently fill the LT position
Last year, the Colts acted conservatively with their left tackle position, and it came back to bite them. An aging Eric Fisher — who they signed to a one-year deal — started breaking down by the season's end.
Despite rostering elite offensive lineman Quenton Nelson, Ryan Kelly, and Braden Smith, the lack of an elite left tackle killed the Colts down the stretch. They could not properly protect Wentz during the final games of the season.
Terron Armstead is the commonly mentioned left tackle target for O-Line needy teams this offseason. However, his market will be competitive, which could steer the Colts in a different direction.
Enter 25-year-old Orlando Brown Jr. The former third-round pick is coming off a Pro Bowl season with the Kansas City Chiefs and could easily lockdown the Colts' left side for another five-to-six years.
At his age, Brown Jr. is the type of player Indianapolis should happily overpay.
Free-agent target No. 1: The Colts desperately need a new WR1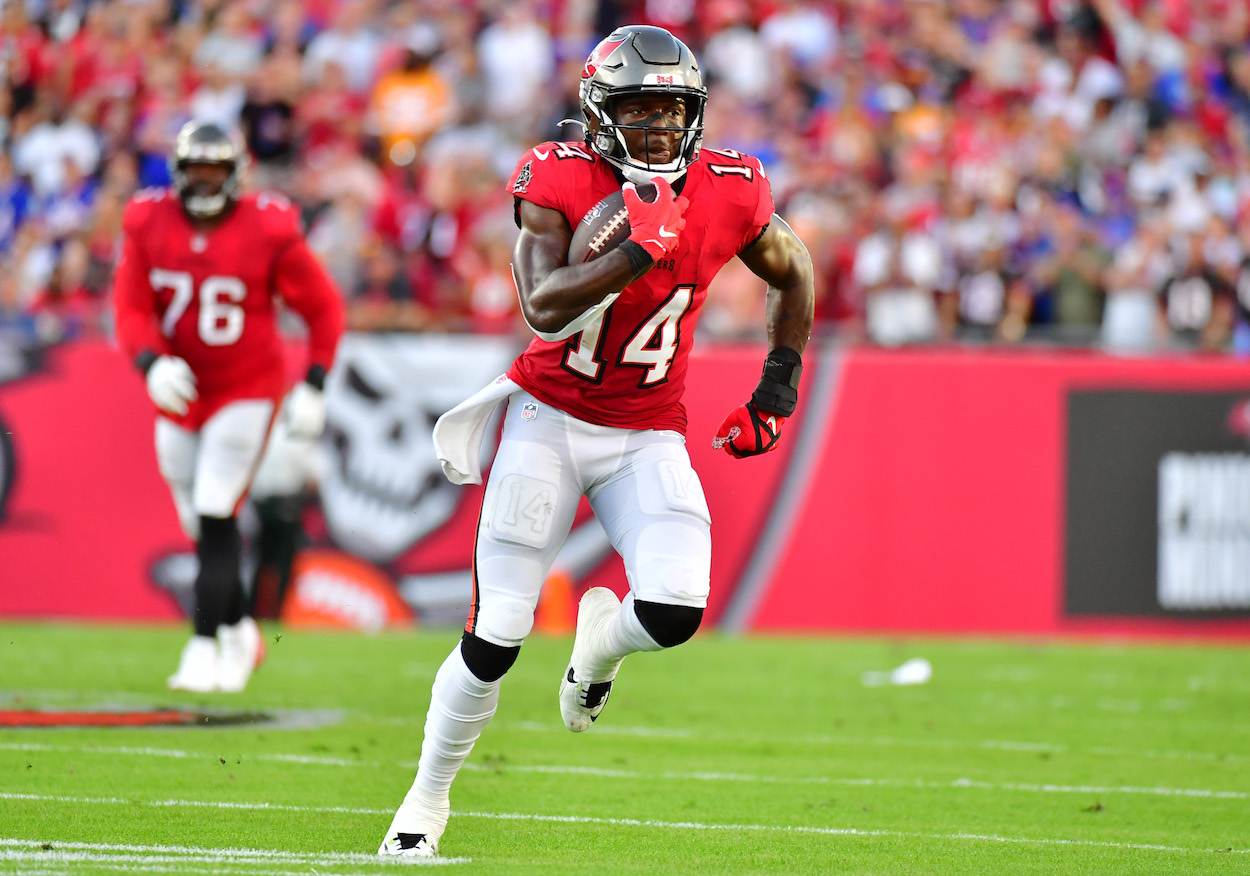 Wentz caught most of the blame for Indy's end-of-year collapse. However, it's crucial to mention the lack of weapons he was dealing with.
Michael Pittman Jr. is a solid receiver, but he shouldn't be tasked with being a number one option. T.Y. Hilton barely played this past season. Zach Pascal is nothing special. Jack Doyle and Mo-Alie Cox are average tight ends at best. If the Colts want to set their next QB up for success, they need to land an elite pass-catcher.
He's coming off an injury (which could lower his market value), but Chris Godwin is the perfect man for Indianapolis. His style of play compliments Pittman Jr., and he'd naturally assume WR1 duties for the Colts.
Godwin's ability to get open and create YAC (yards after the catch) makes him a dream target for quarterbacks.
All stats courtesy of Pro Football Reference.
RELATED: The Colts Are Planning to Divorce Carson Wentz After Their '1-Year Marriage That Went Wrong'