NFL: Gerald McCoy Believes Christian McCaffrey is the MVP
Through the first five weeks of the season, Carolina Panthers' star running back Christian McCaffrey has been on an absolute tear. His high level of production has put him in the thick of the early conversation around the MVP award. His teammate Gerald McCoy has taken that a step further with where he believes McCaffrey stands in that discussion.
Christian McCaffrey's blazing start to 2019 season
In his third campaign, McCaffrey has taken his production to the whole next stratosphere, being among the top talent in the league.
The 23-year-old is currently leading the NFL with 587 rushing yards on 105 carries averaging 5.6 yards per attempt with six touchdowns, along with 31 receptions for 279 receiving yards and a touchdown. It has him pace to record 1,878 rushing yards with 19 touchdowns and 99 catches for 893 receiving yards and three touchdowns.
His impressive trajectory would also give him the all-time single-season mark for most total scrimmage yards (2,771), which would completely shatter former Tennessee Titans running back Chris Johnson's 2,509 yards in his 2009 MVP campaign. McCaffrey is coming off posting a season-high 176 rushing yards on 19 carries with two touchdowns, along with six receptions on nine targets for 61 receiving yards and a touchdown.
He has already notched more than 100 rushing yards three times, at least one rushing touchdown on four occasions, and 10 or more receptions twice. On top of that, his 159.6 fantasy points through Week 5 are only second all-time to that of former Kansas City Chiefs running back Priest Holmes.
Gerald McCoy believes Christian McCaffrey is the MVP
The torrid start to the 2019 season from McCaffrey has thrust MVP chatter around him despite it being only five weeks into the year.
Pro Bowl defensive tackle Gerald McCoy has fed into that talk as he recently voiced that his teammate would be the clear-cut choice for that unique honor if the season ended now, according to Bill Voth of Panthers.com.
If I was writing, I would see if he's from earth. I'd have to check to see if he's from Asgard or something. I don't know where that dude's from. If the season ended right now, he's the MVP.
There have been other notable players such as reigning MVP Patrick Mahomes, Seattle Seahawks quarterback Russell Wilson and even Tampa Bay Buccaneers outside linebacker Shaquil Barrett, who have each gotten off to tremendous starts. However, McCaffrey continues to put up impressive numbers every week, proving to be the most productive running back this season.
His performance has been the Panthers' driving offensive force that has fueled their turn around, earning three straight wins. It sets the table for what could be many more highly productive weeks ahead.
Christian McCaffrey's expectations for the rest of the 2019 season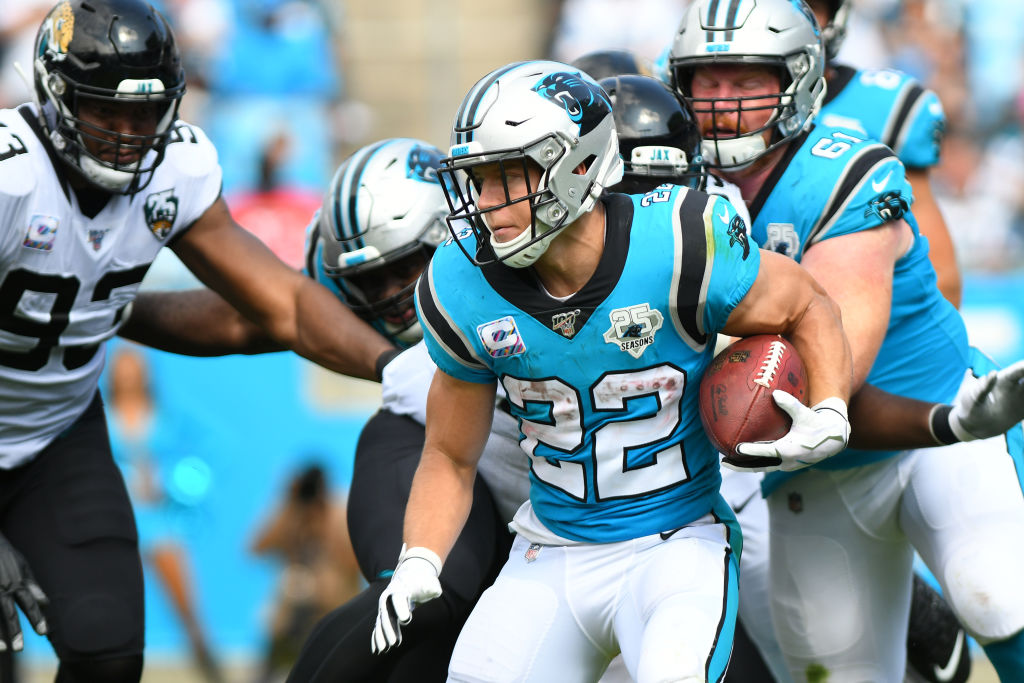 The Panthers have found their way back into the playoff picture, trailing the red-hot New Orleans Saints by one game for the NFC South division lead.
It has primarily been on the shoulders of McCaffrey, who has been their workhorse back. McCaffrey has proven he can handle a significant workload, but he did deal with cramps following Sunday's 34-27 win over the Jacksonville Jaguars.
The Panthers may decide to lighten his activity level in practice during the week in order to keep him fresh for the long haul of the season. With Cam Newton still out of action for an uncertain time frame, it will continue to see McCaffrey as their primary offensive factor.
All of these circumstances mean that the third-year back should have plenty of opportunities in front of him to add to his strong start that may very well see him become a serious contender for the MVP award.