NFL Great Adrian Peterson Feels 'Disrespected' by the NFL's Payment Culture
Adrian Peterson is entering his 14th NFL season and has made plenty of money along the way.
That isn't stopping the future Hall of Fame running back, now with the Washington Redskins, from again criticizing the NFL's payment culture.
In a recent interview, Peterson explained why he still feels "disrespected" by how the NFL compensates players.
Adrian Peterson has had a legendary career
Adrian Peterson is one of the greatest running backs in the NFL's long history.
Peterson enters the 2020 season with 14,216 rushing yards and 111 touchdowns to his name. He recorded 898 yards and five touchdowns across 15 games in Washington last year, his second season with the Redskins.
The seventh overall pick in 2007, Peterson is still going strong and climbing the NFL's record books. He is fifth all-time in rushing yards and fourth in touchdowns.
Peterson has made seven Pro Bowls and earned four First-Team All-Pro nods. He won the NFL MVP award in 2012 and ran for an NFL-single-game record 296 yards as a rookie for the Minnesota Vikings.
Adrian Peterson is unhappy with the NFL's payment culture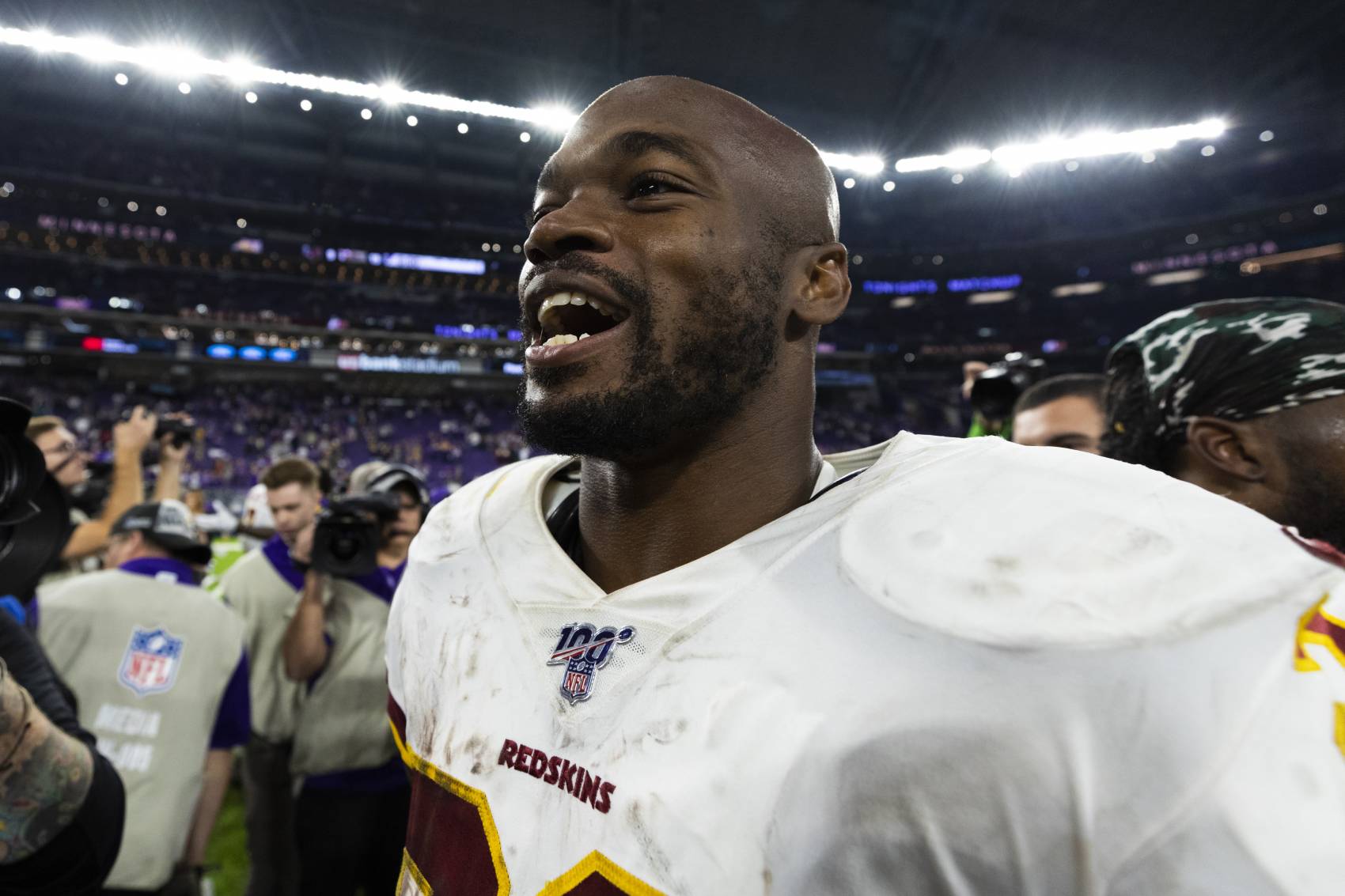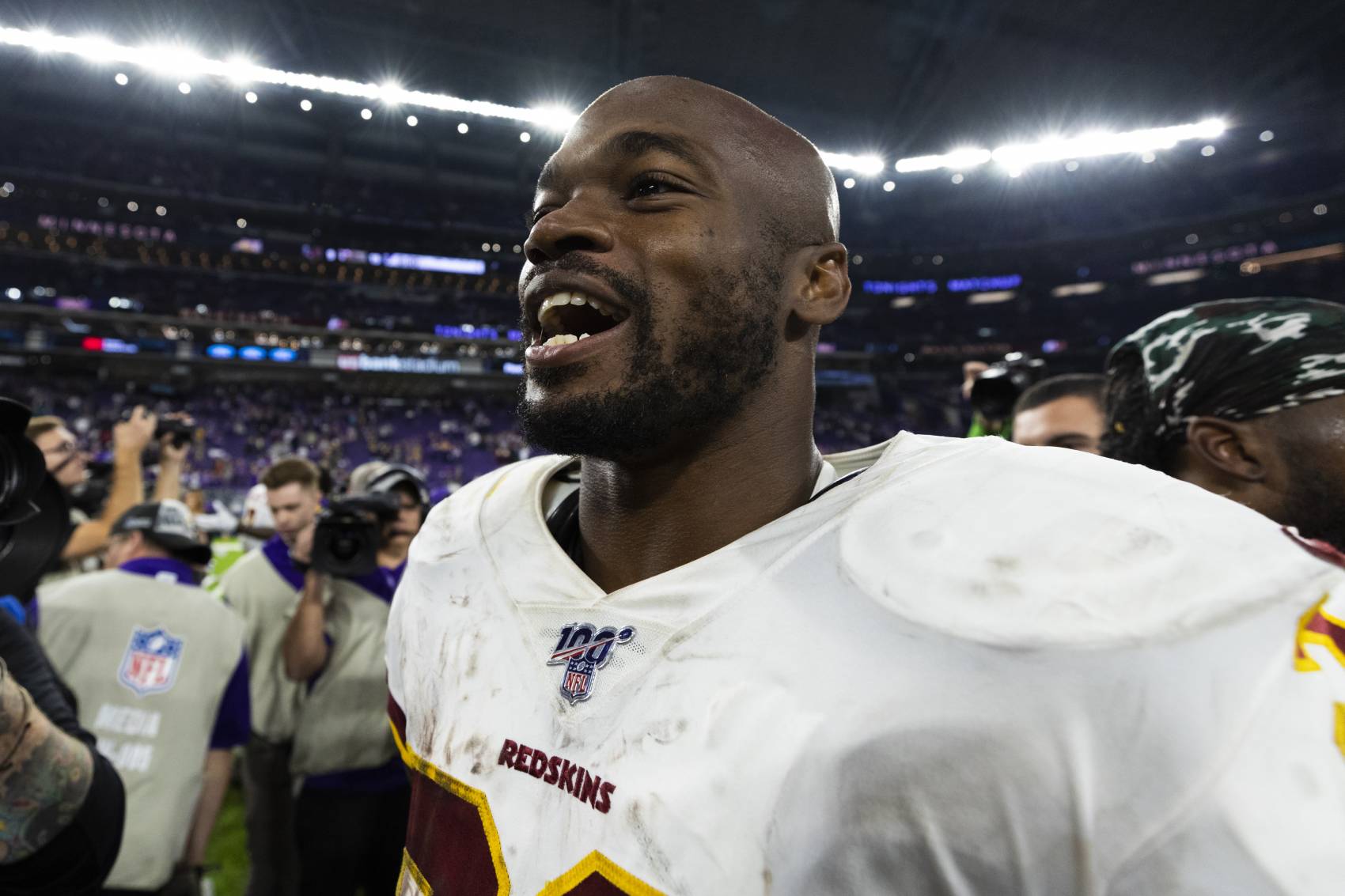 Adrian Peterson has made a lot of money across his 14 seasons. According to Spotrac, Peterson's $101 million in career earnings make him the highest-paid running back in league history.
The former MVP is the only running back to clear the $100 million mark and earned over $32 million than Edgerrin James, the former Colts star who sits in second place.
Peterson is a man of the people, though, and he wants to see running backs around the league flourish. In a recent interview with TMZ Sports, Peterson said the way running backs are paid is "disrespectful."
"But I think a change is going to come, I think this young core of guy and you know me and Frank Gore continue to show guys, 'Hey, we are valuable. We can have 10, 14-year careers as well, so value us as well like you would value a quarterback.'"
Gore, the veteran workhorse entering his first year with the New York Jets, has earned over $62 million since he entered the league in 2005. That puts Gore in fourth place behind Peterson, James, and former Saints star Reggie Bush.
Who are the NFL's highest-paid running backs?
Even if players' 2020 salaries aren't impacted too greatly by the coronavirus pandemic, the NFL's best running backs will still be fairly underpaid this season.
Only two running backs, Tennessee's Derrick Henry and Houston's David Johnson, have base salaries over $10 million this season. The Jets' Le'Veon Bell is third at $8.5 million and Arizona's Kenyan Drake is narrowly behind him at $8.43 million.
Carolina's Christian McCaffrey signed a four-year, $64 million contract in April which will pay him over $8 million per year starting in 2021. Dallas star Ezekiel Elliott's salary jumps to $9.6 million in 2021 and he'll make over $10 million every year from 2022-26.
For comparison, eight quarterbacks will make over $10 million in base salary this season. Another three are poised to make between $8 and $10 million.
Adrian Peterson wants the NFL to start valuing running backs better. A young crop of dynamic stars, including Elliott and McCaffrey, could create the change Peterson is so eager to see.