NFL: Greg Hardy's Presence Could Destroy the Dallas Cowboys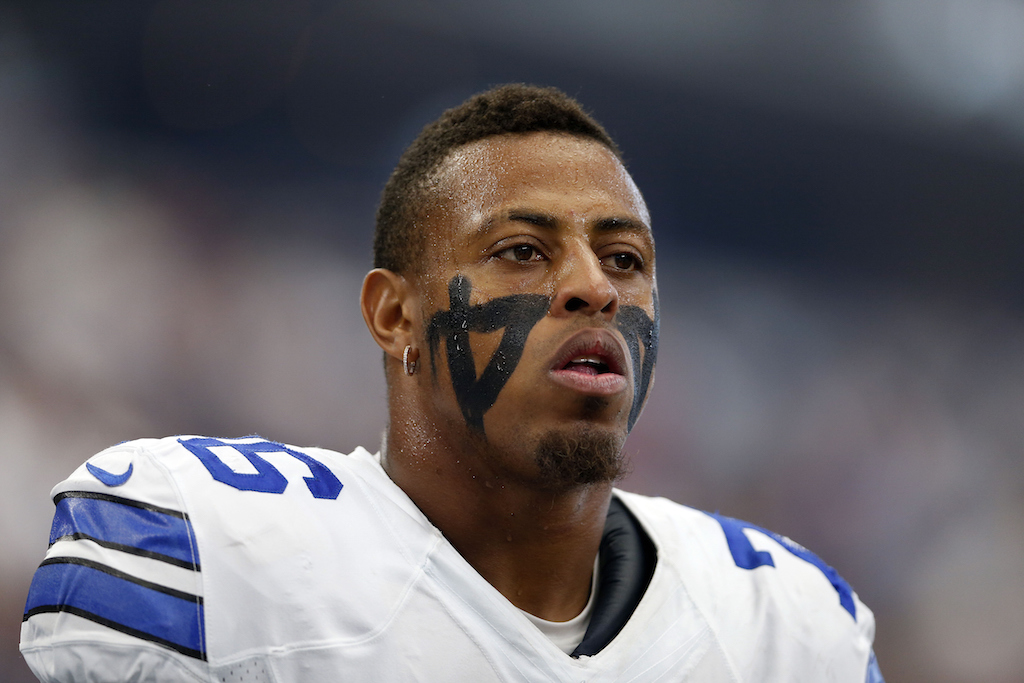 The Dallas Cowboys took a significant risk by signing All-Pro defensive end Greg Hardy this past offseason. Hardy, after all, is extremely fortunate to not be behind bars wearing an orange jump suit rather than a helmet and shoulder pads. The decision to sign a player with Hardy's off-the-field track record was a clear indicator of just how desperate the Cowboys were to improve on the defensive side of the ball in 2015.
From purely a football perspective the signing looks genius – despite the Cowboys' defense ranking 24th in the league in points allowed per game. In the two games Hardy has played since returning from his four-game suspension to start the season, he has recorded three sacks, eight total tackles, and forced a fumble. Furthermore, Hardy has earned positive grades in each game from Pro Football Focus (PFF), putting him on track to finish the season as one of PFF's highest ranked players at his position in the league. Most importantly, though, the 6-foot-5, 280-pounder has filled the pass-rush void that plagued the team for the entire 2014 season.
Unfortunately for the Cowboys, there are non-football factors that are leading us to believe that this signing could eventually come back to bite them. These red-flag issues wouldn't be as big of a deal if we were discussing a player with a squeaky-clean image, such as tight end Jason Witten or offensive tackle Tyron Smith. However, when the player in question has a track record of being reckless and violent, as Hardy does, these concerning incidents simply cannot be taken lightly.
For starters, we're willing to chalk some of Hardy's behavior up to maturity issues. His comments about New England Patriots quarterback Tom Brady, his wife, Giselle, and Giselle's sister show that Hardy still has a lot of growing up to do – despite the fact that he is 27 years old. Him saying that he hoped to "come out guns blazin'" in his first game back from suspension can be considered an obnoxious attempt at making light of the domestic violence issue that led to him being suspended in the first place. His behavior with the media immediately following the Cowboys' loss to the New York Giants in Week 7 and his argument and ensuing shoving match with All-Pro wide receiver Dez Bryant can be attributed to him being a fierce competitor who can't stand losing. While we are willing to give Hardy a free pass for each of the aforementioned incidents – remember this all happened in a matter of about 10 days – we cannot ignore what we feel is his most troubling transgression since becoming a member of the Cowboys.
After former Cowboy Dwayne Harris returned a kickoff 100 yards for a touchdown to give the Giants a 27-20 lead halfway through the fourth quarter on Sunday, Hardy was caught on video wildly entering the Dallas kickoff return huddle, where he eventually slapped special teams coordinator Rich Bisaccia's clipboard out of his hands. Bisaccia, who responded by shoving Hardy during the incident, has since downplayed the entire thing.
"He wanted to get in there and kind of get after some of the guys a little bit, maybe get them fired up," Bisaccia told the Dallas Morning News. "It was just not the right time. It's really not an issue. I just had to communicate what we were going to do next on the return, so I just really wanted him to move on so we could get going."
Kudos to Bisaccia for taking the high road, but this is the type of situation that can rip a team apart. Hardy made it clear that he thinks he is bigger than the team and has zero respect for Bisaccia.
Cowboys' owner/general manager Jerry Jones and head coach Jason Garrett have decided against any kind of discipline for their troubled defensive end — something that will only to continue to enable an athlete that would likely benefit greatly from some psychiatric help. If the Cowboys aren't careful, this could very easily turn into a situation where the inmates are running the asylum.