NFL Hall of Famer Charles Woodson Calls out Twitter User Trolling Odell Beckham Jr. After Emotional Super Bowl Reaction: 'Trust Me I Cried'
Odell Beckham Jr. didn't get to finish the game with his pads and helmet on, but he was a big part of the Los Angeles Rams' Super Bowl win nonetheless.
OBJ suffered a left knee injury in the second quarter and had to tearfully watch the rest of the game on the sidelines.
Green Bay Packers legend Charles Woodson knows a thing or two about that exact scenario, and he was not having any trolling of Beckham online after the LA Super Bowl win.
Odell Beckham Jr. played a significant role in the Super Bowl win for LA
Even though he didn't see the field for a majority of the game, Beckham was a critical part of LA's offensive attack against the Cincinnati Bengals. The talented receiver caught two of three targets in his limited time for 52 yards and the game's first touchdown.
On third-and-three with 6:22 to go in the first quarter, the Rams lined OBJ up in the No. 3 position in a trips-right formation and had him run a wheel route down the sideline. Beckham got a step on his defender and was wide open in the end zone, where Matthew Stafford laid the ball up for him on a dime. It was a great play design but it was executed perfectly by Stafford and OBJ, who had developed great chemistry in the second half of the season.
A few minutes later, Beckham, unfortunately, suffered a non-contact injury to his left knee, and though he limped off on his own power, he was ruled out of the game at the start of the third quarter.
He had to return to the sideline wearing a warm-up hoodie, and he was shown throughout much of the rest of the contest emotionally distraught that he wasn't able to help his team. There were tears in his eyes, and he often seemed to be anguished, especially as the game grew tense near the end.
Green Bay Packers legend Charles Woodson had a similar experience in Super Bowl 45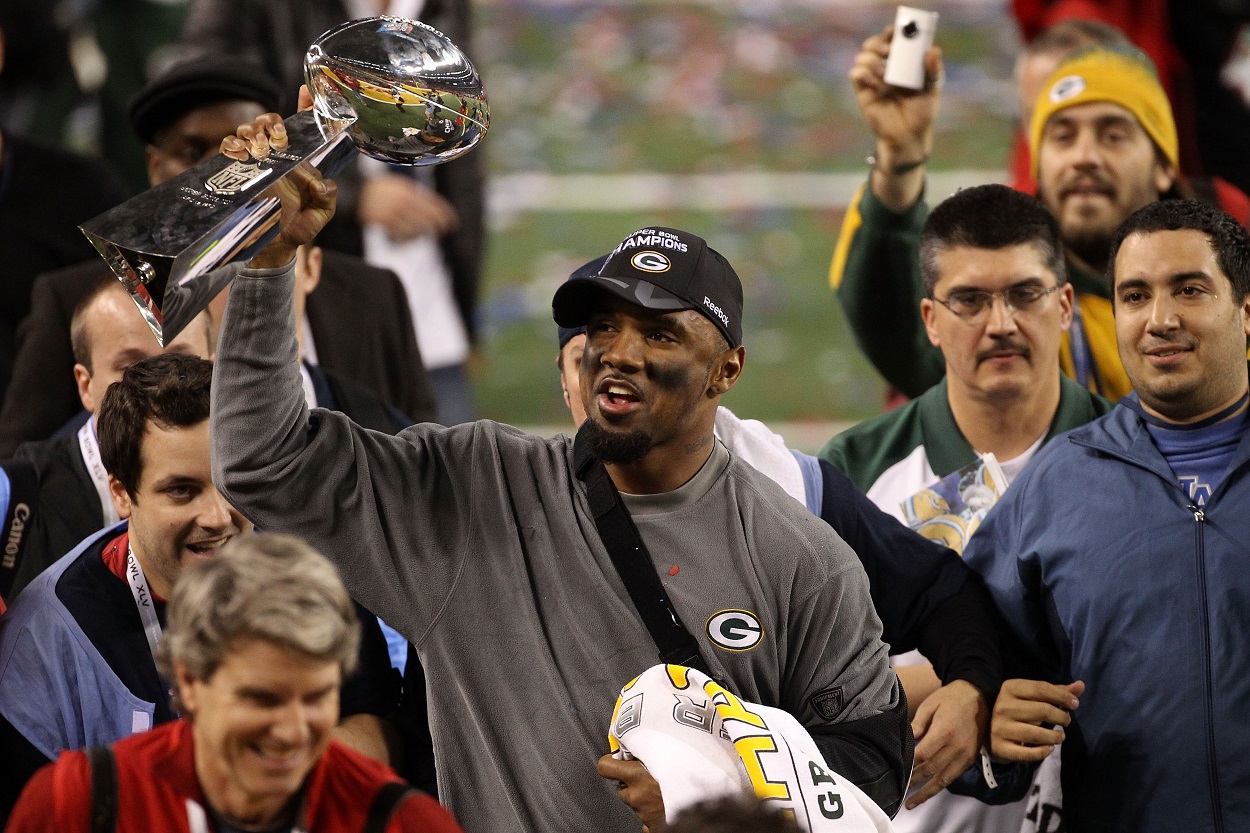 Few people on earth could understand what OBJ was going through on that sideline, but Woodson would be one of them. Woodson won a ring with the Packers in Super Bowl 45, but much like Beckham, he had to watch the second half of the game from the sideline. He broke his collarbone diving to break up a pass in the second quarter of the game.
Much like how Beckham limped around as his team celebrated and lifted the Lombardi trophy, Woodson did the same, just 11 years before with a sling around his shoulder.
Though Beckham was clearly a huge part of the Rams' success in the second half of the season, and he came up big in the Super Bowl, not everybody was happy for the much-maligned receiver. One Twitter user, in particular, tried to compare him to Woodson in a negative light, saying that he didn't remember the legendary safety crying on the sideline.
Woodson famously gave a halftime speech that motivated the Packers to go on and close out the Pittsburgh Steelers in the second half, but he was having none of the slander against OBJ.
"Trust me I cried," Woodson said.
Who wouldn't have?
Woodson's bounce-back can serve as inspiration for OBJ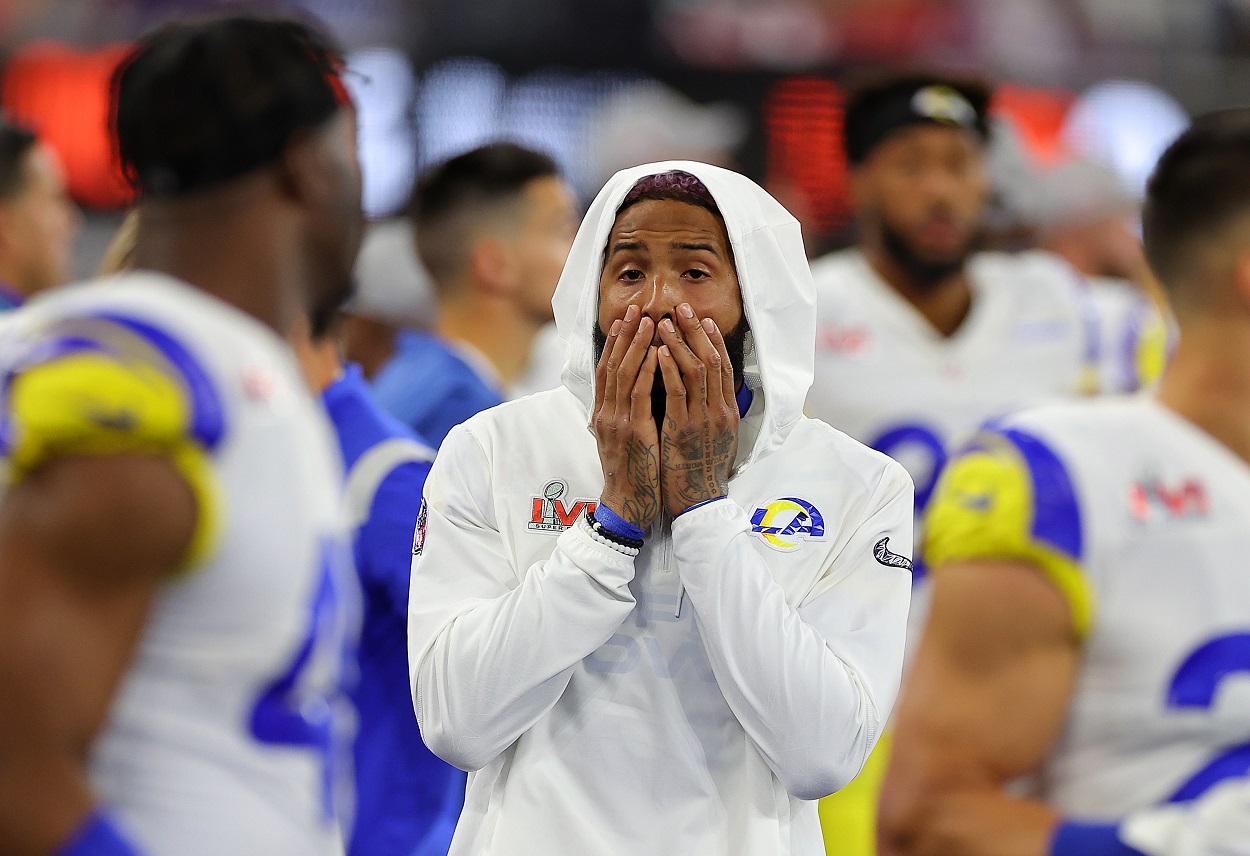 Though Beckham was all smiles as the blue and yellow confetti rained down at SoFi stadium, he will have to deal with a rather lengthy and gruesome recovery from what turned out to be an ACL tear. Making matters worse for the talented ride receiver is the fact that this is the second time that he's torn that same ACL. He suffered the same injury in 2020 when he was with the Cleveland Browns.
OBJ has a tough road ahead of him, but he can look to Woodson as inspiration as he strives to make a comeback.
Woodson recovered from his broken collarbone and went on to be named a first-team All-Pro and a Pro Bowler. He was also in the running for the NFL's Defensive Player of the Year thanks to his seven interceptions, four tackles for loss, two sacks, and one defensive touchdown. Woodson put up some of the best numbers of his career in that 2011 season, and at that point, he was already a 14-season veteran.
Rehabbing from a collarbone injury as a safety is much different than coming back from a second ACL tear for an athletic wide receiver who's about to become a free agent, but if there's anyone talented and gritty enough to make that comeback, it would be OBJ.
His mindset and buy-in have been questioned in the past, but he's clearly turned his career around, and his stint with LA has proven that he can still be one of the better wide receivers in the NFL. He's also quickly rehabbed his image, from a potential malcontent in Cleveland to a Super Bowl winner in LA.
If the Lombardi trophy isn't proof enough of that, having a bonafide legend like Woodson in his corner should be.
Stats courtesy of ESPN and Pro Football Reference. Contract information via Spotrac
RELATED: Odell Beckham Jr. Has Thrown His Reputation out the Window: 'I Came Late to the Party'