NFL Hall of Famer Shannon Sharpe Can See Arizona Cardinals' QB Kyler Murray Having a Super Bowl and MVP Ceiling: 'He's a Very Special Talent'
Super Bowl-winning tight end Shannon Sharpe may be yucking it up with Skip Bayless at this point in his career, but make no mistake, the Hall of Famer knows a thing or two about high-level, winning NFL football.
Sharpe recently waxed poetic about Arizona Cardinals' quarterback Kyler Murray, and he provided some extremely high praise for the third-year superstar. When Sharpe endorses a player and it's more than just a hot take for the show, that means something. Remember, he won three Super Bowls during his career and caught a ton of passes from another legendary NFL player, John Elway.
The thing about superstar players is that they have the ability to recognize greatness in others, and recently talking on his show, UNDISPUTED, Sharpe was clear that he can see greatness in Murray.
Shannon Sharpe thinks Arizona Cardinals' Quarterback Kyler Murray has MVP awards and Super Bowls in his future
Murray and the Cardinals have the best team in the NFL at the time of this writing. Arizona is 7-0 and has a huge matchup with the Green Bay Packers (6-1) on Thursday Night Football coming up. The matchup pits Murray against three-time NFL MVP Aaron Rodgers, so it's a game that's naturally going to draw many eyes. Despite Green Bay being extremely short-handed, it's also an opportunity for Murray to see how he stacks up with the NFL great.
"He's a very special talent. He has speed. He's powerful. He has accuracy. He can make every throw. But his feet are what sets him apart, Skip," Sharpe said after he predicted that MVP awards and Super Bowl wins are in Murray's future.
Specifically, Sharpe explained just how hard it is for defenses to prepare for a quarterback like Murray.
"You can't simulate what he does. If you find a guy who's fast enough, he can't throw the football. If you find a guy who can throw the football, he's not fast enough. So how do you simulate a guy like him or Lamar Jackson in practice? You get no simulation for that."
Murray has been an incredible all-around quarterback for Arizona in 2021. He's thrown for 2,002 yards and 17 touchdowns with just five interceptions, and he's averaging a 73.5% completion percentage. He's also rushed 43 times for 126 yards and three touchdowns on the season.
The only main concern for fans of Murray is his size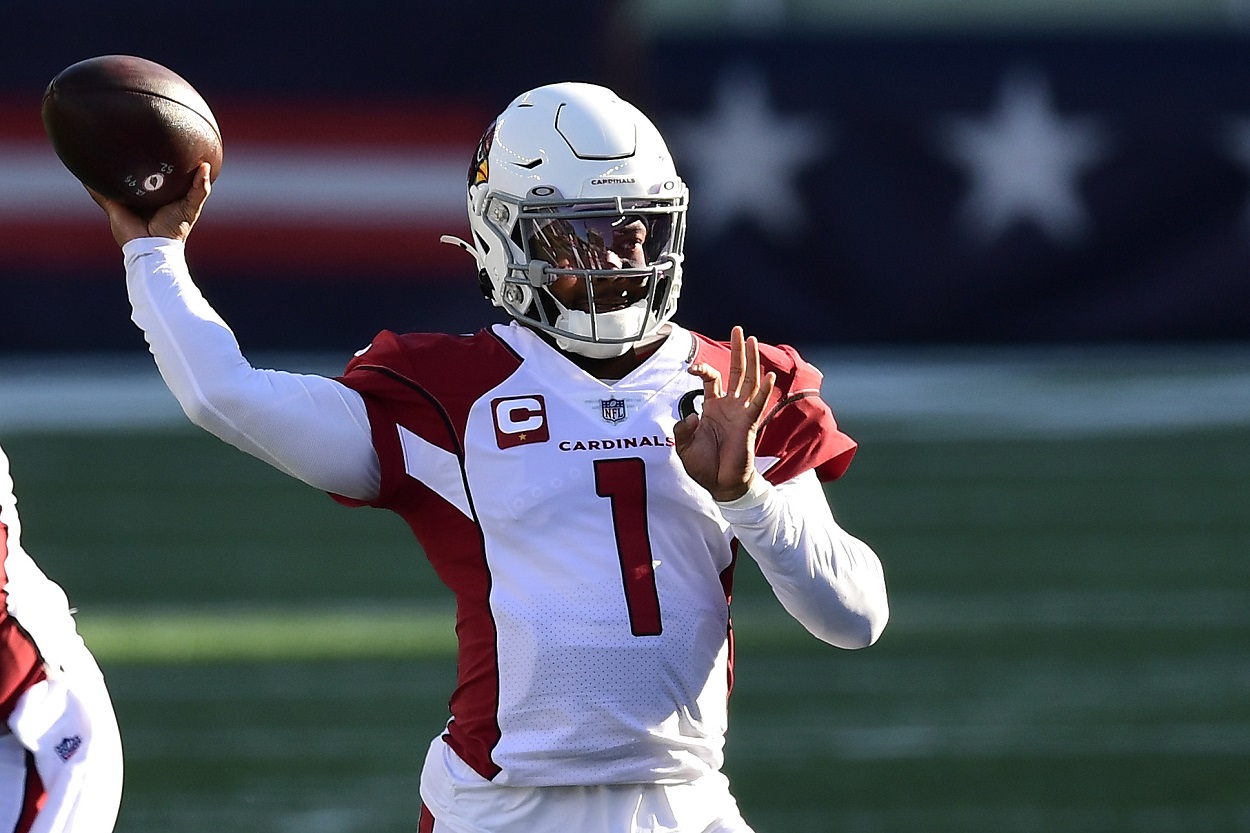 NFL quarterbacks are typically tall and broad-shouldered. That's a stereotype that has been changing as of late, but there's a reason for it in the first place. Quarterbacks need to be tall enough to see over the line of scrimmage and big and strong enough to take punishment from NFL defenders. It's not an easy gig, and it's a very punishing position to play.
Murray is not that type of quarterback at 5-foot-10, 207-pounds. He's of smaller stature, of course, but his ability to run and get out of the pocket also puts him in harm's way more than a quarterback like, let's say, Tom Brady.
For Sharpe, that's really his only issue with the Arizona quarterback.
"My only concern about him is that he was such a small man. Even if you don't hit him flush, just the mere fact that a 340-pound man is falling on top of a 185-pound man, just that in and of itself [is concerning]"
As Bayless pointed out to Sharpe, he was shaving about 20-pounds off Murray's frame. With that said, the concern does remain.
NFL defensive linemen are bigger and stronger than ever. Murray's elusiveness helps him avoid big hits, but the Cardinals' front office has to hold its breath every time a defender is able to take a clean shot at him.
Arizona has built a great team around Murray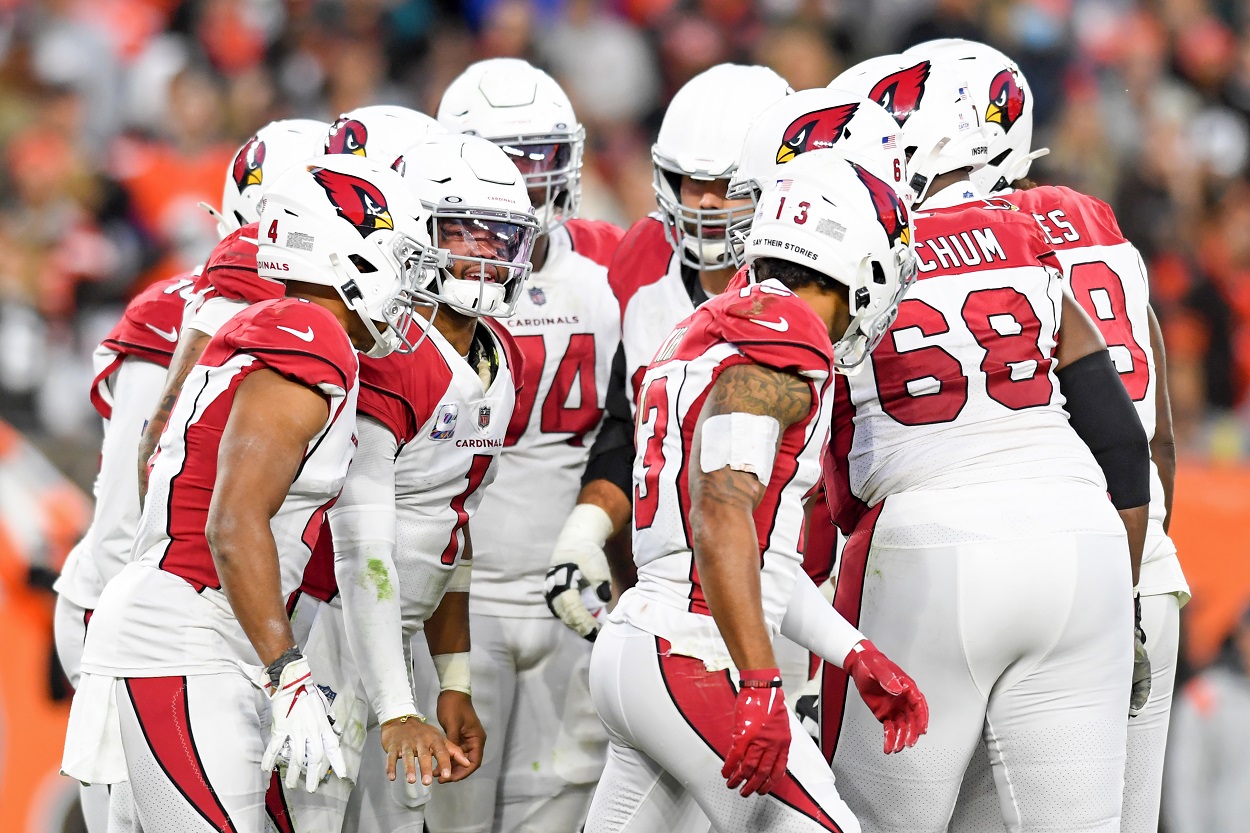 The secret to being an MVP in the NFL is that sometimes you're just the best player on the best team, not necessarily the most important player for your team. Team-building is a huge factor that can lead to the individual success of a quarterback, and to that point, Arizona has done a great job of putting talent around its star quarterback.
Trading for wideout DeAndre Hopkins in the 2020 offseason was a massive steal for Arizona general manager Steve Keim. He got Murray arguably the best wide receiver in the league not named Davante Adams, and in return, all he had to do was send off a 2020 second-round pick, a 2021 fourth-round pick, and running back David Johnson, who has fallen off a cliff for the Texans.
The Cardinals brought in veteran wide receiver A.J. Green in the offseason, and he's looking like a new player now that he's out of Cincinnati. They also recently traded for tight end Zach Ertz, who isn't the star he once was but can be a solid contributor in Kliff Kingsbury's near-effortless offensive scheme.
"His ceiling is an MVP. He can take a team to a Super Bowl. They've done a great job of putting pieces around him," Sharpe said of Murray.
If Murray can stay healthy and continue to operate Kingsbury's offense at a high level, Sharpe's predictions for the Arizona quarterback could believably come true.
The Cardinals currently have the second-best offense in the NFL, behind only the Tampa Bay Buccaneers. They score 32.1 points per game and put up 422.6 yards per contest. In terms of quarterback play, Murray finds himself fifth in the NFL in passing yards, fourth in total touchdowns, and fourth in quarterback rating.
Those numbers should only continue to go up, and Murray's ceiling will go up as a result.
Stats courtesy of ESPN and Pro Football Reference.
RELATED: Kyler Murray Has Kept the Door Open For His First Love