The NFL's Hardest Hitters of All Time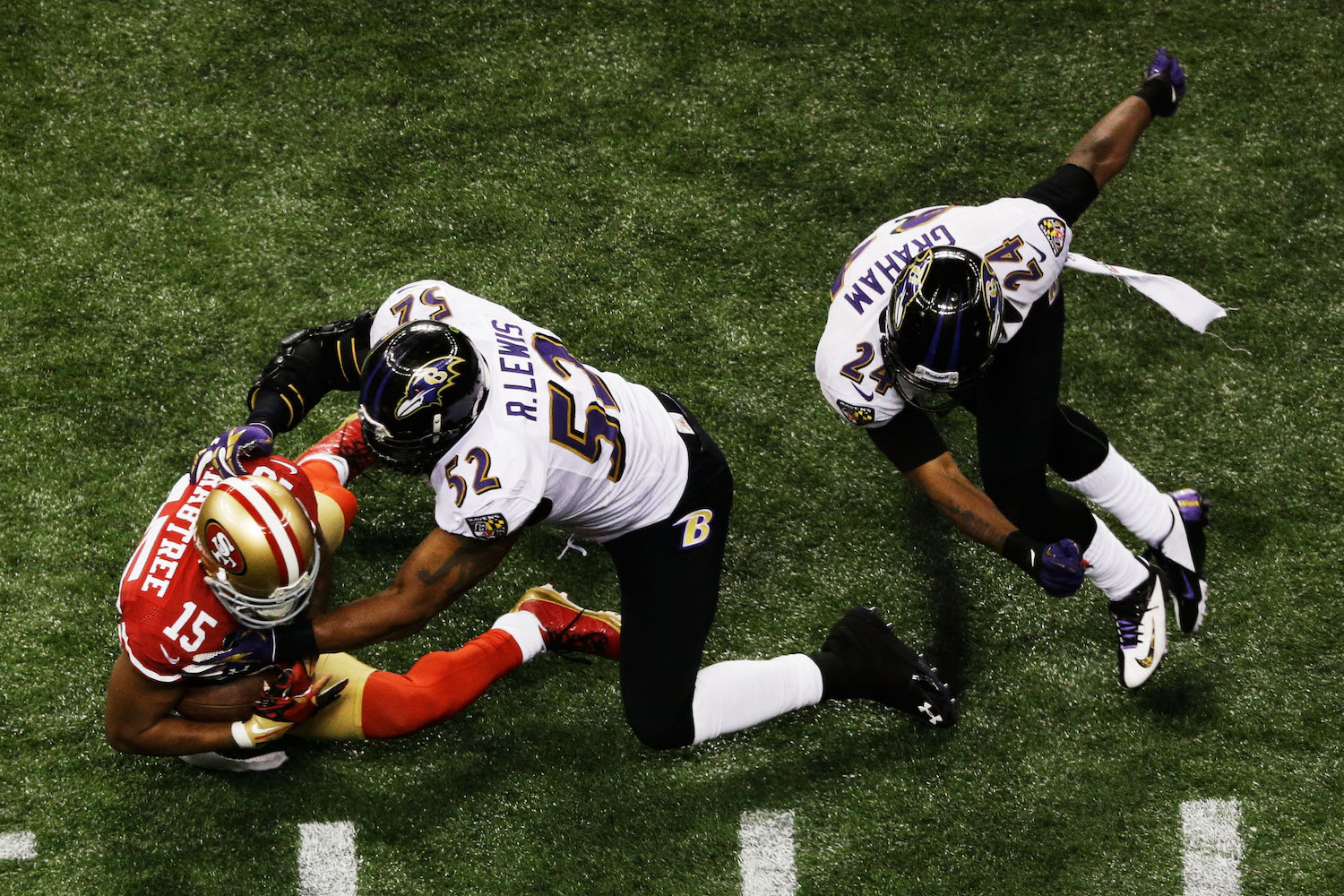 The NFL has some pretty tough hitters. But when it comes to the hardest hits, there are some whose career shoves and tackles make everyone else's pale in comparison. These are the top 15 hardest hitters to ever come through the NFL.
15. Kam Chancellor
NFL rules have changed throughout the years. Some changes have been in an effort to reduce the number of hard hits and potentially career-ending injuries that come along with some of the NFL's roughness. Kam Chancellor might not have the hardest hits on this list, but some of that is due to those rule changes. Chancellor played for the Seahawks up until he suffered a neck injury back in November 2017 that ultimately ended his career. Chancellor was part of the "Legion of Boom," the nickname given to the Sehawks' defense over the course of about five or six years in the mid-2010s. Some considered Chancellor the backbone of the Boom — he had some serious hits that were hard to forget, ultimately dubbing him one of the toughest safeties of all time and landing him at No. 15 on this countdown.
Next: This defenseman earned the nickname Weapon X.
14. Brian Dawkins
You might know Brian Dawkins as Weapon X — the nickname this safety earned over his 16 seasons in the NFL. He spent most of his career with the Philadelphia Eagles (and a few seasons with the Denver Broncos) and became the uncontested leader of the Eagles defense during his run. Besides being one of the hardest hitters, he also had several great catches and picks throughout his career, making him one of the most overall talented players in the league. One of his biggest hits was to Alge Crumpler during the 2004 NFC championship game against the Atlanta Falcons — and it's one of the hits Dawkins remembers most. Dawkins put his shoulder to Crumpler's chest and crumpled the tight end. Crumpler writhed in pain, and it's widely regarded as the biggest hit of Dawkins' career.
Next: This player was one of the toughest linebackers in college — and in the pros. 
13. Patrick Willis
Patrick Willis spent his entire career with the San Francisco 49ers, and he delivered some major blows during that time. He was easily one of the top linebackers during his eight seasons spent in the league. He also received both the Butkus and Jack Lambert Awards during his senior year at Ole Miss, pretty much solidifying him as the best college football linebacker before he headed to the pros. There isn't one specific hit that's the most memorable in Willis' career, but he retired leaving behind a legacy of hard tackles. In 2007 and 2008, he led the NFL with 174 and 152 credited tackles, respectively. He finished with a career total of close to 1,000 tackles — a feat that's hard to accomplish.
Next: This player's career was cut short, but his legacy as a tough tackler lives on. 
12. Sean Taylor
Sports Illustrated once named Sean Taylor the hardest hitter in the NFL. Sadly, the safety only got to experience four seasons in the league before he was shot by an intruder in his home; he died a few days later. Although his career was less than half the length of many on this list and left him overlooked on several other lists, he still left behind a legacy of hard hits. And that has earned him a spot on the countdown. He spent all four seasons with the Washington Redskins and finished his rookie season with a combined 76 tackles. He went on to have a career total of 299 tackles, with 238 being solo. After his death in November 2007, he was named to the 2008 Pro Bowl team, and the NFC took their first defensive play with only 10 players in his honor.
Next: This player has one memorable hit that played a big role in his career. 
11. Steve Atwater
Steve Atwater spent the bulk of his career as a safety for the Denver Broncos. He ended his NFL run with more than 1,000 tackles — need we say more? This guy was a force to be reckoned with. He had some major hits during his career (including one hit on his own teammate, Ronnie Hilliard, but it wasn't enough to overshadow the 1,000+ other career-making tackles he had), but arguably the most memorable one was against Christian Okoye of the Kansas City Chiefs. Okoye was well known for breaking tackles, but he didn't stand a chance against Atwater. The safety stopped Okoye in his tracks with a "hit heard around the world." Legend has it Okoye was never the same after that. Regardless, Atwater gave the Nigerian Nightmare a run for his money on that play.
Next: This 'Night Train' was a ferocious tackler. 
10. Dick Lane
Dick "Night Train" Lane cracks the top 10 on this list for good reason. A defensive back for the Rams, Lane actually wasn't signed out of college — he asked to have a tryout that ultimately earned him a spot on the team. Throughout his career, Lane became known as one of the NFL's most "ferocious" tacklers (which helped him secure a spot with Rams, really), including a big tackle on Jon Arnett that led to an NFL rule change about grabbing a player's face mask. Lane had a habit of tackling people by the head, which is no longer legal but helped define him as one of the most ruthless tacklers in the game at the time. He was easily one of the most feared men on the field and was inducted into the Pro Football Hall of Fame (like many others on this list) in 1974.
Next: This player took out his own brother in law. 
9. John Lynch
John Lynch is another player regarded as one of the best hitters of all time. The safety played most of his career with the Tampa Bay Buccaneers after he was drafted to the team in 1993, but he also spent four seasons with the Denver Broncos. His career totaled more than 1,000 tackles, and he had a way of hitting the opponent with clean force that put him on the map as one of the hardest hitters. Lynch married Linda Allred, the sister of John Allred, the former tight end. John Allred and Lynch were good friends, but Allred took a hard hit from Lynch that viewers wouldn't forget in 1997. It knocked Allred out cold. "Oh my gosh. What did I do?" Lynch said those words are all he remembered thinking when he saw Allred after the hit.
Next: This player had a major hit during Super Bowl XXIII.
8. Ronnie Lott
Ronnie Lott was a fierce hitter. He played for a number of teams but spent most of his career with the San Francisco 49ers. He was inducted into both the College Football Hall of Fame and the Pro Football Hall of Fame. One of Lott's most memorable hits came during Super Bowl XXIII in 1989. The 49ers were playing the Cincinnati Bengals, and Ickey Woods was making his best attempt at tearing through the defense — of which Lott was a big part. Lott showed no mercy, rocking Woods with a hit that went down as that Super Bowl's most memorable moment. Lott had plenty of hard hits during his career, but the hit to Woods made him one of the most feared defensive players in the league — and it stays that way today.
Next: Don't be fooled by this player's size. 
7. Ray Lewis
When you look at Ray Lewis, he doesn't look nearly as threatening as the other players on this list. He's not small, but at 6'1, he pales in comparison to some of the other defensive players who have done major damage with their hits. But that's no reason to overlook him. Lewis has dealt many bad blows through his career, including a hard hit on New York Jets' tight end Dustin Keller, which occurred in the final minute of a game and pretty much secured the Baltimore Ravens' win over the Jets. The 2017 legal hit was typical of Lewis, reminding everyone he's one of today's hardest hitters.
Next: People were down right terrified of this guy — and his character might say enough.
6. Bill Romanowski
Bill Romanowski is one of the more controversial players in NFL history. He's had several racist allegations brought against him, and he was involved in a scandal with steroids produced by BALCO, which became known as the BALCO scandal. Despite his bad character, he made some seriously hard hits throughout his NFL career, which is why he lands on this countdown. He actually once told TMZ sports that there were several dirty plays in his career he wishes he could take back, including the time he snapped Dave Meggett's finger for no well-understood reason. But that's enough to show you how scary this guy was — and he could definitely take down some of the best, including Kerry Collins. He once broke the quarterback's jaw and was fined $20,000.
Next: This player was one of the most aggressive in the league. 
5. Dick Butkus
Dick Butkus has been labeled by some as the hardest hitter in NFL history. He was a ferocious hitter who put everything he had into every hit and tackle. Butkus played his entire career with the bears and was regarded as a violent, no-holds-barred hitter. Deacon Jones, a former defensive end, once said of Butkus, "… Every time he hit you he tried to put you in the cemetery — not the hospital." The NFL network named Butkus the most feared tackler of all time in 2009, and although there wasn't any one particular hit that stands out for him, it's evident from others' remarks that he was historically one of the most aggressive tacklers in the league. He made more than 1,000 tackles throughout his career.
Next: This player was part of one of the greatest defensive lines in NFL history. 
4. Jack Lambert
Jack Lambert is widely regarded as one of the greatest linebackers in NFL history. He played for the Pittsburgh Steelers in the 1970s — the Steelers defense had been nicknamed the "Steel Curtain" for their ability to tackle and hit with precision and success. And Jack Lambert was an important part of that defense. Plus, Lambert's missing front teeth (which he lost during a basketball game in high school) made him that much more intimidating. He averaged 146 tackles per season and ended his career with 1,479 tackles — 1,045 of them solo. He was inducted into the Pro Football Hall of Fame in 1990 and was named to the Steelers' 75th anniversary team in 2007.
Next: This player coined a popular football term — and had one signature move.
3. Deacon Jones
David D. "Deacon" Jones had a signature move with his tackles, known as the head slap. Today, that move is entirely illegal (thanks to Jones' use), but before the NFL made a rule about it, it was Jones' way of taking down anyone he needed to. He was the first NFL player to use the head slap, where he would slap an offensive lineman's head just before the play with the hope they'd flinch and fall one step behind the play. It worked well for him, but once Jones left the game, the maneuver was outlawed. Jones is also credited with coining the term "sack." He had some seriously hard hits (besides just the head slap), which can be clearly seen in his past tackles. Nobody wanted to get tackled by this defender.
Next: This linebacker ended someone's career. 
2. Lawrence Taylor
Some might argue that Lawrence Taylor was the greatest linebacker of all time. He was definitely not to be messed with and was easily one of the most feared tacklers in the league. Lawrence had some major hits, including this big one on Joe Theismann during a 1985 game against the Redskins. Theismann was about to throw downfield when Taylor was there to stop him. Taylor's knee went into Theismann's right leg and left him with a career-ending break. Taylor has recounted the event over the years, and in an excerpt from his book, noted that he and Theismann would forever be linked because of the injury. Theismann said in an interview, "The pain was unbelievable; it snapped like a breadstick."  It was a prime example of the damage Taylor was capable of doing.
Next: 'The Assassin' — that's how others referred to this player. 
1. Jack Tatum
With a nickname like "The Assassin" it doesn't come as much of a shock that Jack Tatum takes the No. 1 spot on this list. Tatum had a historic hit that rocked the NFL: During a preseason game in 1978, New England Patriots' wide receiver Darryl Stingley stretched for a pass that sent his head right into Tatum's shoulder. The hit compressed Stingley's spinal cord, and the injury was one that would sit heavy on the minds of both teams for the duration of their careers. The Tatum hit paralyzed Stingley, and he remained a quadriplegic until his death at age 55. Tatum was known for his hard hits, but this career-ending hit made him the ultimate force to be reckoned with. Tatum died at age 61 from a heart attack, and Stingley's son said of Tatum's death, "I'm sorry because there was a life lost today … But at the same time, that life put my father in a situation that he couldn't feed himself if he wanted to."