NFL Head Coach Hot Seat Rankings: Kyle Shanahan Leads the 5 Who Are Now Coaching for Their Jobs
As we rapidly approach Thanksgiving, we have an idea of which football teams appear playoff-bound (hello, Tennessee Titans) and which ones are likely to focus on the 2022 NFL Draft. We apologize to Detroit Lions fans in advance.
Several teams, including the Lions, may choose to hit the reset button after this year. We're left to wonder if the San Francisco 49ers will fire head coach Kyle Shanahan, who led them to a Super Bowl appearance less than two years ago? The Jacksonville Jaguars might still need to have a backup plan in place if Urban Meyer retires or goes back to college football.
When determining which coaches are currently on the hot seat, we looked at everything from team performance to external factors, including potential front office changes. We did not include coaches who could retire for age or health reasons, such as Seattle's Pete Carroll or Minnesota's Mike Zimmer.
Additionally, we did not include Las Vegas Raiders interim head coach Rich Bisaccia. All of the NFL's 31 full-time head coaches were eligible for this list. When considering the aforementioned prerequisites, we have determined the following five head coaches' seats are burning hot as of Nov. 16, 2021.
5. Vic Fangio, Denver Broncos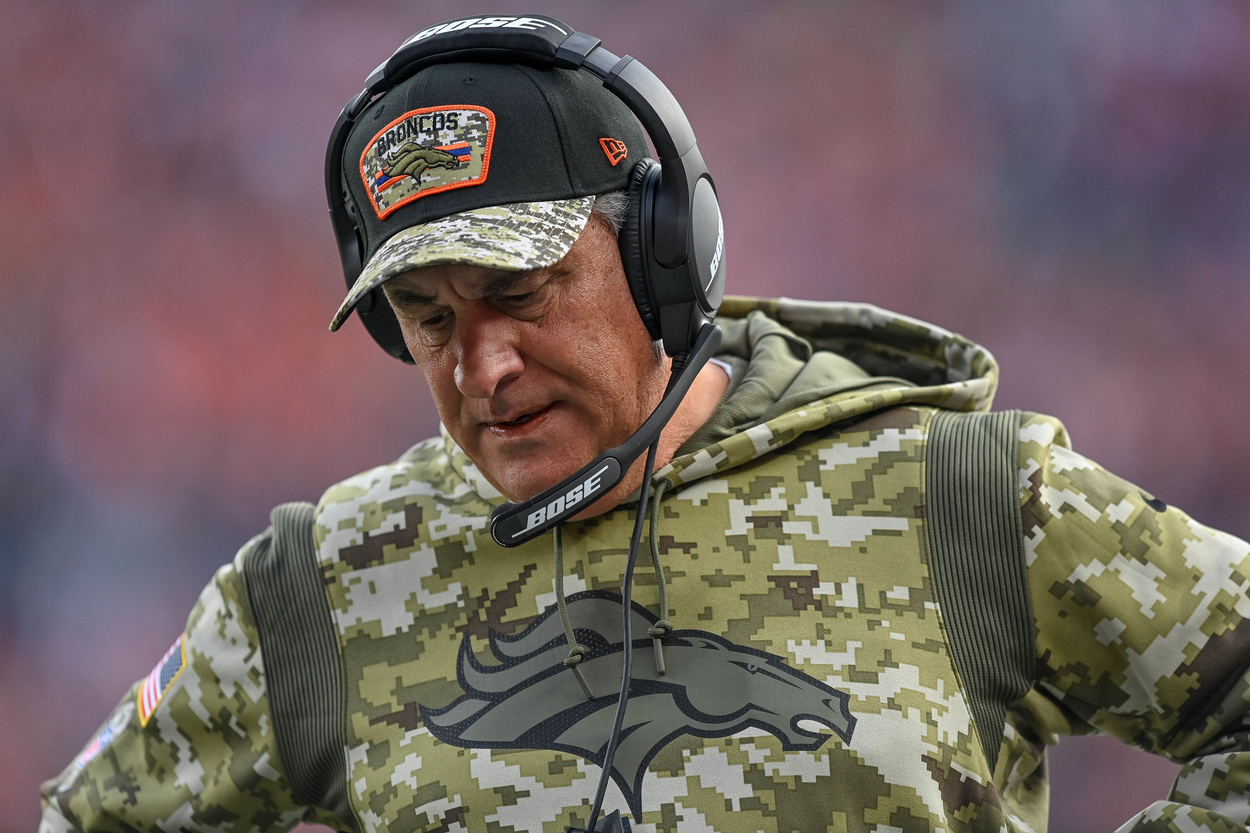 If Fangio wants to look at things through a glass-half-full angle, he has the Broncos at 5-5 and still in the hunt. Unfortunately, the Broncos have been wildly inconsistent and are 2-5 after defeating the New York Giants, Meyer's Jaguars, and the New York Jets in the season's first three weeks. That isn't exactly the Murderer's Row of the modern NFL.
For Fangio to keep his job, he'll need a brilliant second half and his first playoff berth. Otherwise, it'll be hard for him to survive three non-winning seasons, let alone three years, without reaching the postseason.
4. David Culley, Houston Texans
Culley is one of multiple first-year head coaches who might not make it to September 2022, and it's not entirely on him. The Texans are in dire need of a reboot, one which starts with a resolution to the Deshaun Watson saga — and the legal aspects there are out of the franchise's hands — and a clean slate in the front office.
With respect to Culley, the Texans may want a veteran head coach who has reached the postseason before, someone like former Philadelphia Eagles head coach Doug Pederson or ex-Lions head coach Jim Caldwell, to lead them into the post-Wason era. Unless Houston somehow goes from 1-8 to, say, 4-13, it doesn't sound like Culley is guaranteed another year.
3. Dan Campbell, Detroit Lions
Campbell is in a similar position as Culley. Both are first-year head coaches (although Campbell served as the Dolphins' interim head coach in 2015) in charge of despondent franchises. At least Culley and the Texans have a victory on their resume this year.
Detroit, however, is apace for the first 0-16-1 season in NFL history. Actually, it'd be the first winless with a tie season since the 1970 AFL-NFL merger. Hue Jackson somehow survived losing 31 of his first 32 games with the Cleveland Browns from 2016-17. If the Lions finish winless for the second time since 2008, we don't see Campbell being so lucky.
2. Matt Nagy, Chicago Bears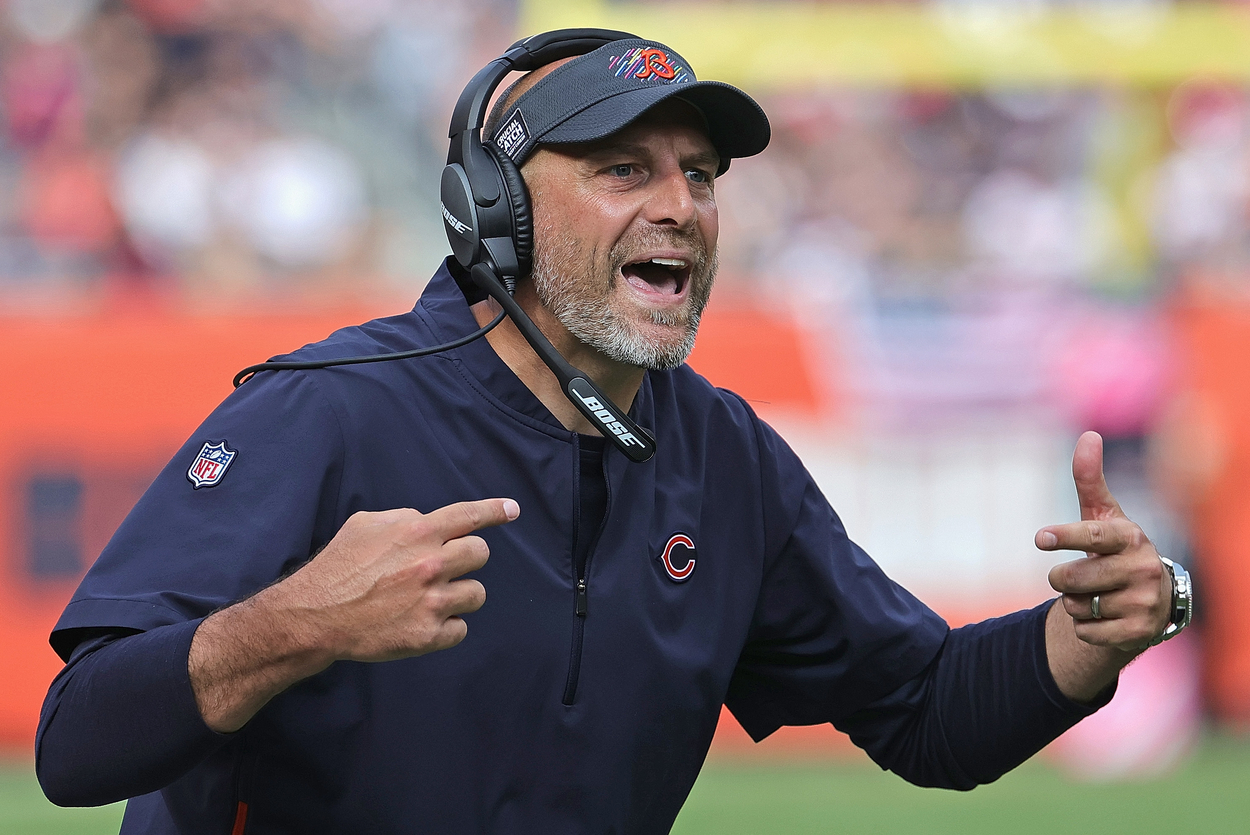 Nagy was already on the hot seat entering the 2021 season, and that came after two playoff appearances in his first three seasons. Something tells us that a 3-6 record and his total mismanagement of the Bears' quarterback situation won't save him here.
The Bears need too many things to go their way to reach the postseason, even in the seven-team playoff era. Could a 9-8 season save Nagy? Anything is possible, but we're not too optimistic. Now, if rookie quarterback Justin Fields steadily improves and impresses over the season's final eight weeks, that could get Nagy another year, but we're skeptical.
1. Kyle Shanahan, San Francisco 49ers
Shanahan helped his cause with a Week 10 upset victory over Odell Beckham Jr. and the new-look Los Angeles Rams, but that might not be enough to help him. Although the 49ers have once again had numerous injury issues, the franchise is on pace to miss the playoffs for the seventh time in eight years.
Now, Shanahan's defenders can argue the 49ers' Super Bowl 54 appearance should buy the veteran coach another year. However, the franchise might want to bring in a new head coach, one who can groom No. 3 overall pick Trey Lance and use him correctly, and end the Shanahan era.
However, Shanahan does have something going for him. Of all the men on this list, he has the best chance to earn another head coaching position in 2022 if he's fired in the coming weeks.
Like Sportscasting on Facebook. Follow us on Twitter @sportscasting19.