Which NFL Head Coach is the Most Likely to be Fired First?
For all those NFL teams who enter the season as Super Bowl favorites, there are even more clubs who are destined to fail. As sad as this sounds, it's true. Granted, plenty of these squads will find themselves in contention. Ultimately, however, they'll come up short. But as unfortunate as that is, it could be a whole lot worse.
The aforementioned teams, while they won't be lifting the Lombardi Trophy anytime soon, at least will be heading in the right direction. This is more than we can say about some of the other teams in the National Football League. These clubs won't just lose — they'll lose often. And when that happens, the blame will land on one person in particular: the head coach.
We hope that we can get through the entire 2016 NFL season without a single head coach getting fired, but after watching how some teams have performed lately, we don't plan on holding our breath. On the flip side, at least we're not placing odds on which individual will be the first one canned by his respective franchise. We'll leave that up to the oddsmakers in Vegas — and this is how they see it going down.
4. Jeff Fisher, Los Angeles Rams
Odds: +750
We have no idea how Jeff Fisher is still an NFL head coach. We're not trying to be mean, we just don't understand how this is possible. Sure, Fisher went 142-120 in his 17 seasons with the Houston/Tennessee franchise, but as the head coach with the Rams, not so much.
Now in his fifth season in St. Louis, Fisher has gone 28-37-1 and has never won more than seven games in a single season, and believe us, that does not sit well with him. With the club having recently relocated to Los Angeles, thus pushing its valuation through the roof, you better believe his losing ways will not be tolerated. Folks in Hollywood don't accept losing. Unless you happen to be the Lakers — for some reason, people still love the purple and gold.
3. Chuck Pagano, Indianapolis Colts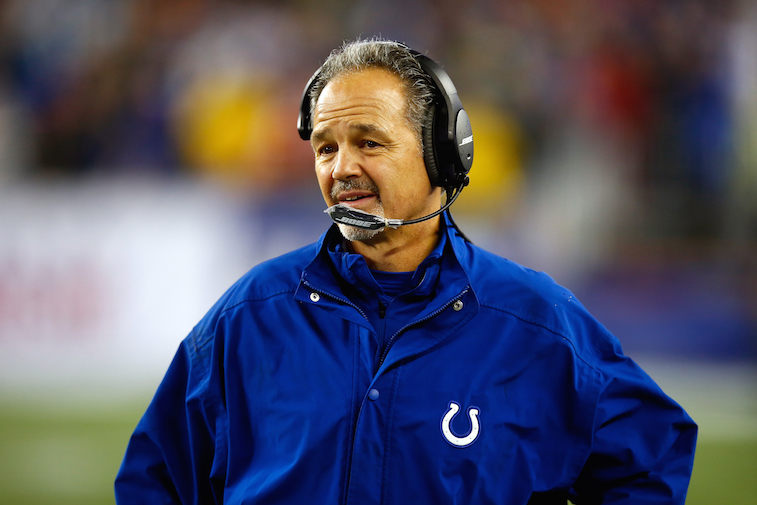 Odds: +600
Don't get us wrong, we happen to really like Chuck Pagano. In fact, we think he's a damn fine football coach. Unfortunately, with the way things have started off in Indianapolis in 2016, his time with the Colts organization could slowly be coming to an end.
While Pagano is 41-25 since taking over the reins back in 2012, the Colts failed to make the postseason in 2015 and are currently 0-2 to start the new year. When you have a guy like Andrew Luck as your starting quarterback, these results are simply unacceptable. Unless Pagano is able to turn this around, and fast, it'll be hard to defend him much longer.
2. Gus Bradley, Jacksonville Jaguars
Odds: +500
Gus Bradley has done plenty to change the culture in Jacksonville, yet the simple fact remains, the Jaguars continue to fall flat where it matters: On the field. Two games into his fourth season as the club's head coach, Bradley has only managed to put together a 12-38. mark; not exactly inspiring stuff. While the organization has been patient with Bradley as he tries to turn the Jags into a legitimate contender, at a certain point, we have a feeling that patience is going to run out.
Still, after securing one of the best draft classes in 2016, the Jags could be one of the surprise teams this upcoming season. Unfortunately, if Bradley is unable to get the most out of the newfound talent on the roster, he may not be around long enough to see Jacksonville take it to the limit and steal the show.
1. Rex Ryan, Buffalo Bills
Odds: +150
In six seasons as the head coach of the New York Jets, Rex Ryan talked the talked, but he didn't exactly walk the walk. After making the playoffs in each of his first two seasons, Ryan failed to do so in the last four, and as a result, found himself seeking employment elsewhere. The Buffalo Bills happily hired the brash head coach in 2015 — we wonder if they're regretting that decision.
Following an 8-8 mark in his first year at the helm, Ryan's Bills felt flat in their 2016 season opener, falling 13-7 to the Baltimore Ravens, and then lost in Week 2 to the New York Jets 37-31, prompting the not-so-surprising termination of offensive coordinator/scapegoat Greg Roman. With these losses, Rex's career record now stands at 54-60 (.474 winning percentage). With the 2016 season still in its infancy, there's plenty of time for Ryan to right the ship (not that we expect it to happen of course). The question is, how much time will he actually get? The way Vegas currently sees it, not much.
Odds courtesy of Bovada via OddsShark
Statistics courtesy of Pro-Football-Reference.