NFL: Here's What Losing A.J. Green Would Mean to the Bengals, According to Teammates
The Cincinnati Bengals have limped through the first five weeks of the season, getting off to a winless start. It has quickly the conversation shifted over to the long-term future of star wide receiver A.J. Green, who is still on the mend from a surgically-repaired ankle. With that in mind, his teammate Dre Kirkpatrick touched upon the impact his potential departure would have on the franchise.
A.J. Green's rise to stardom
Since being selected with the fourth overall pick in the 2011 draft, Green has proven to be one of the game's best talents over his first eight-plus seasons in the NFL.
He has firmly established himself as a top-flight wideout behind his elite level of production as he has tallied more than 1,000 receiving yards six times, double-digit touchdowns on three occasions, and north of 65 receptions all but once. The only thing that has prevented him from putting up even greater numbers has been his struggles with nagging injuries over the years.
When healthy, he has shown to be one of the top red-zone and deep-ball threats in the league. He is a bonafide No.1 receiving option that has garnered high recognition from his peers, with many voicing that he is the best wideout in the game.
However, his time with the Bengals may be nearing an end with trade rumors swirling around. It has now led one of his teammates to speak out about his potential departure.
Dre Kirkpatrick says Bengals will 'fall apart" if A.J. Green is traded
The Bengals' sluggish start to the 2019 season has put their front office to face the reality of making some franchise-altering moves involving a few of their key players.
Green is currently in the final year of his four-year, $60 million deal. The lack of progress towards a new extension and the team's continued struggles have created trade chatter to which veteran defensive back Dre Kirkpatrick has voiced his displeasure, according to Kevin Patra of NFL.com.
"I feel like it's going to fall apart," he said. "You can't do it. You can't do it, man. That's our best player on the team. He's not even out there. So, we don't even know what we got, how the team really looks. They can't do that. They can't…I'm a team player first, I rally around my guys and that would really hurt my spirit if we see him walk out the door."
Green has remained committed to the Bengals throughout their notable struggles over the last few seasons, but he now appears to be open to the idea of being moved. The 31-year-old has been the team's best offensive player throughout much of his career, and his departure would create a significant void on that side of the ball.
A.J. Green's uncertain future with the Bengals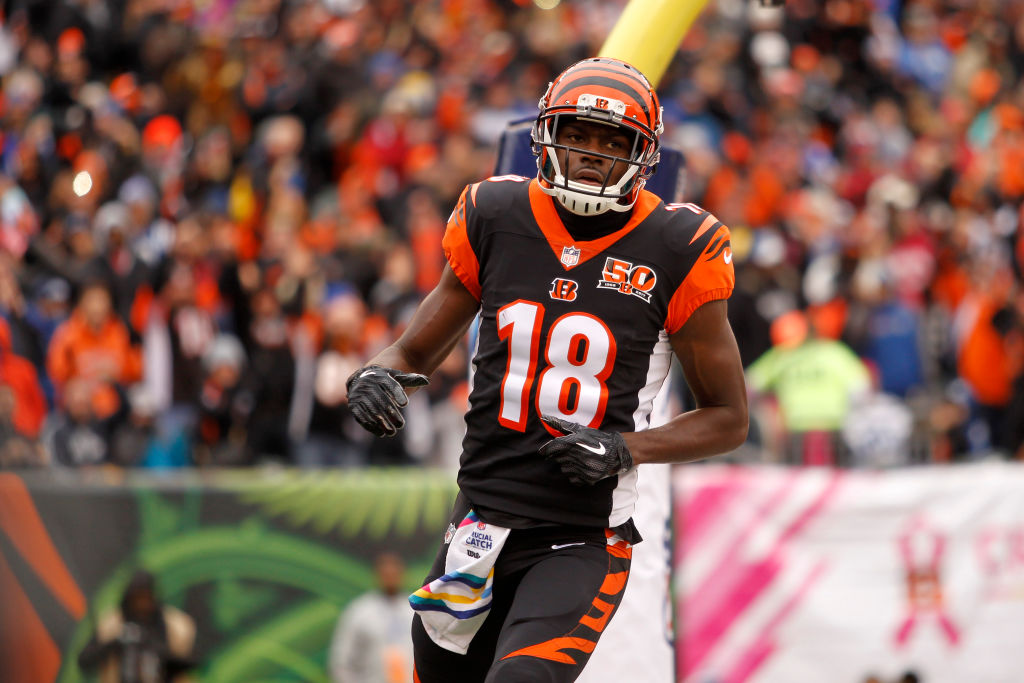 The playoffs have quickly become out of reach for the Bengals, which has only made the possibility of losing Green more realistic.
Up to this point, there hasn't been any significant trajection in the trade market, but there could be several teams looking to add the star wideout if he were to become available. Injuries may have riddled him over the last couple of seasons, but he has plenty left in the tank to perform at an elite level and immediate step as the top receiving option in nearly any offense.
There is still plenty of time for the Bengals to contemplate what to do next, given that the trade deadline is just under three weeks away on Oct. 29. Within that time, the Pro Bowler is expected to make his return to the field, which should give them a firm idea of what kind of player he is in his ninth year in the league.
It's a situation where only time will tell how much longer Green will be playing in Cincinnati.