NFL: Here's Why the Dispute over Roquan Smith's Contract is Such a Big Deal
The newswires have focussed mostly on big-name players like Khalil Mack and Julio Jones. But there are actually quite a few NFLers absent from the start of training camps because of contract holdouts. And the one holdout everyone should really be paying attention to is between the Chicago Bears and linebacker Roquan Smith.
To summarize: The rookie out of Georgia is about to miss the third week of training camp because he and the Bears can't come to an agreement on his contract. There is reportedly language in the contract stating the team can reclaim money guaranteed to Smith if he breaks the NFL's new rule prohibiting players from initiating contact with their helmets. Smith isn't a fan of that idea and hasn't set foot on the practice field yet because of it.
But this holdout isn't just impacting Smith and the time he should be spending getting ready to compete on the NFL stage. It gives us insight into how messy and convoluted these contract negotiations can be.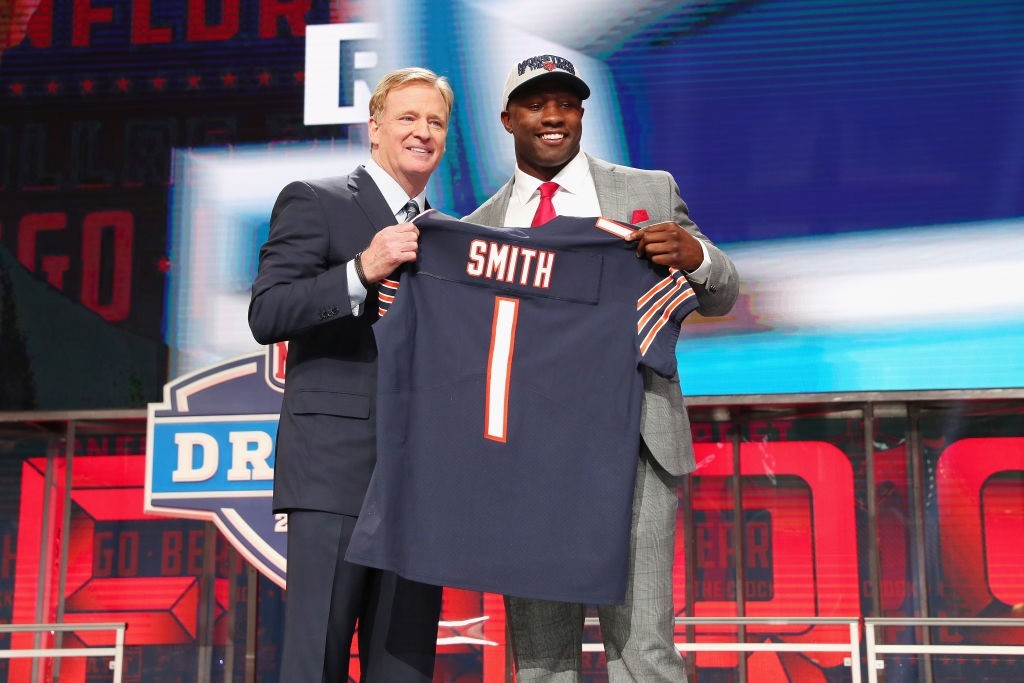 The argument in favor of Smith is straight-forward: The Bears shouldn't be trying taking back some of the rookie's money if he isn't able to follow a new league rule few people understand. But as it turns out, teams do this fairly often. "Every rookie contract includes language that allows teams to void guarantees under certain circumstances," ESPN's Dan Graziano writes, "such as drug suspensions or legal entanglements off the field. But many teams go too far, inserting language that allows them to void guarantees for far less significant reasons, such as team-imposed fines." In short: Smith isn't the first rookie in NFL history with questionable language in his contract. And his agency is doing its job by insisting he will be able to hold onto his money.
However, this doesn't mean Smith is a completely innocent party. As Steve Rosenbloom of the Chicago Tribune points out, Smith looks as though he's trying to avoid paying any consequences if he does something wrong. "(Smith) wants his money to be protected if he fails to play the game by the rules," he writes matter-of-a-factly. "Every player, on offense or defense, wants to run around with freedom. But there are rules. For everybody. I don't know how a rookie thinks he deserves a Get Out Of Jail Free card."
Regardless of which side you agree with, the league's new rule at helmet contact is at the center of the debate. It isn't clear yet how this new rule will be enforced and it's very likely it will — like other new rules before it — be called inconsistently a regular basis. The Bears don't want to be out money if their first round pick gets dinged by new regulations that are difficult to follow. Smith doesn't want to be punished for a breaking a rule he doesn't fully understand.
Both sides are unhappy because of this new contact rule, and the season hasn't even started yet.
At the end of the day, neither Smith nor the Bears are in a particularly good position. Rosenbloom explains if Smith gets the language in his contract he desires, that could draw ire from veterans who don't believe an unproven rookie should get that kind of treatment. (Which could potentially be why Chicago hasn't caved yet.) If the Bears do cave to Smith's demands, what would stop the rest of the team from trying to do the same with their own contracts? No matter what resolution is reached, there isn't really a scenario where both player and team gets exactly what they want.
And the longer this player vs. team debacle goes for, the less time Smith is putting into getting ready to represent the Bears on the gridiron this season.