NFL: Houston, We Have an Andre Johnson Problem
Andre Johnson, the newly 33-year-old wide receiver for the Houston Texans, no longer wants to remain with the team, despite the fact that he was the first Pro Bowler that the Texans produced as a franchise (Johnson was drafted in 2003, just one year after the Texans were introduced to the league as an expansion team). A six-time Pro Bowler, Johnson is on the downslope of his career, and doesn't want to waste what's left of his time on a rebuilding team, per NFL.com. With four teams showing interest on the record and several more that would surely welcome his services, it seems that Johnson, who is second in the record books when it comes to receiving yards per game behind Megatron, will be suiting up in a different uniform.
Especially if he can restructure his contract. Right now, Johnson's set to make just over $10 million for the upcoming season (although he's losing some of the money as he sits out through workouts) as part of the seven-year $62 million deal he signed in 2010. That's a lot for a Super Bowl contender to swallow, since teams that are in the hunt tend to already have large portions of the salary cap, now sitting at $133 million, to work with. Since there's no way the Texans are going to let Johnson go for nothing, getting out of Houston may prove very tricky for the wideout.
"I haven't been public about anything," Johnson told NFL.com. "I just choose not to talk publicly about it. It's in-house and that's the way I choose to keep it. I'm not a big media guy, so I refuse to talk about it."  This is, of course, annoying when trying to figure out exactly what's going on with Johnson and the Texans.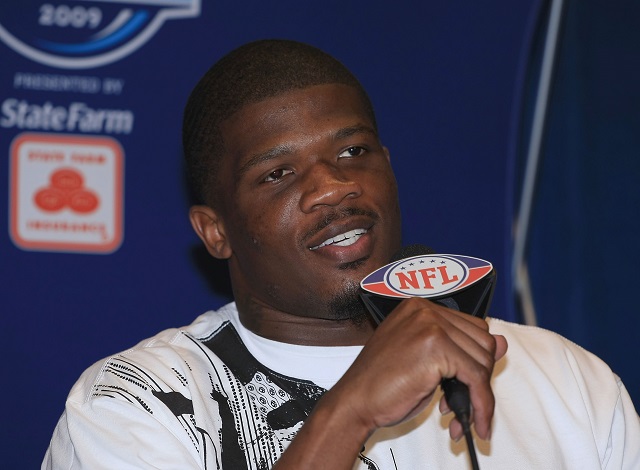 Here's what we know about trading Andre Johnson: If the Texans do it, they're going to be looking at $11 million of 'dead money' on their salary cap, which will slightly impede their rebuilding efforts. They're also going to get back a collection of assets that almost certainly fail to replicate what Johnson brings to the table, and while they might be giving up all hope (a.k.a starting Ryan Fitzpatrick), they still need to make an effort to provide FitzMagic with targets.
If they get rid of Johnson, they'll have some seriously slim pickings when it comes time to play the games. Plus, even if he is eventually going to add NFL Hall of Famer to his resume, he's too old to bring back anything really good in a trade.
If Johnson sits out for the season, though, Houston will be in the same boat only without the assets that would come back in a trade. Not to mention that the Texans, who found themselves winning just two games last season, rather than building on their previous 10-4 record, are looking to get back into the playoffs sooner, rather than later. They drafted SEC marvel Jadeveon Clowney first overall in the 2014 NFL Draft. The season starts in the first week of September, and the Texans are slated to play the Washington Redskins.