NFL: How Deshaun Watson Could be the Best Fantasy Quarterback in 2019
Texans QB Deshaun Watson was on his way to setting rookie passing records in 2017 before an ACL tear ended his season after seven games. He came back from the injury strong last year and snuck up on people, putting up some of the best stats among the league's quarterbacks. If he can repeat that performance in 2019, he has a chance to be the best quarterback in fantasy football in 2019.

Deshaun Watson had a surprisingly good 2018 season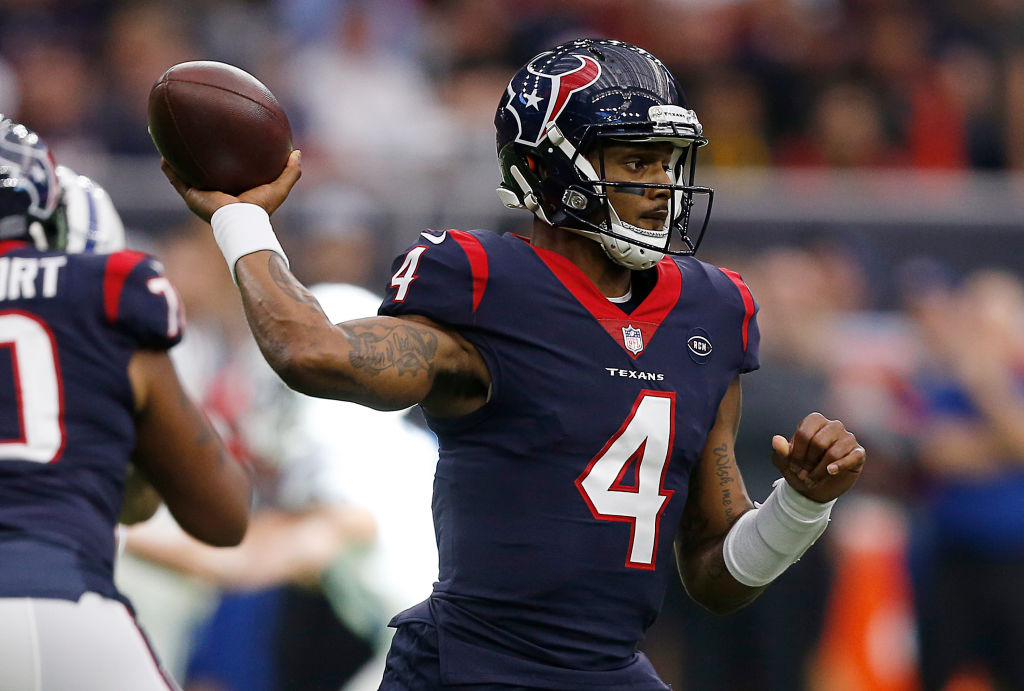 Coming off an ACL tear in his rookie season, people weren't sure what to expect from Watson last season. He surprised people by how good he played. He completed more than 68% of his passes for 4,165 yards, and he threw for 26 touchdowns and just nine interceptions. He's also one of the better running quarterbacks in the league. Last season, he ran with the ball 99 times, racking up 551 yards with five touchdowns on the ground.

Weapons all around Watson
A quarterback is only as good as the players he has to catch the balls he throws, and Deshaun Watson has a good group of receivers surrounding him.

His top pass-catcher is WR DeAndre Hopkins, who has had at least 1,200 receiving yards in four of his six seasons. Hopkins set career highs with 115 receptions and 1,572 yards in 2018.

Will Fuller is a promising young receiver, but he has trouble staying on the field. Injuries limited him to 10 games in 2017 and seven games last season, but he's averaged more than 15 yards per reception in each of the last two seasons, so if he can keep up that type of production and play a full season, he can easily surpass 1,000 yards along with Hopkins. Second-year WR Keke Coutee rounds out the Texans' receiving corps.

A suspect running game means more opportunities for Watson
The passing game is by far the best part of the Texans' offense because the running game struggled to move the ball last season behind RB Lamar Miller. He had 973 rushing yards and just five touchdowns in 14 games last season and, with the departure of Alfred Blue, he'll be backed up by D'Onta Foreman this year.

Foreman only has 85 rushes in his two seasons in the league, and his seven rushes in 2018 resulted in minus-1 yards. With Miller not putting up the types of numbers he did earlier in his career and the Texans lacking a veteran backup, that opens up more chances for Deshaun Watson to gain yardage. Not only does it mean the Texans will likely rely more on the passing game, but head coach Bill O'Brien may design some running plays for Watson because of his ability to run and the lack of confidence in the Miller-Foreman combo.

Why Watson may be fantasy's best quarterback
Chiefs QB Patrick Mahomes was the No. 1 fantasy quarterback by a wide margin last season, throwing for more 5,000 yards and 50 touchdowns. Given those stats, he is bound to show regression this season. That opens things up for another quarterback to overtake him as No. 1 at the position in fantasy. Deshaun Watson is a good candidate to take the top spot from Mahomes.

In addition to having players like Hopkins and Fuller to throw to, Watson's ability to scramble and advance the ball on the ground is one key to success in fantasy football because rushing yardage and touchdowns help Watson score fantasy points. Enough factors seem to be working in Watson's favor that he may be one of the top candidates to replace Mahomes as the best quarterback in fantasy.