NFL: How Emmanuel Sanders trade impacts 49ers, Broncos
Over the last few days, there have been plenty of rumblings around the Denver Broncos concerning the future of former Pro Bowl wide receiver Emmanuel Sanders with the team. All of this chatter has led to Denver deciding to move Sanders to the San Francisco 49ers on Tuesday afternoon. Here's how the move impacts both franchises moving forward this season.
Broncos finally pull the trigger on trading Emmanuel Sanders
Denver has gotten out to a rough start to begin the 2019 season, having dropped five out of their first seven games played.
It had led to Sanders voicing his displeasure with his role and the direction the franchise was heading, quickly falling out of playoff contention. Amidst this chatter, the Broncos executed a trade that sent the veteran wideout along with a 2020 fifth-round pick to the 49ers in exchange for a 2020 third and fourth-round picks, according to Adam Schefter of ESPN.
Through the first seven games of the season, Sanders has recorded 30 catches for 367 receiving yards and two touchdowns. In 134 career games, he notched 7,391 receiving yards and 39 touchdowns while recording three 1,000-yard receiving campaigns. Sanders is less than a year removed from suffering a torn Achilles back in December and has shown the ability to still be a difference-maker in the passing game.
Emmanuel Sanders brings much-needed help to 49ers' passing game
The 49ers have raced out to an impressive 6-0 start to begin the season behind their dominant defense, but there has been a notable need to improve their passing game.
Quarterback Jimmy Garoppolo has provided stable play, but he has just eight touchdown passes and eight turnovers this season. The team has had lackluster production from their wide receivers that are currently last in the league with just 8.2 receptions and 12.8 targets per game along with being 31st with 113.0 receiving yards per contest and tied for 24th with four receiving touchdowns.
Marquise Goodwin has been the most productive out of the bunch with 181 receiving yards, which is 73rd overall. The addition of Sanders brings aboard a proven threat in the passing game that can step in as the top receiving threat to their young group. It also gives them a dynamic duo with him alongside Pro Bowl tight end George Kittle, who has proven to be one of the top talents at his position.
Sanders is in the final year of his three-year, $33 million, which would make it easier to part ways with him if the pairing doesn't work out. It also leaves the door open to them hammering out a new contract.
Broncos signal full rebuilding mode with Emmanuel Sanders trade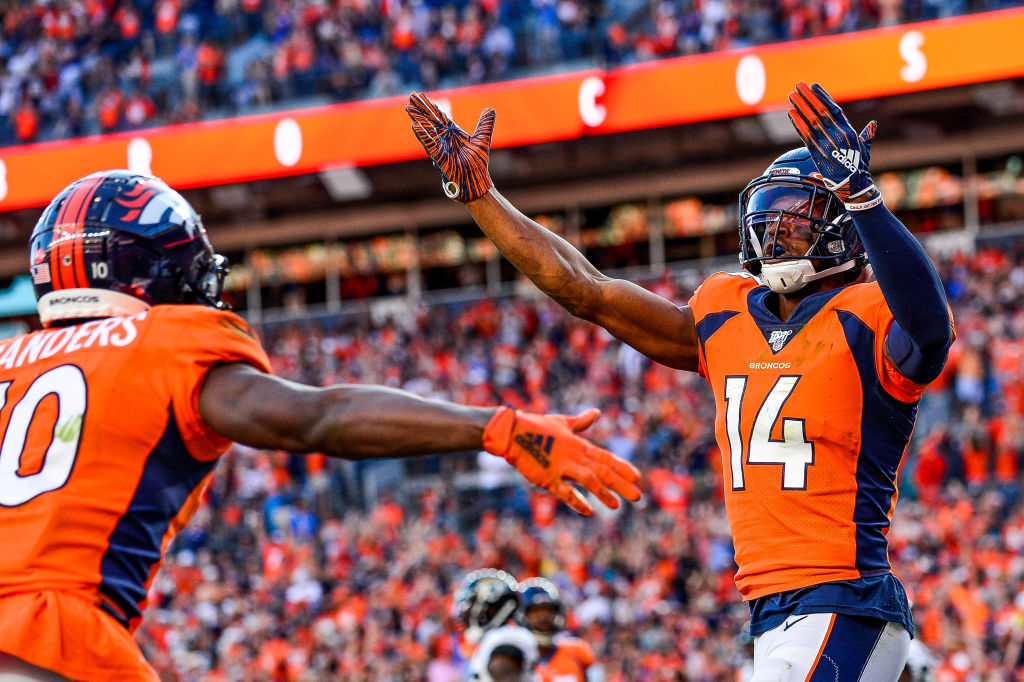 Over the last two seasons, there was constant chatter that the Broncos may part ways with Sanders, but the team continued to keep him aboard.
The talk had grown louder before the trade deadline last year, especially after the team decided to trade Demaryius Thomas to the Houston Texans. The move now signals that the franchise is further in rebuilding mode this season as it has added a pair of valuable mid-round draft picks to use next year.
What this move also means is that the team is moving ahead with Courtland Sutton as their primary option in the passing game. Sutton leads the team with 36 catches for 564 receiving yards and three touchdowns. He has notched at least four receptions in each game while putting up more than 60 receiving yards in all but one game and one 100 receiving yard performance.
The trade frees up roughly $6 million in salary-cap space that the team could use to make additional moves to their roster ahead of the trade deadline on Oct. 29.