NFL: How Jarryd Hayne Is Changing the Game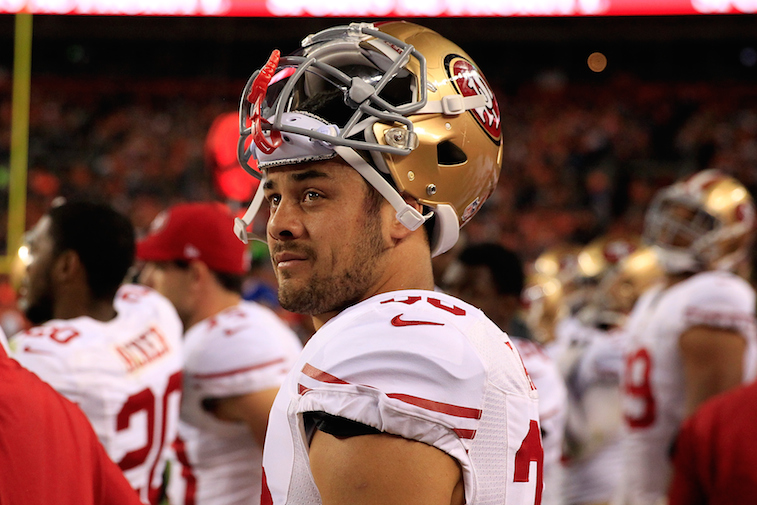 Aside from the Washington Redskins, no other team in the National Football League has had as tumultuous an offseason as the San Francisco 49ers.
It all started when the organization and former head coach Jim Harbaugh decided to "mutually part ways." To anyone who had been paying attention this move wasn't exactly shocking, and after four years together there was no love lost between the fiery coach and the Niners stubborn brass. This change needed to happen — for all parties involved. However, the events that soon followed had to have caught everyone off guard.
From defensive stalwart Patrick Willis' retirement, to rising star linebacker Chris Borland's shocking decision to hang it up before his second season, to another unfortunate incident involving former All-Pro Aldon Smith, this franchise has literally been falling apart at the seams.
Prior to last season's disappointing 8-8 finish, this was a group that had been to three consecutive NFC Championship games and made an appearance in the Super Bowl. Now they ware literally a shell of their former selves, a franchise in desperate need of a spark; something or someone to excite a clearly frustrated fan base. There was no way to know that that excitement would come from former Australian rugby player Jarryd Hayne.
With his physical play, his powerful running style, and his undeniable athleticism, you'd be hard-pressed to find anyone who doesn't believe Hayne deserves a spot on the 49ers 53-man roster. His ability to make players miss and skills as a return man — especially his exceptional use of the stiff arm — has greats such as Brian Mitchell singing his praise. And while we could bask in the glow of his continued wrecking of NFL defenders, it's important that we focus on the big picture. After all, Hayne isn't just having an effect on the team he's trying to make, he's actually changing the way the National Football League thinks about international talent.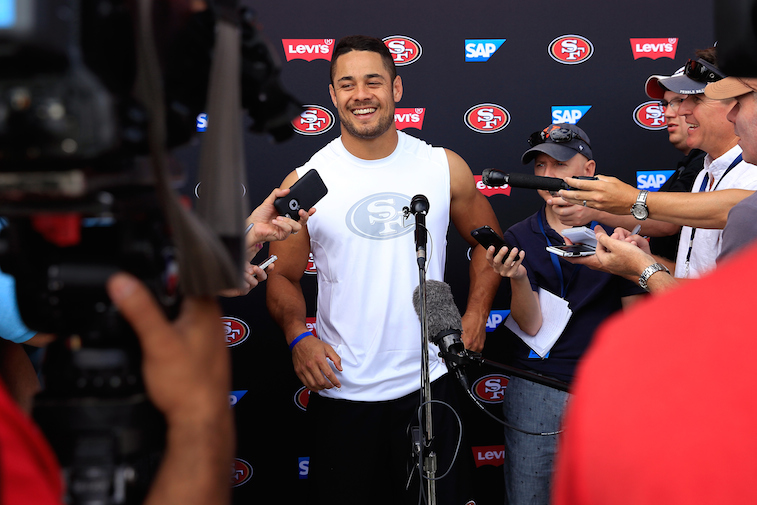 While speaking with the Sydney Morning Herald, NFL executive vice president of international Mark Waller discussed how Hayne's play this offseason has opened the league's eyes:
"It's definitely stimulated a lot of thought here about what can we do better to create a system for great talented athletes to find their way to the NFL more easily," Waller said.

"Essentially, Jarryd basically took that decision himself and found his own way here. All credit to him. But we should probably be thinking about how we can make that easier. Not everyone is going to be as brave as he's been or potentially not as immediately talented. That's one aspect of thinking."
Waller's right. There has to be an easier way to find talented international players. There is. In fact, we have the perfect measuring stick here in the States: The Scouting Combine.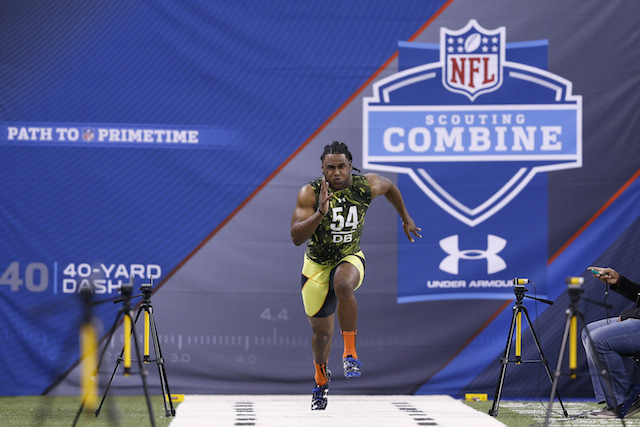 The NFL has always used its Scouting Combine as a means of helping to identify talented individuals. However, this all-important event has been limited to the United States. With Hayne's emergence as a potential game-changing player, the National Football League thinks it might be time to start doing a better job of identifying talent around the world.
"We've not really done a good job, I don't think, of actually thinking through how you build a system for that," Waller said.

"It's odd because we have a very good system in the US – the combine. That mechanic is a great way for providing a very clear focal point. It lays out very cleary what the skill requirements are, and in recent years we've extended the combine from a single event to a series of regional events that lead into the combine itself.

"It would seem logical to start with 'well I wonder if there's an extension of the combine that we ought to look at' that could look at bringing in athletes from elsewhere or holding a combines in some other markets. Should we extend that thinking maybe we need a global infrastructure and maybe we test it initially in a couple of markets. Maybe Australia would be a good market to test it in."
If you haven't had the opportunity to watch Jarryd Hayne plow through defenders, you've been missing out. Hopefully he's shown that he's more than deserving of a spot on San Francisco's active roster. That would give folks plenty of time to witness his skills.
But if that doesn't happen, if the 49ers decide the organization hasn't suffered enough already and opt to cut him, that won't change the fact that Hayne has already made his mark. The NFL's eyes are wide open now. International talent is out there. The league just has to go out and find it.
All statistics are courtesy of Pro-Football-Reference.com and ProFootballTalk.