NFL: How John Lynch's Broadcasting Career Helped Sell Him on Jimmy Garoppolo
John Lynch played in the NFL for 15 seasons, all with the Buccaneers and Broncos. He officially announced his retirement in November 2008, and he didn't waste any time beginning the next chapter of his football career. Just six days after retiring, Lynch joined the NFL on Fox as a game analyst. He continued working on Fox's NFL coverage for nearly a decade.

Then, in January 2017, the 49ers hired Lynch to be their general manager. Ten months later, on Halloween, Lynch orchestrated a trade that sent a 2018 second-round pick to the Patriots in exchange for New England's backup QB Jimmy Garoppolo, who has turned into a top-of-the-line starter. That trade has defined the 49ers and Lynch's tenure as their GM — and Lynch's broadcasting career may have helped sell him on Jimmy G.

John Lynch inherits a bad situation in San Francisco
When Lynch took over the 49ers, he inherited a team that went 2-14 in 2016 under one-and-done head coach Chip Kelly. The team was 27th in points scored and last in points allowed that season, and a major rebuild was needed if the 49ers were going to get back into contention anytime soon.

One of Lynch's first official moves as GM was hiring rookie head coach Kyle Shanahan. Colin Kaepernick and Blaine Gabbert had split starting quarterback duties in 2016, but the team waived Kaepernick on March 1, and Gabbert also left that offseason in free agency, leaving the team in a massive hole at the most important position on the field.
Jimmy Garoppolo filled a desperate need at quarterback
John Lynch and Kyle Shanahan desperately needed to make a move for a quarterback. They started the 2017 season with C.J. Beathard and Brian Hoyer atop the depth chart. After the veteran Hoyer started the first six games of the season, rookie Beathard stepped in as the starter for the next five — and the team went 1-10 in those 11 games.

Shanahan had just come over from the Redskins, where he was the offensive coordinator before coming to San Francisco. Then-Redskins QB Kirk Cousins was in the final year of his contract with Washington in 2017, leading to speculation that Shanahan and the 49ers would sign him the following offseason. But Lynch addressed the 49ers' quarterback woes before then when he traded for Jimmy Garoppolo, who led them to a 5-0 record in his five starts late in the 2017 season.

How Lynch's broadcasting career helped land Garoppolo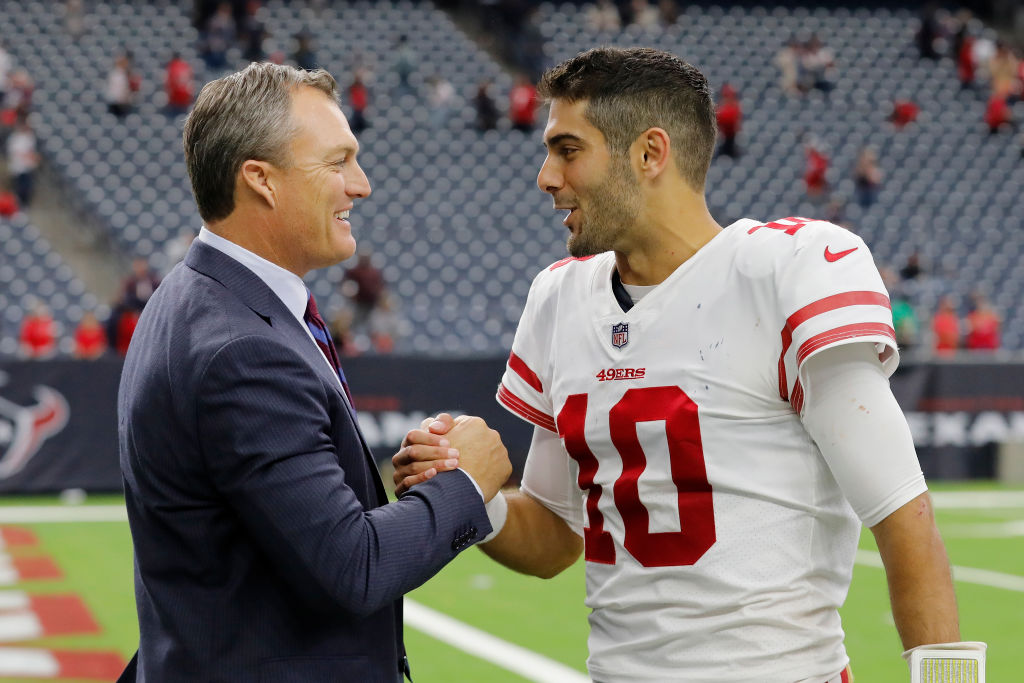 As you might expect in the 21st century, videos helped prove to Lynch and Shanahan that Jimmy Garoppolo was the right guy for the job.

Lynch recalled that his coach "had teach tapes and profile tapes on what we were looking for in quarterbacks, and some of it's the quick releases, and Jimmy was often on that tape even though he was the backup quarterback in New England." Lynch says he thought that was "interesting." He also remembered doing Patriots games during his broadcasting career, and his reaction to seeing Garoppolo was, "'Wow. Who's that?' and talking to people [with New England] and how high they were on him."

The coach and GM were impressed with what they had seen out of Garoppolo, but they also felt that he had great potential to improve as he gained more experience. It seems like they were right. Garoppolo led the 49ers to a 13-3 record this season, and he has them in the NFC Championship game for the first time in six years. He threw 27 touchdowns and just 13 interceptions this season, in which he was coming back from a torn ACL that ended his 2018 season in Week 3.