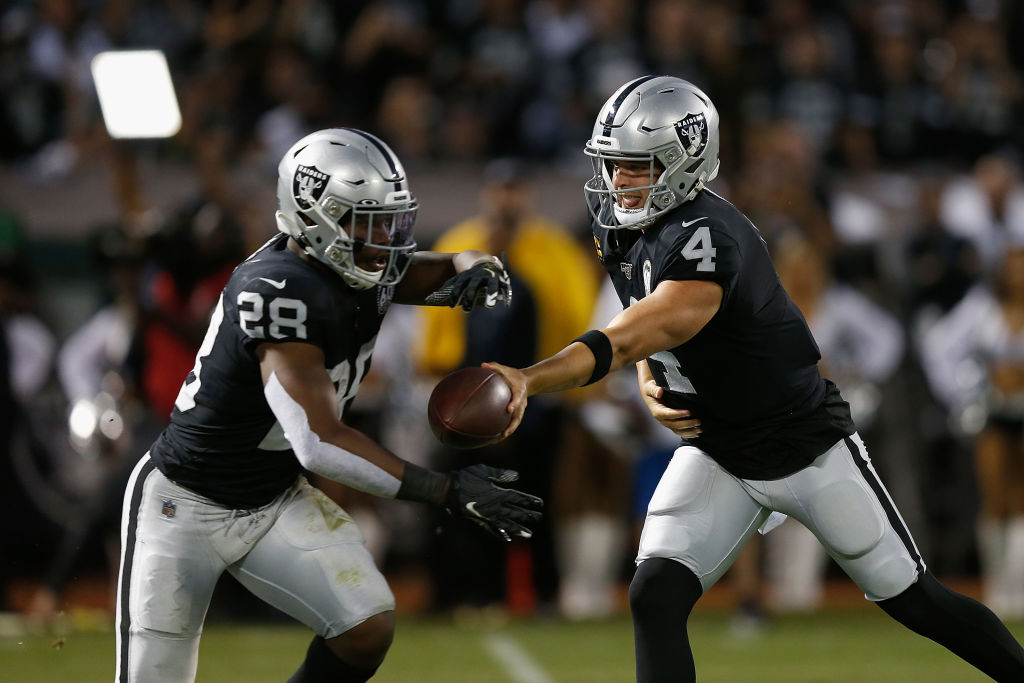 NFL: How Josh Jacobs Went From Homeless to Oakland Raiders Stardom
Josh Jacobs has had an unbelievable path to the NFL, from homelessness to the Alabama Crimson Tide to the Oakland Raiders.
The Oakland Raiders have received a lot of flack in recent weeks for how they handled the Antonio Brown situation, eventually releasing him after exhausting all other options. But the team remained confident that the players left in the room, including rookie running back Josh Jacobs, could have success without Brown.
On opening night the Raiders did have success, jumping out to a 14-0 halftime lead and holding on for 24-16 win over the Denver Broncos. Josh Jacobs was at the forefront of that success in his NFL debut as he rushed for 85 yards and two touchdowns and caught a pass for 28 yards as well. His path to the NFL has been nothing short of remarkable.
Jacobs was homeless for a short stint in middle school
When Josh's parents Marty and Lachelle got separated and divorced, Jacobs originally lived with his mother. But Jacobs and his mother frequently argued, leading to him eventually being kicked out.
"My father would give her a stack of money," Jacobs said in an interview. "She would go out and spend it and we'd be eating Salvation Army food. I would ask her how she could go spend that money and not have good food for us to eat. She didn't like that, how I rebelled and spoke up. So, she kicked me out."
Jacobs went to live with his father instead, who was having trouble making ends meet for himself as he worked to earn enough to pay child support. At one point Marty Jacobs found himself living out of his car, keeping a gun on his lap in the front seat to protect Josh while he slept in the backseat.
"I remember seeing him not sleep," Josh Jacobs said. "It's crazy because I didn't notice that I was sleeping in a car. I was just thinking that I was falling asleep and waking up. I didn't think anything about it because I felt safe. He would just drive around until he found a place to sleep and then I'd get up the next day and go to school."
He was overlooked as a prospect until social media gave him his break
Marty Jacobs would eventually receive custody of all five of his children. He worked relentlessly to keep a roof over his family's head, bouncing around from apartments to hotels to give his family the chance to succeed.
"There were a lot of times I saw my dad come up with food for us, and he would never eat," Josh said. "I always wondered if he ever ate or not, and that's something that used to really bother me. To this day, I don't know how my father did it."
Thanks to Marty Jacobs' efforts, Josh Jacobs was able to stay in school and excel both in the classroom and on the football field. Jacobs rushed for a whopping 2,704 yards and 31 touchdowns as a quarterback in his senior year of high school at McLain High in Oklahoma, but he was largely overlooked by Division 1 programs. That all changed when he got the advice to post his highlights on Twitter.
"Two days later, I'm getting calls from 10-15 coaches a day surprised that I was [still available]," Jacobs said. "They was asking, 'Oh, you must have character issues.' Like, what's wrong with him? But that's when all my offers started flowing."
From Alabama to the NFL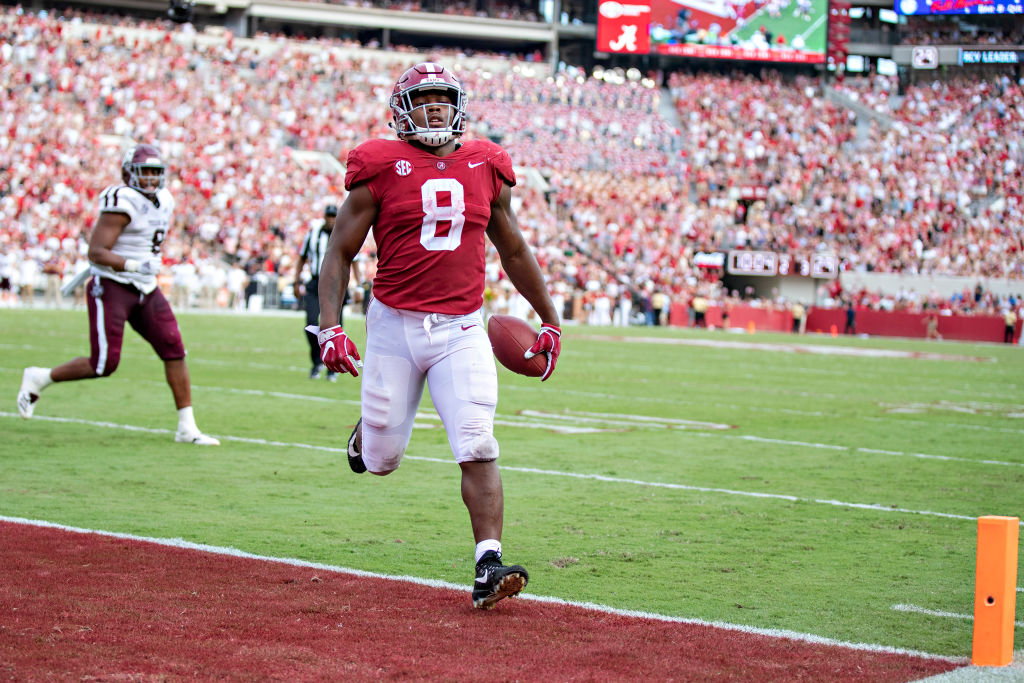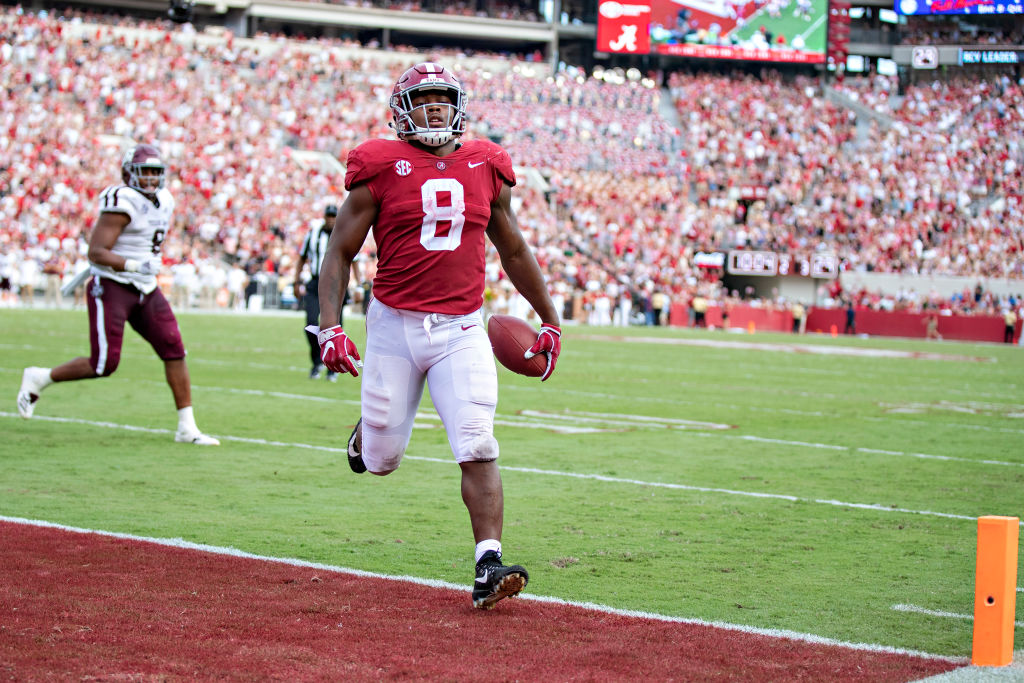 Josh Jacobs eventually got the call from Nick Saban and decided to play for the Alabama Crimson Tide. Jacobs split time in a talented backfield that included Damien Harris and Bo Scarbrough in his freshman year in 2016, but he made the most of his 85 carries with 567 rushing yards and four touchdowns.
In 2018, Jacobs rushed for 640 yards with 11 touchdowns on 120 carries and caught 20 passes for 247 yards and three touchdowns. He was also the MVP of the SEC Championship Game that season with 83 rushing yards and two rushing touchdowns in Alabama's 35-28 win over the Georgia Bulldogs.
Despite never putting up eye-popping numbers in college, Jacobs was the first running back drafted in the 2019 NFL Draft due to his impressive combination of skill and character. Sunday night, he became the first player since LaDanian Tomlinson in 2001 to rush for two touchdowns and pick up 100 or more yards from scrimmage in his NFL debut.
Jacobs' path to the NFL is quite the story, but the story of this young man's career is just getting started.