NFL: How Much Will Austin Ekeler Play After Melvin Gordon's Return? A Fantasy Football Outlook
After sitting out for the first three weeks of the 2019 season, Melvin Gordon ended his holdout this week and is expected to return to action for the Los Angeles Chargers. This is great news for the Chargers, who are off to a 1-2 start and will be thrilled to have one of their best offensive weapons back. But it isn't great news for fantasy football teams around the nation that roster Austin Ekeler.
As the primary back in Gordon's absence, Ekeler has been a must-start running back in all fantasy leagues and has been especially useful in points per reception (PPR) leagues. Austin Ekeler has rushed for 160 yards and two touchdowns in 2019 while adding 19 receptions for 208 yards and two touchdowns through the team's first three games. Ekeler's production will clearly go down when Gordon returns, but by how much?
Using last season as an indicator
In 2018, Austin Ekeler had 106 rushing attempts for 554 yards and caught 39 passes for 404 yards in 14 games. In the three games that Ekeler played in that Melvin Gordon did not, the back had 40 carries for 129 yards and 12 receptions for 76 yards.
So this means that in the 11 games in which Melvin Gordon was active, Austin Ekeler rushed the ball 66 times for 425 yards and caught 27 passes for 328 yards. This comes out to an average production line of six carries for 38.6 rushing yards per game and 2.5 receptions for 29.8 receiving yards per game.
A far cry from his 2019 averages of 12.7 carries, 53.3 rushing yards, 6.3 receptions, and 69.3 receiving yards per game, to say the least.
Will this year yield a larger share?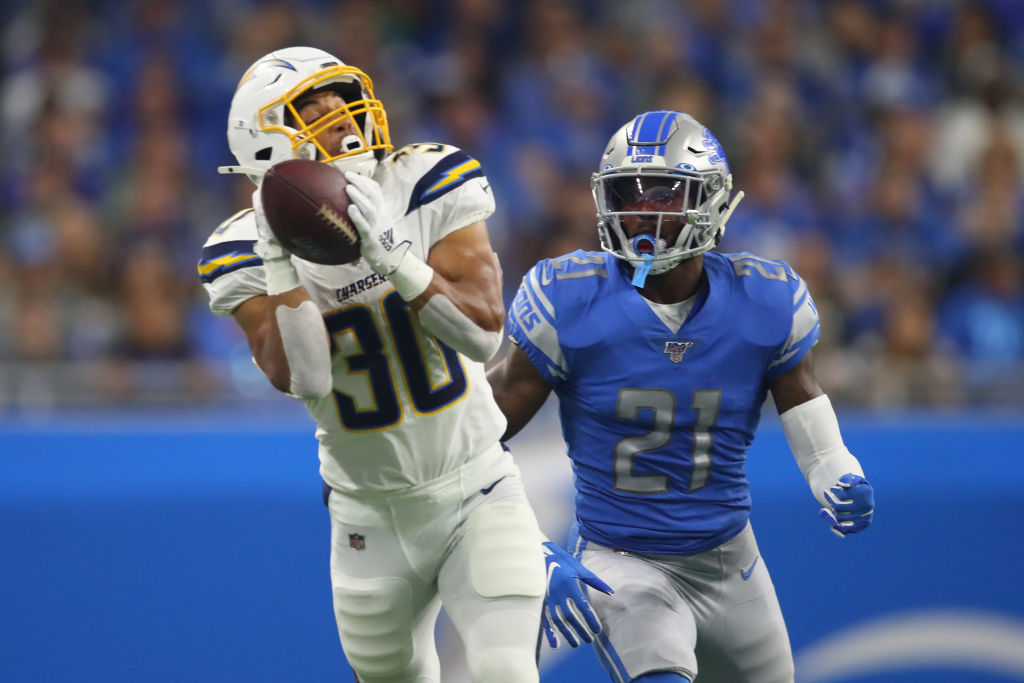 While last year's numbers are helpful to get an idea of what fantasy owners might be in for, it's possible that Ekeler could see slightly more action in 2019. Melvin Gordon is reporting to camp on Thursday but will not be playing against Miami.
How good of a job Gordon did keeping in game-shape during his holdout will play a large role in how quickly he starts taking over the lion's share of snaps. It took Ezekiel Elliott only one game to shake off the rust from his holdout, but every player is going to react differently to missing all of those practices and training camp.
Now that Austin Ekeler has shown how well he can play in Melvin Gordon's absence this season, there are a couple of reasons that the Chargers might opt for something closer to a 50/50 split than the roughly 70/30 snap-count split in Gordon's favor we saw last year. One is Melvin Gordon's injury history; perhaps the team will look to keep him fresher for the postseason and less likely to get injured by lightening his load a bit.
The other is that Ekeler could be the team's primary running back moving forward. Gordon has demanded a contract in the neighborhood of the league's elite backs, and he isn't going to get that in Los Angeles. Maybe the Chargers will try to keep Ekeler more involved in the offense this season if the plan is to move on from Gordon this offseason.
What should Ekeler's fantasy football owners do?
This is a tough spot, as Melvin Gordon was originally expected to be out until Week 10. Fantasy owners would have more aggressively sought trade options for Austin Ekeler if they knew that he'd be back so soon.
But alas, fantasy football is all about adapting. At this point, Ekeler is a pretty clear "hold" for your bench. He's too good to waive or to sell low. Even in part-time duties, he may still have value as a flex or RB2, and Melvin Gordon's health is always a concern. For now, Austin Ekeler owners are stuck taking a "wait and see" approach.