NFL: Where J.J. Watt's Career Could Go If He Avoids Injury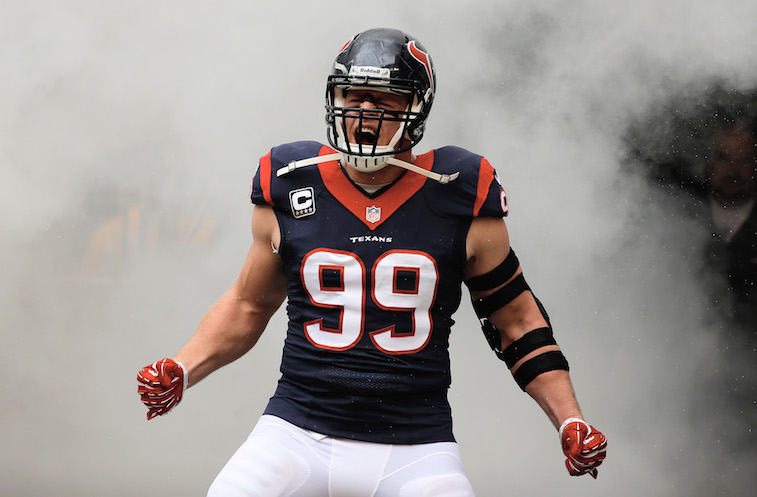 In today's NFL, when a defensive player is mentioned as a potential MVP candidate, you know right away that the player in question is really, really good. When a defensive player finishes second and receives 26% of the MVP vote, you're likely looking at a future Hall of Famer. In 2014, Houston Texans defensive end J.J. Watt accomplished that feat when he finished as the runner-up in the league's MVP race to Green Bay Packers quarterback Aaron Rodgers. Watt received 13 out of the 50 possible votes, which was the highest total for a defensive player since former New York Giants great Lawrence Taylor took home the award in 1986.
There is no questioning that Watt was the best overall football player in the NFL a year ago. In fact, the 6-foot-6, 290-pounder's performance in 2014 may have also been the most dominant season by a defensive player in NFL history. Watt's grade from Pro Football Focus was 107.5. The player with the next highest grade in the league, regardless of position, was Khalil Mack at 55.3. Watt finished second in the NFL in sacks with 20.5, which is a stunning statistic considering he spent most of his time lining up as a 3-4 defensive end — a position that is not traditionally known for producing sacks. On top of that, he had 44 total quarterback hits, and 54 total quarterback hurries. For his efforts, he became the first player in NFL history to win the league's Defensive Player of the Year award by a unanimous vote.
Watt even dabbled with being a two-way player in 2014, serving as a tight end for the Texans in their goal line package. It should come as no surprise that he had a significant impact on the game from the offensive side of the ball as well as catching three touchdowns passes, which was as many as future Hall of Fame wide receiver Andre Johnson. The former Wisconsin Badger was the main reason why the Texans were able to go from being a 2-14 team in 2013 to a 9-7 team in 2014.
Before we continue, it's important to note that Watt has been much more than a one-year wonder. In his short career so far, he has accumulated two Defensive Player of the Year awards, three All-Pro selections, three Pro Bowl selections, and has tallied 57 sacks, 12 forced fumbles, 11 fumble recoveries, and countless quarterback pressures and hurries.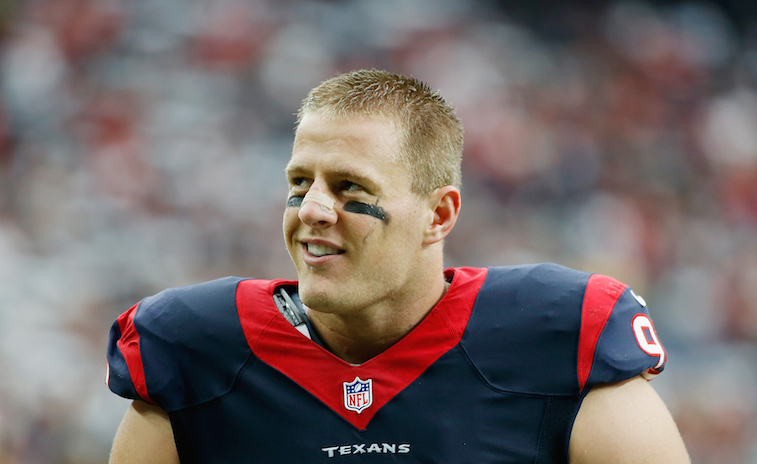 The only other defensive players who have impacted the game of football the way Watt has are Taylor and Reggie White. Taylor was the best linebacker to ever play in the NFL, whereas White was arguably the best defensive lineman to ever play at football's highest level. What separates Watt from both Taylor and White is that he has the ability to be an All-Pro caliber player at a minimum of three defensive positions – defensive end, defensive tackle, and outside linebacker, and it wouldn't be the least bit surprising if Watt could be a dominant inside linebacker as well. Watt is the complete package as a defensive football player, with a lightning quick first step, unmatched power, violent hands, and an incredibly high motor. Of course, there is also this recently released video that reminded us that Watt also happens to possess freakishly explosive athleticism.
At only 25 years old, the sky is the limit for Watt. He has been so good up to this point that he can be mediocre, by his standards, for the rest of his career and still end up with a bronze bust in Canton, Ohio. Knowing Watt's personality and desire to be the best ever, that is highly unlikely to happen. If he can win one more Defensive Player of the Year award, which looks incredibly likely, he will tie Taylor for the most in NFL history. If the Texans are ever able to improve offensively, they may win enough games for Watt to get over the hump and actually win the league's Most Valuable Player award. At his current rate, Watt could eventually go on to break the NFL's all-time career sacks record. Only time will tell how he will remembered in NFL history, but with several years still remaining in the prime of his career, there is a very good chance that J.J. Watt will go down as the greatest defensive player in NFL history.
All statistics courtesy of Pro-Football-Reference.