NFL Insider Chris Mortensen Revisits Deion Sanders' Early Days With the Atlanta Falcons: 'Muhammad Ali in a Football Uniform'
Deion Sanders enjoyed an impressive 14-year NFL career, one filled with highlight-reel plays and top-tier showmanship. ESPN NFL insider Chris Mortensen recalls the superstar cornerback's impact when he joined the Atlanta Falcons. The longtime journalist says Sanders reminded him of legendary boxer Muhammad Ali.
Chris Mortensen compares Deion Sanders' early impact to Muhammad Ali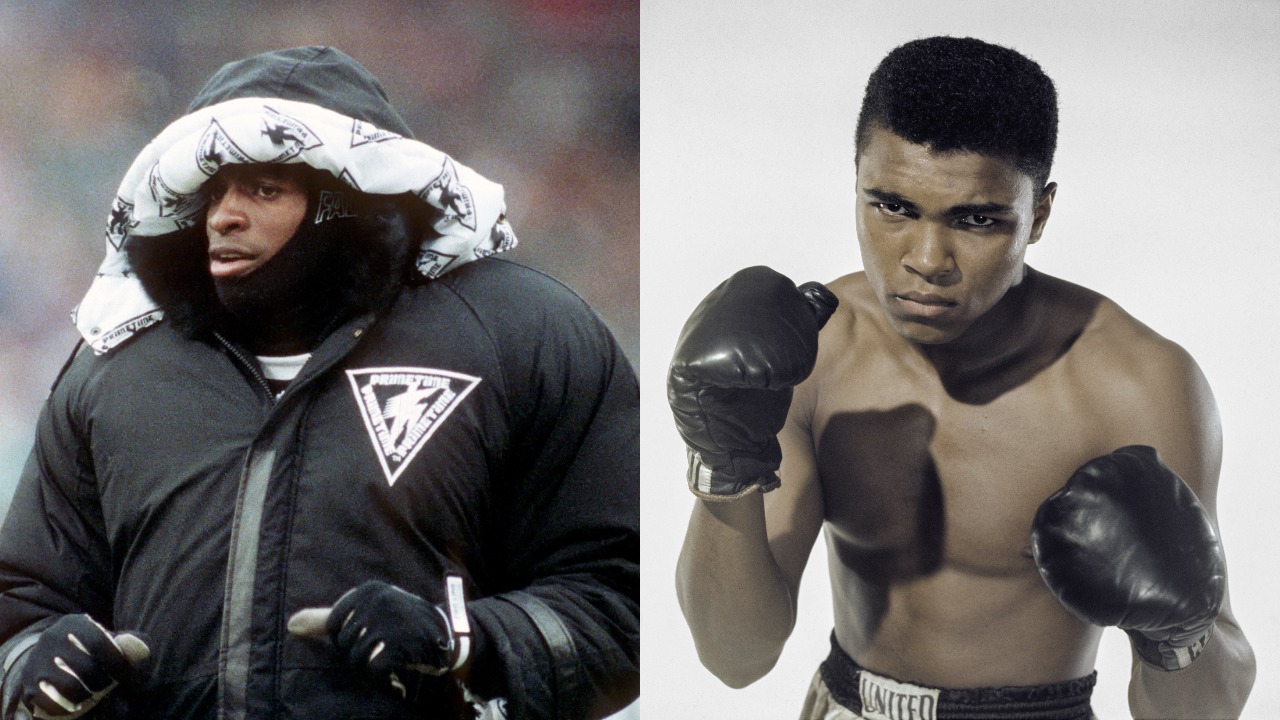 The Atlanta Falcons selected Deion Sanders with the No. 5 overall pick in the 1989 NFL Draft out of Florida State. Sanders spent just the first five seasons of his NFL career in Atlanta, but he left a lasting legacy in a short amount of time.
ESPN's Chris Mortensen covered the Falcons beat during that time and remembers when the Hall of Fame cornerback first took the field.
"I think people were basically seeing Muhammad Ali in a football uniform," said Mortensen per The Undefeated. "'I told you who I am. There's a reason I sell tickets.' That moment is one of my top 10 moments covering sports, and I've covered them for 50 years."
It didn't take long for the Fort Myers, Florida native to make an in-game impact. Sanders returned a punt for a touchdown in his first NFL game.
"I had never heard that stadium that loud," said Mortensen. The circumstances leading up to it and the fans not figuring out who they were. And then he proceeded to be everything and more than everyone expected."
Like Muhammad Ali, Sanders was flashy and could put on a show for the fans without even trying. He entered the NFL oozing with confidence and wasn't afraid to let people know.
Sanders is nicknamed "Prime Time" for a reason. He knew he would steal the show in Atlanta before he'd even arrived.
Atlanta presented an ideal scenario for Sanders
Deion Sanders orchestrated his own destiny during the NFL Draft. He told other NFL teams not to draft him because he was playing baseball.
"I wasn't going to Green Bay," he said. "I wasn't going to Detroit. Too cold. I'm a Florida boy. I had a meeting with Detroit that I didn't go to. Take the other Sanders. He's really good."
Chris Mortensen suggests Sanders' confident swagger allowed things to fall in line the way he planned.
"Back then, he was dictating terms when terms couldn't be dictated," said Mortensen.
Atlanta then became the 8-time Pro Bowler's new home, and Sanders fell in love immediately. The city gave him a piece of home and made the transition from college to the pros much easier.
"I loved the whole vibe. The whole rhythm," Sanders said. "Everyone was for everyone. If you showed promise and tried to do it right, Atlanta would ride with you. Atlanta would have your back."
Deion Sanders loved that the city embraced him like one of its own. He felt it was only right that he gave the fans his all. The superstar defensive back also played four seasons with the Atlanta Braves of Major League Baseball.
The Hall of Fame cornerback was crushed the Falcons didn't offer him a new contract
Deion Sanders was doing the things he loved in a city that he grew to love and cherish. Unfortunately, his time was cut short due to unknown reasons.
After five seasons with the Atlanta Falcons, the front office did not renew the Florida State product's contract. His time with the Braves ended not too long after, too.
"I love the city," said Sanders. "It broke my heart when I was traded from the Braves [to Cincinnati] and never even offered a contract by the Falcons."
Chris Mortensen couldn't believe the Falcons didn't try their best to retain the 6-time All-Pro selection.
"Deion became the first guy to truly market himself and a franchise," he said. "That's why it was absolutely shocking they didn't do everything they could to keep him. You put that on ownership, and you can read into that whatever you want."
No longer wanted by the Falcons for some reason, Sanders took his talents elsewhere. He played nine more seasons in the NFL between the 49ers, Cowboys, Redskins, and Ravens.
Prime Time was an entertainer, much like Muhammad Ali. Sadly, the Falcons didn't fully appreciate what they had in Deion Sanders.
Like Sportscasting on Facebook. Follow us on Twitter @sportscasting19.