NFL Insider Claims 'Everyone Knows' the Packers Don't Trust Jordan Love
When the Green Bay Packers selected Jordan Love in the first round of the 2020 NFL Draft, obvious questions about the team's future started pouring in. On paper, it looked like the team was preparing to move off Aaron Rodgers soon in exchange for Love.
However, Rodgers put a dent in this plan by winning back-to-back league MVPs in 2020 and 2021. The Packers have still struggled to generate consistent postseason success under Rodgers. However, it's impossible to ignore the mounds of regular-season winning. Rodgers has been the best regular-season quarterback in the NFL for two full seasons in a row.
Now, with questions arising about Rodgers' future once again, it appears Green Bay could be pulling a complete 180 on their initial Love plan.
NFL insider claims 'everyone knows' the Packers don't believe in Jordan Love anymore
According to Denver Broncos reporter and insider Benjamin Albright (he's plugged into the NFL as a whole), the cat is out of the bag when it comes to the Packers' lack of belief in Love moving forward.
According to Albright, "everyone knows" Green Bay "doesn't believe in Love." He further elaborates that Love isn't generating any trade interest around the NFL. Albright projects Green Bay would net nothing more than a Day 3 pick in exchange for the young QB due to a lack of league-wide interest.
It's unclear what led to Green Bay souring on Love so quickly. However, Albright isn't mincing words here. The Packers have lost faith in a guy who many had pinned as Rodgers' successor.
What led to Jordan Love's rapid stock decline?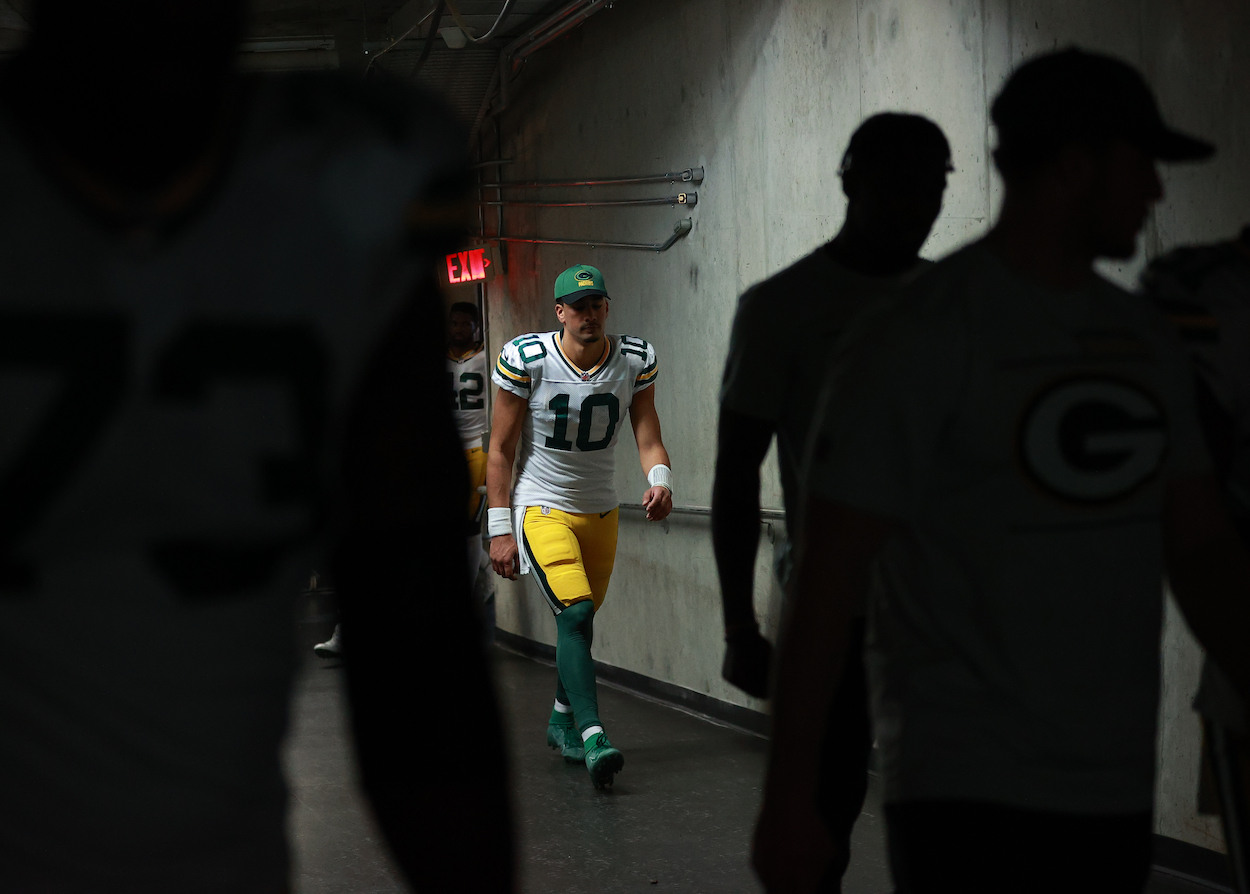 Leading up to the 2020 Draft, most analysts and experts had Love pinned as an extremely raw prospect. He possessed all the physical traits and skills to be a starting quarterback in the NFL. However, his lack of experience, accuracy, and ability to read a defense left a lot to be desired.
Many felt Love needed a full year riding the bench, learning an NFL style of offense, for him to be successful as a pro. This was a similar approach the Kansas City Chiefs took with Patrick Mahomes in 2017.
This high-upside nature of Love is ultimately what attracted Green Bay to him. However, it could also be the reason he's currently falling out of favor. Love has had a full two years to learn and get better behind Rodgers. If he still hasn't improved as a passer, that's concerning.
For what it's worth, Love did not look impressive at all during his lone start against the Chiefs in 2021.
What next for the Packers?
When it comes to this ongoing Packers-Rodgers power dynamic, the momentum has undoubtedly swung back in favor of Rodgers.
He's the future Hall of Famer coming off back-to-back MVP seasons. Green Bay is the team with a young QB it doesn't trust.
If the Packers want any chance of retaining Rodgers this offseason, they're going to need to prove their commitment to him by improving the roster around him. This becomes extremely challenging when you consider the team is already $50 million over the salary cap (Over The Cap).
Green Bay just might be forced to live with the consequences of their Love selection, regardless of its lack of trust in him.
Like Sportscasting on Facebook. Follow us on Twitter @sportscasting19.
RELATED: D.K. Metcalf Is Dead Serious About Becoming an Olympic Sprinter