NFL Insider Claims Kyler Murray and Cardinals Could Be 'Awkward' in 2022
The Arizona Cardinals weren't pleased with how the 2021 NFL season ended. At one point, they looked like one of the best teams in the league. Unfortunately, another late-season collapse derailed their promising campaign. To make matters worse, Kyler Murray seems to be at odds with the organization.
The Pro Bowl quarterback previously scrubbed his Instagram of everything Cardinals-related, which undoubtedly caused a stir. There's no indication that Murray won't be the starting quarterback in 2022, but that also doesn't mean a separation is out of the question if the relationship doesn't improve.
Monday Morning Quarterback's Albert Breer believes things could be uncomfortable between the quarterback and the franchise in the upcoming season.
Albert Breer suggests things will be awkward between Kyler Murray and the Cardinals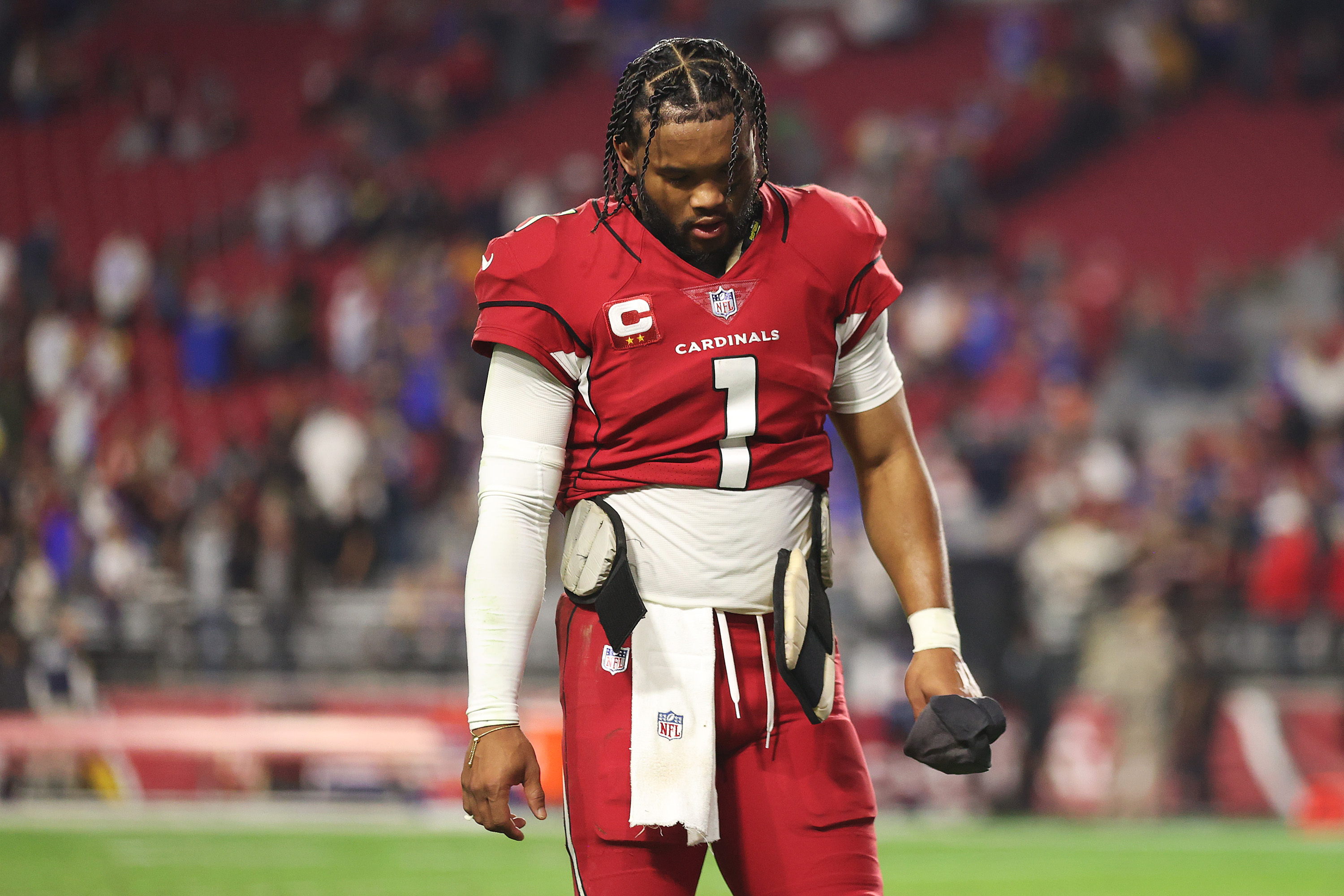 The Arizona Cardinals were extremely high on Kyler Murray coming out of Oklahoma. Otherwise, they wouldn't have selected him with the No. 1 overall pick in the 2019 NFL Draft. Still, there appears to be trouble in paradise, as it's difficult not to read into Murray's social media cleanse.
MMQB senior NFL reporter Albert Breer believes the offseason drama could significantly impact the 2022 season. In a recent appearance on The Rich Eisen Show, he shed some light on how the relationship could look moving forward.
"A lot of times, things get really awkward in year four," said Breer. "We saw with Cleveland and Baker Mayfield. Cleveland didn't want to commit to Baker yet, and things definitely got pretty awkward in his fourth year there."
The NFL insider suggests Murray hopes for a lucrative contract like other quarterbacks in this new class.
"I think if they're going to go forward with Kyler, I think it could be a pretty awkward thing," Breer added. "All players, but quarterbacks, in particular, are looking for their big payday. To be fair to Kyler, the history shows. The guys that teams feel really sure about get extended after year three."
The NFL insider thinks Arizona wonders if Murray can lead the franchise moving forward
There's no debating that Kyler Murray possesses elite raw arm talent with plenty of upside. However, Albert Breer suggests that the Arizona Cardinals may be noticing a flaw in their franchise quarterback.
"I think for the Cardinals, there was some stuff from a leadership standpoint that left them wanting," said Breer. "I don't know if Kyler actually went to the Cardinals looking for an extension. But I do think there's a leadership question there."
Arizona drafted Murray to be the guy. However, Breer is hinting at some doubt creeping into the organization about the 24-year-old's ability to lead.
"Is he the guy that we're willing to pay 45 or 50 million dollars a year for?" Breer asked. "I don't know that they have that question answered yet. Maybe they want to see a little bit more over a fourth year. If that's your answer there, to me, it would certainly bring up the question of, 'How is the player going to take that?' If you're Kyler Murray, you might now take that very well."
The Cardinals' late-season woes don't fall solely on Kyler Murray's shoulders. The coaching staff and the rest of the players deserve plenty of blame as well. Still, it's fair to offer the Oklahoma product similar criticism as any other quarterback who fails to meet expectations.
The Pro Bowl quarterback must take the next step in 2022 if he wants big payday
From a pure talent perspective, there aren't many quarterbacks in the NFL better than Kyler Murray. The Cardinals signal-caller possesses an elite passing skill set. It's no surprise that he garnered so much hype coming out of college.
Murray has been productive since arriving in Arizona, and he seemingly has gotten better year over year. He was on pace to have his best season-to-date before he suffered an ankle injury, which caused him to miss three games. The two-time Pro Bowler threw for 3,787 yards, 24 touchdowns, and 10 interceptions while completing 69.2% of his passes.
The Bedford, Texas native looked like a legitimate MVP contender through the first seven weeks. Arizona started the season with a 7-0 record. The Cardinals were flying high, but injuries to Murray and DeAndre Hopkins made life difficult.
Kliff Kingsbury's squad made the playoffs but laid an egg in the Wild Card Round loss to the Super Bowl champion Los Angeles Rams. Murray played horribly, completing 19 of 34 pass attempts for 137 yards, zero touchdowns, and two interceptions.
As much as Kyler Murray wants a massive payday, his performance toward the end of the season didn't warrant one. If he takes the next step in 2022, the front office could revisit. However, something is standing in the way of a deal getting done.
All stats courtesy of Pro Football Reference.
RELATED: Hall of Famer Warren Sapp Rips Kyler Murray's Apparent Beef With the Cardinals: 'That Didn't Look Like an NFL Quarterback'