NFL Insider Peter King Just Cast Doubt on Deshaun Watson Playing in 2022
Article Highlights:
NBC Sports' Peter King said an NFL general manager is skeptical Houston Texans quarterback Deshaun Watson will play in 2022
The Clemson product faces 22 active civil lawsuits, in addition to a reported 10 criminal complaints, accusing him of sexual misconduct
The unnamed GM might be onto something, especially with the Miami Dolphins no longer pursuing Watson
Houston Texans quarterback Deshaun Watson's NFL future has been in limbo for nearly a year now. It was on March 16, 2021, that Houston attorney Tony Buzbee announced in an Instagram post that he was filing suit against the Clemson product for alleged misconduct against women.
As of March 9, 2022, plenty of uncertainty remains about everything ranging from the 22 active civil lawsuits to any potential punishment Watson will face from the NFL. Things are so unresolved that at least one prominent league figure doesn't believe the quarterback will play next season.
An unnamed NFL GM told Peter King he's doubtful Deshaun Watson will play in 2022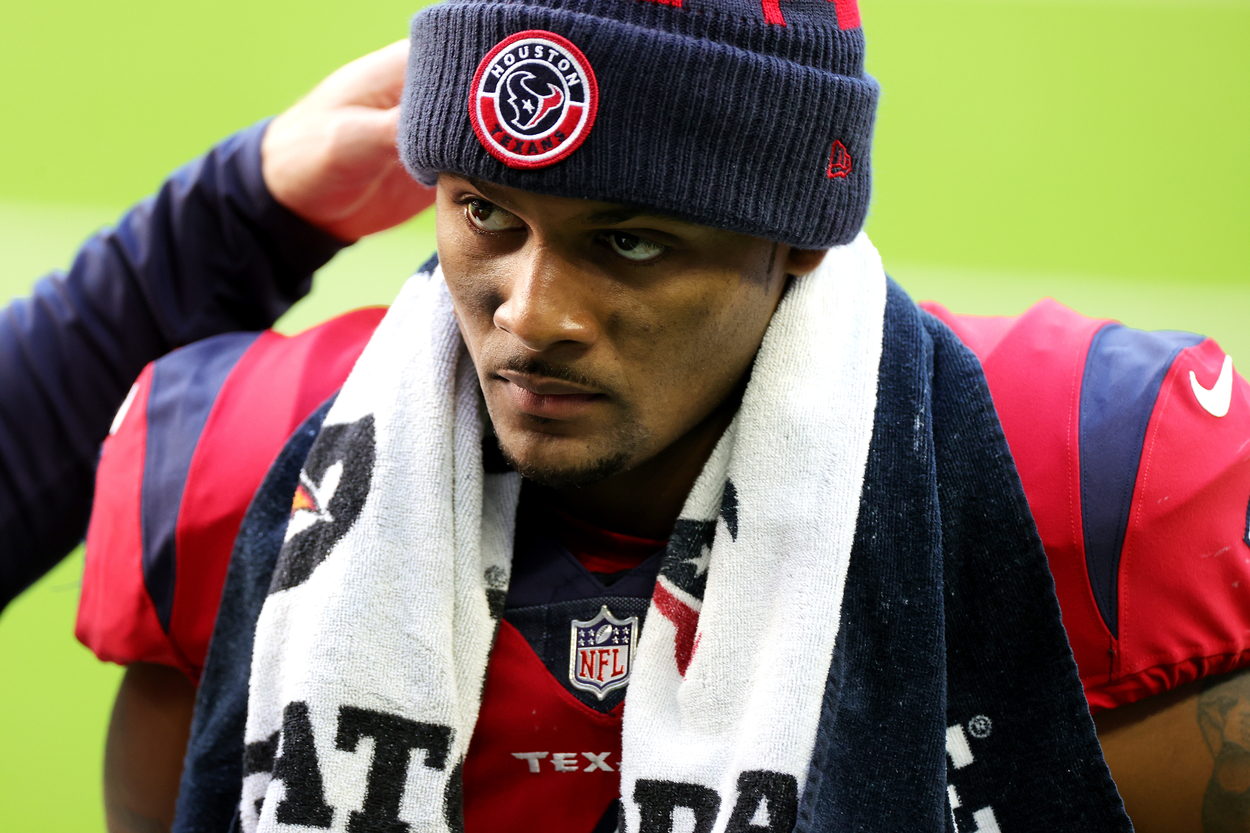 Rather than place Watson on the commissioner's exempt list, the Texans carried him on the active roster throughout the 2021 season and simply rendered him inactive each week. Even when then-starting quarterback Tyrod Taylor suffered a hamstring injury in Week 2, the six-time AFC South champions chose not to activate their Pro Bowl signal-caller.
In short, the Texans effectively paid Watson $10 million to do nothing all season.
Football fans might want to prepare for a similar outcome in 2022. In the March 7 edition of his Football Morning in America column, NBC Sports' Peter King said one general manager (who King did not name) told him at the combine he believes the 26-year-old quarterback will not play next season.
King specifically wrote, "I had one GM at the combine tell me he thinks there's a good chance Watson will not play in the NFL in 2022." The key selection there is "play in the NFL," which creates the impression that no teams intend on trading for the veteran quarterback.
Watson's 2023 salary and roster bonus will become fully guaranteed on March 20, 2022. He turns 27 on Sept. 14 and is under contract through the end of the 2025 season.
The general manager might be onto something, especially with the Miami Dolphins out of the running
Even with his pending legal issues, the Carolina Panthers and Miami Dolphins remained linked to Watson throughout the 2021 calendar year. The Panthers eventually dropped out of the running and settled on a mix of Sam Darnold and Cam Newton.
Yuck.
As for the Dolphins, general manager Chris Grier made it clear at the combine that "the door is shut" on the team acquiring Watson. Miami is instead expected to enter the 2022 season with oft-criticized Tua Tagovailoa entrenched as the starting quarterback.
So, where does that leave Watson? Ron Rivera's Washington Commanders settled on Indianapolis Colts quarterback Carson Wentz. The Denver Broncos answered their long-standing quarterback issues by sending the farm and a couple extra horses to the Seattle Seahawks for Russell Wilson. Would the Texans send Watson to the Colts? Probably not, considering both play in the AFC South.
Texans head coach Lovie Smith admitted at the combine that he has "no idea" if Watson will be on the team's roster next season. The veteran quarterback requested a trade shortly after the 2020 season ended.
The Texans appear primed to give Davis Mills a legitimate opportunity to replace Watson
If Watson does play in 2022, the odds should be against him doing so in a Texans uniform. As of publication, he was still waiting to find out if he would face criminal charges.
Smith might already have Watson's successor in Davis Mills, a third-round pick in 2021 who impressed at times in his rookie year. The Stanford product completed 66.8% of his passes in 13 games (11 starts) for 2,664 yards, 16 touchdowns, and 10 interceptions. Mills finished his first NFL season ranked third in passing yards and second in touchdowns among all rookie quarterbacks.
The rookie especially impressed down the stretch, completing 68.4% of his passes for 1,258 yards, nine touchdowns, and only two interceptions in Houston's final five games.
Barring anything unexpected in the coming months, Texans fans should count on Mills playing in the NFL — and for the six-time AFC South champions — in 2022. He might not be the quarterback Watson was (or still might be), but he's here and ready to win. That alone might be enough for Texans fans to move on from their former franchise quarterback.
How to get help: Text HOME to 741-741 to connect with a trained crisis counselor at the free Crisis Text Line.
RELATED: Lovie Smith Gave Texans QB Davis Mills a Glowing Endorsement Ahead of the 2022 NFL Offseason: 'He Played About as Well as Any of the Rookie Quarterbacks Did Last Year'