NFL Insider Peter King Predicts the Futures of Russell Wilson and Pete Carroll With the Seahawks: 'I'm Not a Big Fan of That'
The Seattle Seahawks have had a massively underwhelming 2021 NFL season. The front office could be heading into a potentially franchise-altering offseason. The futures of quarterback Russell Wilson and head coach Pete Carroll are up in the air. With rumors swirling everywhere, it's difficult to get a feel for what will happen. However, NBC Sports columnist Peter King has an idea where things might be heading.
Peter King predicts Russell Wilson and Pete Carroll are in final season together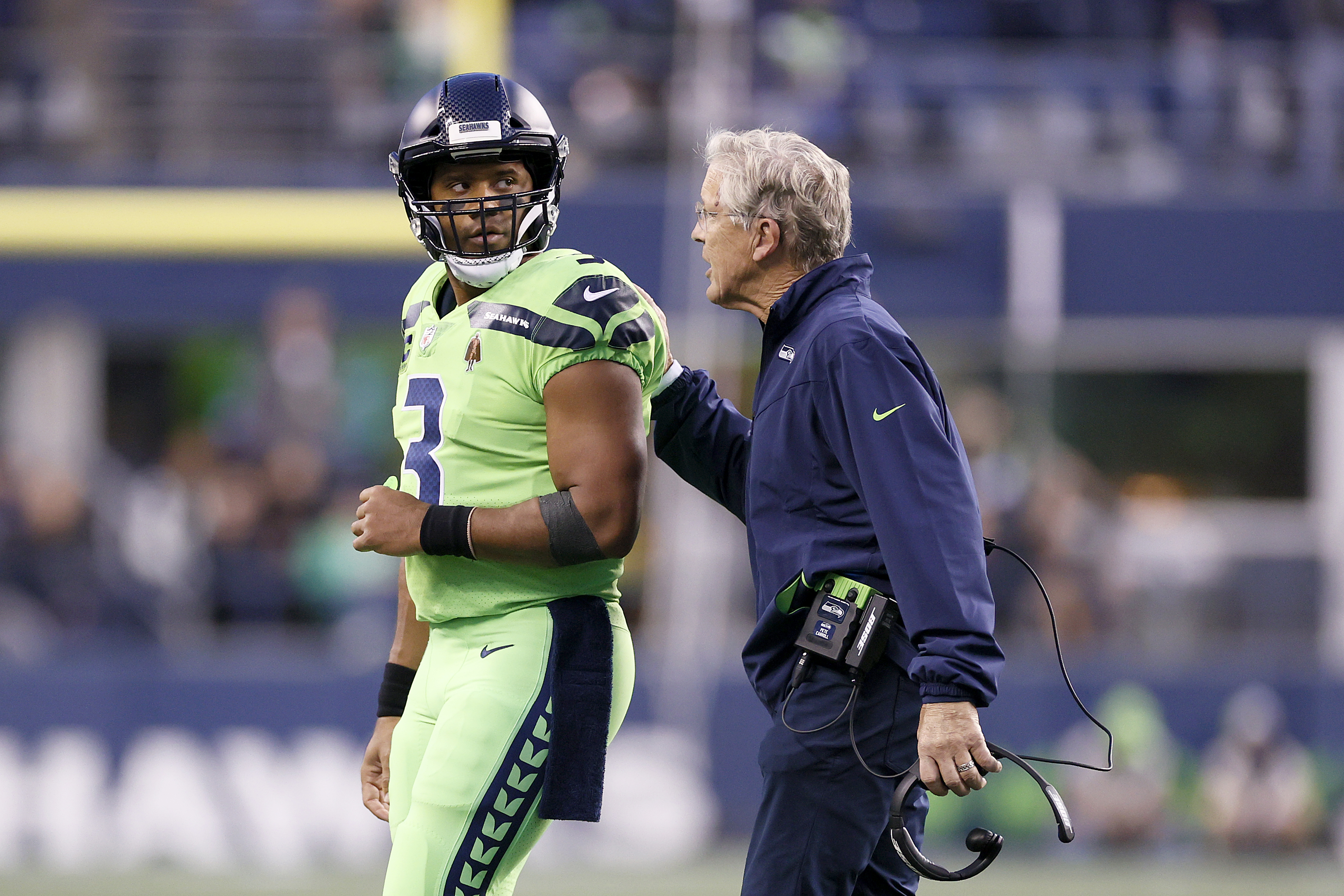 The Seattle Seahawks are 6-10, heading into the final game of the regular season. Regardless of what happens in the Week 18 matchup against the Arizona Cardinals, emotions are sure to be high.
There's plenty of speculation surrounding the relationship between Russell Wilson and Pete Carroll. The veteran quarterback seemed to want out after the 2020 season, and the Seahawks won the division. A losing season certainly won't heal any wounds.
NFL insider Peter King recently joined The Rich Eisen Show and weighed in on the intriguing situation in Seattle.
"That is a weird one," said King. "Last year this time, Russell Wilson was clearly unhappy. I can't imagine that this season has soothed his thought about playing the rest of his career in Seattle. Whatever is decided, there should be a frank conversation between Wilson, John Schneider, and Pete Carroll."
Rich Eisen predicted that Carroll stays in Seattle and Wilson doesn't. The NBC Sports columnist seemed to agree.
"That would be my guess," said King. "I'm not a big fan of that strategy. I would rather have it be the opposite. Quite frankly, it's a lot harder to find a top quarterback than it is to get a coach who you can win with."
No one genuinely knows what will happen outside of the parties involved. However, it just feels like this is the end of the Seahawks as we know it.
The Seahawks have a difficult decision to make
The Seattle Seahawks probably hoped it wouldn't come to this, but they may be at a crossroads. While Russell Wilson has been saying all of the right things to the media, it's difficult to imagine him being content with his current situation.
General manager John Schneider has done a good job in his executive role. He's worked alongside Pete Carroll for 12 years. However, he and owner Jody Allen will have some tough decisions to make after the 2021 season.
Wilson is technically under contract through the 2023 season. However, he could conceivably request a trade as part of his exit plan. There's no doubt that the 7-time Pro Bowler loves the city of Seattle, the fan base, and the Seahawks franchise. Still, football-wise, it may not be the best situation for him anymore.
As for Carroll, he's been running the show since 2010. The 2021 season will be just his third time finishing with a losing record. That's a pretty impressive run.
Given everything that's transpired in 2021, it's still hard to imagine the front office keeping both Russell Wilson and Pete Carroll on board for 2022 and beyond. As Peter King suggested, it could be one or the other, but certainly not both.
Wilson is more valuable to Seattle than Carroll
The Seattle Seahawks have enjoyed an incredible run under the leadership of Pete Carroll and Russell Wilson.
Seattle drafted Wilson in 2012, two years after Carroll took over the reins. The Seahawks posted back-to-back 7-9 efforts in 2010 and 2011. However, once Wilson arrived, things started to take off.
The Seahawks never posted a losing record with the Ohio native under center before 2021. Wilson and Carroll together have done wonders for this franchise. Still, all good things must come to an end. It seems more and more like that will be the case in the offseason.
So, the top brass will seemingly need to decide who to move forward with. Peter King believes Carroll would be easier to replace than Wilson, and he's right.
Even though the 33-year-old quarterback isn't having his best season statistically, he still has plenty of football left in the tank. Wilson missed time due to a fractured finger, and he still showed the effects of the injury when he returned. The watered-down offensive scheme hasn't done him any favors either.
If the Seahawks want to rebuild, they should trade Russell Wilson while they can still get a good haul in return. Reliable NFL quarterbacks don't just grow on trees, though. Only the special ones last as long in one system as Wilson has.
It's not a knock to Pete Carroll, but plenty of coaching candidates are out there waiting on an opportunity. Wilson's leadership is unmatched on the football field and in the locker room. Seattle has a better chance at winning with him than without him.
All of this is assuming the veteran even wants to stay put. Losing Russell Wilson could be a massive blow, as his impact would be nearly impossible to replace.
Like Sportscasting on Facebook. Follow us on Twitter @sportscasting19.