An NFL Insider Says Antonio Brown's Helmet Drama Won't Last Much Longer
To say that Antonio Brown has had an eventful offseason would be an understatement of the greatest kind. From switching teams (Steelers to Raiders) to getting frostbite from a cryotherapy chamber, Brown has consistently found a way to make it into the headlines without having a football in his hands. The latest drama surrounds Brown's refusal to play with the new league-sanctioned helmets, but some believe that the drama will not last long.
Antonio Brown's Pittsburgh debacle
The drama of Antonio Brown's offseason started when he had an ugly divorce from Pittsburgh Steelers. The Steelers had a season full of drama after the situation with Le'Veon bell led seamlessly into the Antonio Brown drama of the late season. When Brown skipped preparation for the final game of the season, Steelers coach Mike Tomlin publicly called him out as a nuisance whose antics outweigh his value to a team.
Although Antonio Brown and Ben Roethlisberger often made each other's jobs easier on the field, it didn't mean that they liked each other. Roethlisberger publicly called out his teammate, which Brown did not appreciate. Brown and the Steelers had hit an impasse, and before long, he was on his way to Oakland.

Frostbite in July
After making some media rounds, Brown's ability to grab headlines disappeared for a while. However, going into training camp word came out of an issue with his foot. It turned out that Antonio Brown had had an unfortunate accident after failing to properly protect himself while using a cryotherapy chamber. The result was an ugly picture of his foot and lingering foot problems which held him out of some of his preseason training.

Although Brown has a knack for bringing headlines to himself, this particular instance appeared to be a case of bad luck more than gross negligence. Still, it was another hurdle for the Oakland Raiders before Brown had even played in a meaningful game for them. When the foot heals, however, there could now be even more drama.

Helmet issues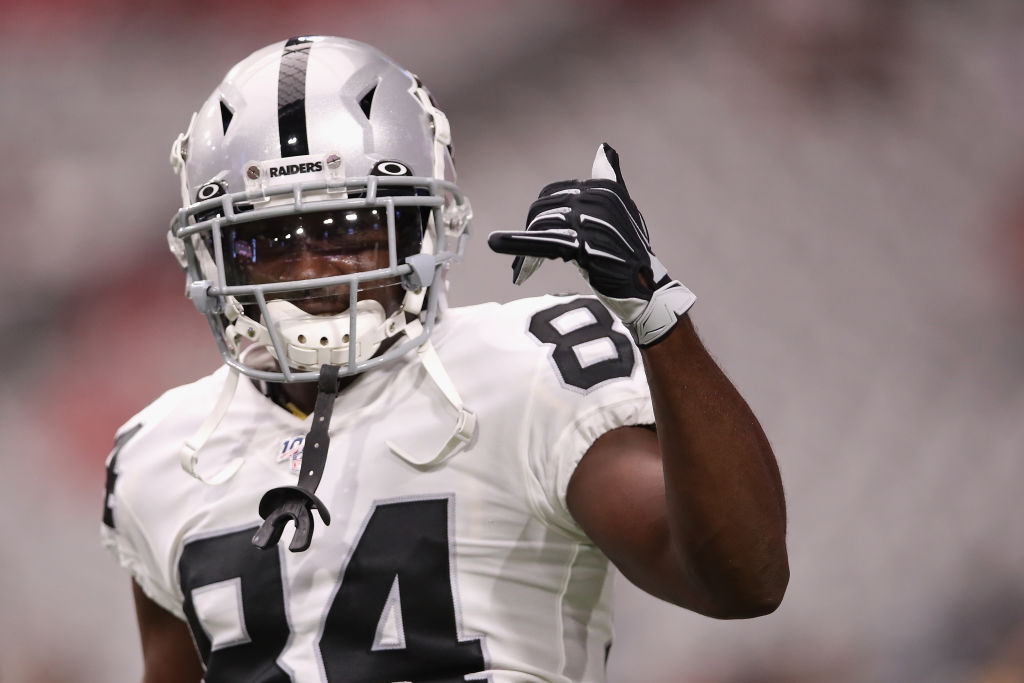 On top of the foot problem, another issue brewed behind the scenes. After the NFL unleashed new helmets on the players, Brown took issue with the new ones and demanded that he was able to play with the ones that he was most comfortable wearing. When he didn't get his way, he didn't just relent and say he would wear the new helmets. He threatened to retire.
Brown has always shot from the hip, but one of the league's best wide receivers threatening to retire is never good for the league. However, the league has remained steadfast in its decision to demand that the new helmets meet a specific set of guidelines that players have to follow, and Brown recently lost an appeal to change that.

Will the Antonio Brown helmet saga end soon?
The standoff remains, but some believe that it will not go on much longer. Former NFL executive Mike Tannenbaum took to Twitter to theorize that the issue would not linger on too long, stating that Brown has too much money on the table to quit over such a petty grievance. While Brown may have legitimate concerns about the visibility of the helmet, it shouldn't make him a worse player than he already was.

Brown has always demanded attention for good and bad reasons. At his best, he can be one of the most reliable players in the NFL and a bonafide superstore. However, there always seems to be something going on in the background, and this year was no exception. Whether or not this ends soon, the Raiders will be a fascinating team to watch this year.