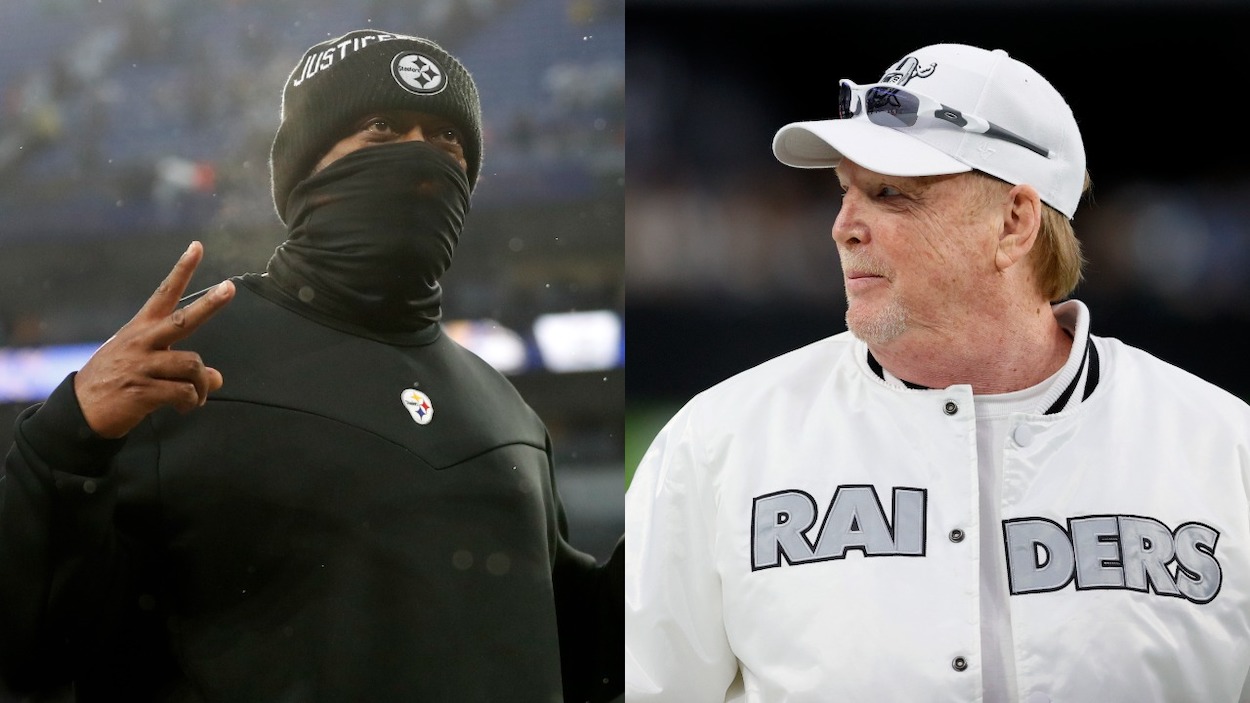 NFL Insiders Jay Glazer and Albert Breer Float the Idea of the Las Vegas Raiders Going 'Big Game Hunting' with a Mike Tomlin Trade
Curiously, two different NFL insiders brought up a potential Mike Tomlin trade between the Las Vegas Raiders and the Pittsburgh Steelers in the last week.
The Las Vegas Raiders may have the most interesting head coaching vacancy in the NFL. They are the only playoff team that will be looking for a coach this offseason, and there's a genuine possibility that interim headman Rich Bisaccia will get the job full-time. However, it is the Raiders, so a surprising, splashy move is possible. NFL insiders Jay Glazer and Albert Breer even suggested that something as incredible as a Mike Tomlin trade with the Pittsburgh Steelers' could be on the table.
Mike Tomlin is one of the most successful coaches in NFL history
Longtime head coach Bill Cowher retired after the 2006 season. Looking for a new coach, the Pittsburgh Steelers — somewhat surprisingly — turned to 34-year-old Mike Tomlin. At the time, the young coach's resume included six seasons as a position coach in college, five years as defensive backs coach with the Tampa Bay Buccaneers, and a single season as defensive coordinator for the Minnesota Vikings.
The gamble paid off for the Steelers.
On Feb. 1, 2009, in just his second season as a head coach, Tomlin, then 36, became the youngest head coach ever to win a Super Bowl.
He hasn't lifted a Lombardi Trophy since. However, Tomlin has become one of the winningest and longest-tenured head coaches in the NFL. Only Bill Belichick and Sean Payton have been with their teams longer. And, only Belichick (290) and Andy Reid (233) have more wins among active coaches than Tomlin (154).
Most impressively, in his 15 years as a head coach in the NFL, Tomlin has never had a losing season. Belichick or Reid can't claim that. Neither can the winningest coach of all time, Don Shula, or Vince Lombardi himself.
With this incredible streak, it stands to reason that Tomlin will be the Steelers head coach for as long as he wants.
But what happens if Mark Davis and the Las Vegas Raiders make the Steelers an offer for a Mike Tomlin trade that they can't refuse?
Could a Mike Tomlin trade be in the works?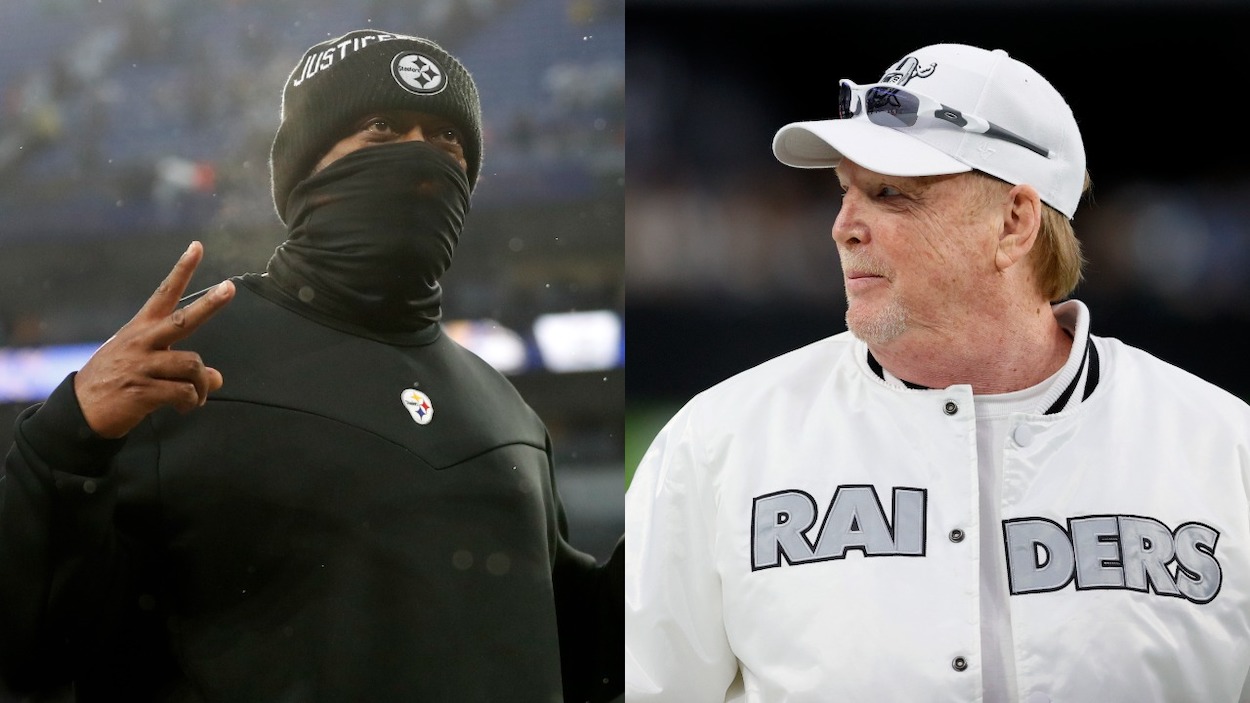 While no one is officially reporting that owner Mark Davis, general manager Mike Mayock, and the Las Vegas Raiders are actively pursuing a Mike Tomlin trade, it is curious to note that two well-respected NFL insiders recently suggested that this is a possibility.
On Sunday, Glazer was the first to suggest it on the FOX NFL Sunday pregame show. While discussing head coaching vacancies, he told Terry Bradshaw, Howie Long, and the crew:
Rich Bisaccia has done a great job, but I think the Raiders would love to go and still perhaps get a rock star. Maybe even look to trade for somebody. A Mike Tomlin or Sean Payton. Something along those lines.

Jay Glazer on a Mike Tomlin trade
A day later, The MMQB's Albert Breer joined The Herd with Colin Cowherd and speculated:
There are business elements to [the Raiders coaching search] and everything else. And if they get blown out by the Bengals on Saturday, maybe they decide, 'to make our mark in Vegas, we've gotta go Big Game hunting. We've gotta go maybe trade for a Mike Tomlin.'

Albert Breer on a Mike Tomlin trade
Glazer and Breer aren't hot-take artists or hosts who need to fill hours of air time by playing out wild scenarios. They are NFL information guys and, while both stopped short of saying that sources are telling them this is a possibility, it is fascinating that both of them mentioned the same, seemingly obscure possibility.
And, as outlandish as this may seem, a Mike Tomlin trade certainly wouldn't be the first time in NFL history a team let their head coach swap jobs in exchange for draft picks.
The history of coach trades in the NFL 
A Mike Tomlin trade isn't as bizarre as you may think. Trading for a head coach has happened several times in the past (mostly involving the New York Jets) and has worked out well for several teams.
In the last 25 years, there have been a few blockbuster NFL head coaching trades. According to Sports Illustrated, these trades included:
1997: New York Jets get Bill Parcells from New England Patriots for '99 first-round pick, '98 second-round pick, and '97 third- and fourth-round picks (plus a $300,000 donation to Patriots charities)
2000: New England Patriots get Bill Belichick and '00 fifth- and seventh-round picks from the New York Jets for their '00 first-, and fourth and seventh-round picks.
2002: Tampa Bay Buccaneers get Jon Gruden from Oakland Raiders for first-round picks in '02 and '03 and second-round picks in '02 and '04
2006: Kansas City Chiefs get Herm Edwards from New York Jets for '06 second-round pick
The Parcells trade worked out fine. Parcells went 29-19 in three seasons in New Jersey and made one playoff appearance. However, the Edwards trade, not so much. The coach who plays to win the game only won 15 in KC while losing 33. Although, he did make one playoff appearance as well.
The Gruden trade worked out much better. The head coach went 12-4 in his first season in Tampa. He even won the Super Bowl, beating his former team in the Big Game.
As for the Belichick trade, the jury's still out, but it looks like that turned out a tiny bit better for the Patriots than the Jets.
A Mike Tomlin trade between the Las Vegas Raiders and the Pittsburgh Steelers would be a big move worthy of inclusion on this fascinating list.
All stats courtesy of Pro Football Reference