NFL International Series: A Look Back at 10 Games in London
The National Football League will play a record three regular-season games outside North America in 2014 as the popular International Series continues to grow at London's Wembley Stadium. The Dolphins and Raiders kicked things off in September, the Lions and Falcons faced off in October, and Cowboys-Jaguars is on the calendar for November.
With the league in the midst of its biggest slate of London games ever, we take a look back at each regular-season contest played there since the birth of the International Series in 2007: 10 so far and counting.
October 28, 2007: New York Giants 13, Miami Dolphins 10
The International Series debuted in October 2007 when the Giants and Dolphins made the trans-Atlantic trek to play. Miami was in the midst of a horrendous season, taking an 0-7 record to Wembley, but was at least competitive in a 13-10 defeat against the eventual Super Bowl champions. The Dolphins would go on to finish the season 1-15. New York leaned heavily on Brandon Jacobs (23 carries for 131 yards), winning ugly despite only completing a total of eight passes in the game.
October 26, 2008: New Orleans Saints 37, San Diego Chargers 32
There were quite a few more points scored the next year in London, when Philip Rivers's Chargers and Drew Brees's Saints squared off in a game between seemingly evenly-matched teams (both clubs would finish the year 8-8). Each quarterback threw three touchdowns, delighting the 83,226 fans at Wembley Stadium, and San Diego rallied from a 37-20 fourth-quarter deficit to put a scare into New Orleans before falling short. Chargers RB LaDainian Tomlinson rushed for 105 yards and also caught a touchdown in the loss. His team didn't help its cause at all by committing 14 penalties for 134 yards on the night.
October 25, 2009: New England Patriots 35, Tampa Bay Buccaneers 7
In a matchup between quarterbacks Tom Brady and Josh Johnson, what did you think the outcome was going to be? New England dominated Tampa Bay from the outset in the International Series' 2009 game, winning 35-7 even though it really wasn't even that close. Brady completed nearly 75 percent of his passes and threw for over 300 yards, while Johnson had a day to forget. The Bucs QB registered just nine completed passes to his team, to go along with three completed passes to the opposing team. The loss dropped Tampa Bay to 0-7 and was the team's eleventh consecutive defeat overall.
October 31, 2010: San Francisco 49ers 24, Denver Broncos 16
The 49ers scored three straight touchdowns in the fourth quarter to rally past the Broncos in an October 2010 game played in front of 83,491 spectators. San Francisco's Troy Smith threw for a score and rushed for another, while Frank Gore tallied 118 rushing yards and a touchdown on 29 carries. Denver had the ball in the final minute needing a touchdown and two-point conversion to tie, but a Kyle Orton interception ended the comeback threat.
October 23, 2011: Chicago Bears 24, Tampa Bay Buccaneers 18
The Buccaneers became the first team to make a return visit to Wembley Stadium in the 2011 game, but didn't fare any better, losing this time to the Chicago Bears. The attendance was the lowest of any game in the series to date and the only to not reach the 80,000 mark, but the Bears and Bucs still drew an announced crowd of 76,901 — or, as Pro Football Talk wrote, "20,000 or so more than would have attended the game in Tampa." Chicago intercepted Bucs quarterback Josh Freeman four times, and Tampa Bay had no answer for Bears RB Matt Forte, who ran for 145 yards and a touchdown.
October 28, 2012: New England Patriots 45, St. Louis Rams 7
In 2012, the Patriots made their second appearance at Wembley Stadium and posted their second blowout victory there. If the league wants to give London fans some thrilling finishes and fourth-quarter drama, they probably shouldn't invite Bill Belichick's squad to participate going forward. After the teams finished the first quarter tied 7-7, New England closed the game with 38 unanswered points to rout St. Louis 45-7. Patriots RB Stevan Ridley rushed 15 times for 127 yards and a touchdown, while Tom Brady contributed his typical four touchdowns and 300+ yards through the air.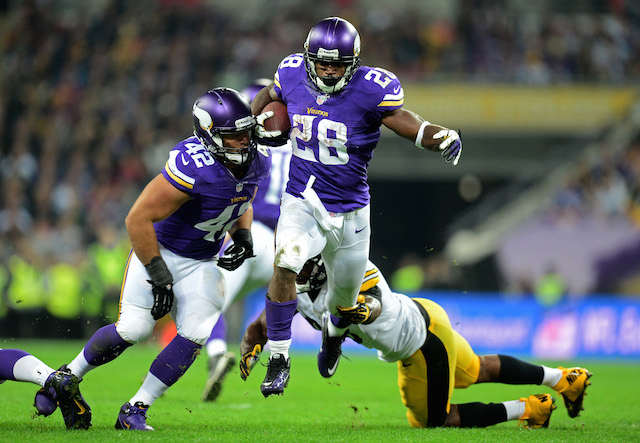 September 29, 2013: Minnesota Vikings 34, Pittsburgh Steelers 27
Ben Roethlisberger attempted more than 50 passes in the first International Series game to be played in September, but it wasn't enough for the Steelers in a 34-27 loss to Minnesota. The Vikings never trailed, thanks to a pair of huge plays in the first half: Greg Jennings' 70-yard touchdown catch and Adrian Peterson's 60-yard scoring run. Peterson finished the game with two touchdowns and 140 rushing yards on 23 carries, while Le'Veon Bell added a pair of rushing scores for the Steelers in defeat.
October 27, 2013: San Francisco 49ers 42, Jacksonville Jaguars 10
2013 marked the first time the league played not one, but two games in London, and the second overseas matchup of the season pitted the 49ers against the Jaguars. The defending NFC champions were never threatened, scoring four touchdowns in the first 23 minutes to race to a 28-0 lead. Colin Kaepernick and Frank Gore led the Niners to the franchise's second International Series win with two rushing touchdowns each, and San Francisco's Dan Skuta ran a fumble back 47 yards in the fourth quarter for the final 42-10 margin.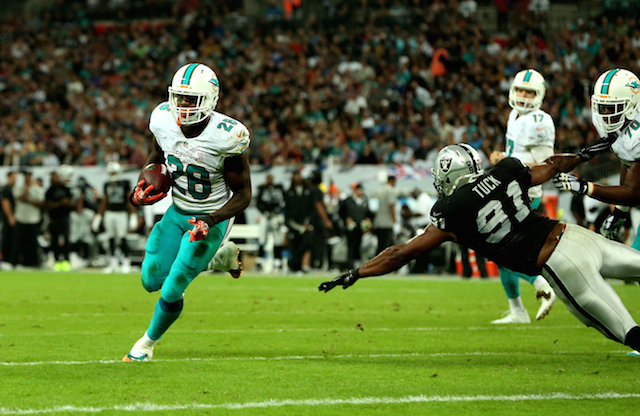 September 28, 2014: Miami Dolphins 38, Oakland Raiders 14
The Raiders remained winless on the 2014 season after a 38-14 loss to Miami at Wembley Stadium in Week 4. 83,436 fans saw the Dolphins score thirty-eight straight points after falling behind 7-0 and even their record at .500 for the year. Miami got two touchdown passes from Ryan Tannehill and also a pair of scoring runs from Lamar Miller. Oakland quarterbacks Derek Carr and Matt McGloin both threw interceptions, as the Raiders committed four turnovers in all.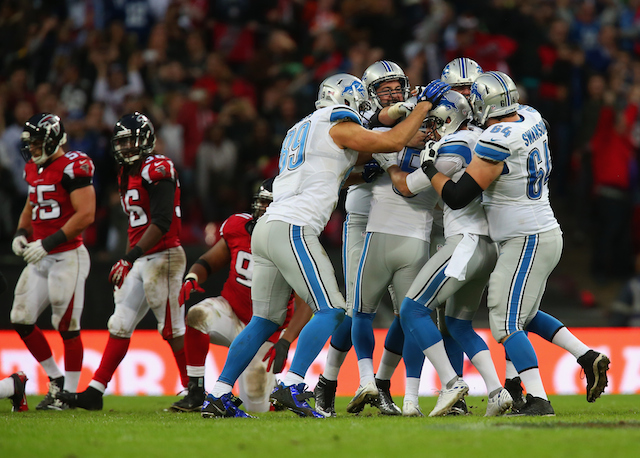 October 26, 2014: Detroit Lions 22, Atlanta Falcons 21
The 2-5 Falcons jumped out to a surprising 21-0 halftime lead on the 5-2 Lions, but Detroit scored 22 unanswered points to stun Atlanta on the final play. Lions kicker Matt Prater missed a potential game-winning 43-yard kick in the final seconds, but got a mulligan after Detroit was flagged for delay of game. Prater knocked the ensuing 48-yarder through the uprights as time expired to complete the second-half comeback and hand Atlanta a fifth straight defeat. Lions receiver Golden Tate had a huge day, catching seven passes for 151 yards and a score.