NFL: Is Adrian Peterson Guaranteed a Spot in the Hall of Fame?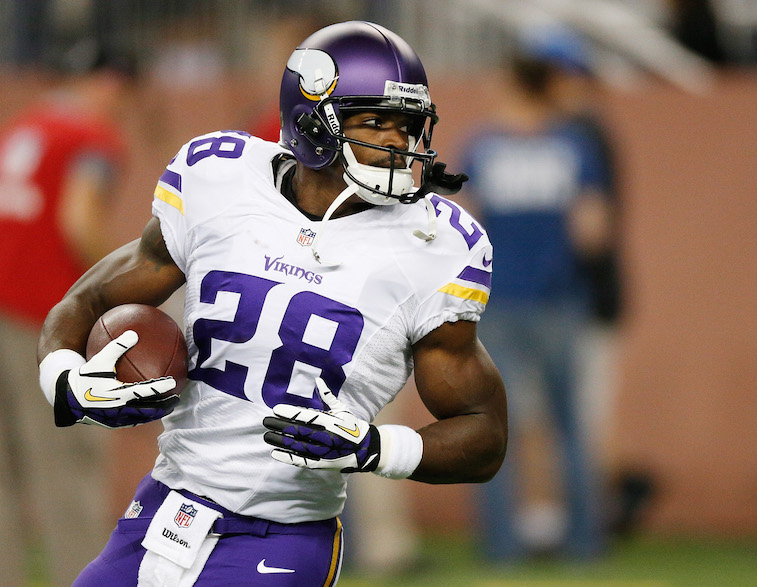 The Minnesota Vikings were in Canton, Ohio last weekend taking on the Pittsburgh Steelers in the annual Pro Football Hall of Fame Game at Tom Benson Hall of Fame Stadium. The Vikings' best player, running back Adrian Peterson, didn't take part in the game, but may have been the most talked about player on either team throughout the weekend and during NBC's Sunday Night Football broadcast. Everyone, from fantasy football gurus to opposing coaches, want to know how the 30-year-old running back is going to bounce-back after playing in only one game in 2014 following his indictment on a felony charge for reckless or negligent injury to a child.
While Peterson's future was one of the hot topics for discussion within NFL circles all weekend, it was an interview with Mark Craig of the Star Tribune that really caused a buzz in the sports world. In the interview, Peterson touches on his desire to not only break Emmitt Smith's all-time career rushing yardage record, but to also go down as the greatest player, regardless of position, in NFL history. He also added that he thinks he will be a refreshed, more passionate player after his year away from football. But it was his comments about his current place in history that really caused a stir. Here's what he had to say:
"I'm going to be blunt and honest with you. I feel like if I didn't play another snap in my life, I got the opportunity to go in the Hall of Fame right now."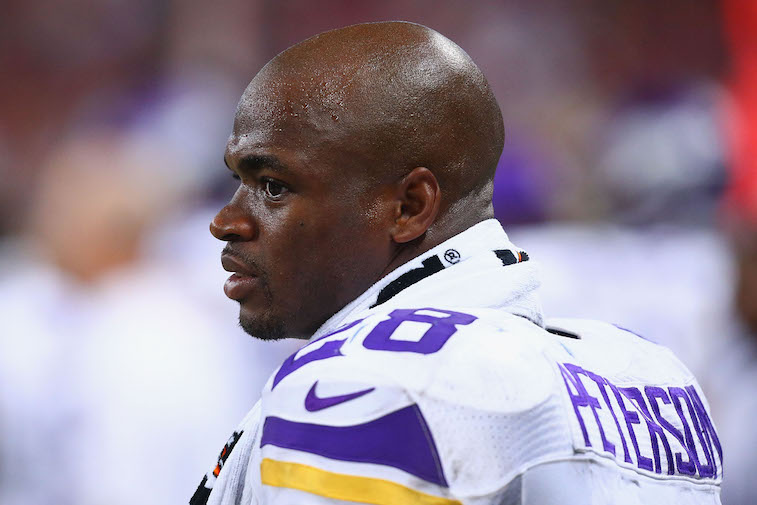 Peterson's comments piqued our interest and got us wondering whether or not he could really retire today as a "no-brainer" for election into the Pro Football Hall of Fame like he claims. Lets take a minute to look at his career resume.
Peterson's Career Stats:
2,054 rushing attempts
10,190 rushing yards
5.0 yards per carry
98.0 rushing yards per game
86 rushing touchdowns
208 receptions
1,715 receiving yards
5 touchdown receptions
Honors, Records, and Awards:
2007 NFL Offensive Rookie of the Year
6-time Pro Bowler
6-time All-Pro
2012 NFL MVP
2012 NFL Offensive Player of the Year
2 NFL rushing yardage titles (2008, 2012)
2007 Pro Bowl MVP
NFL record for most rushing yards in a single game (296)
Based on his football resume alone, it's hard to argue against Peterson's assertion. In fact, we recently included him in our list of current players who are locks to be elected into the Pro Football Hall of Fame. Where the former Oklahoma Sooner could run into trouble, however, is if the Hall of Fame selection committee remembers him more for his troubles off the field than his dominant play on the field. We've seen first hand how the voters for the National Baseball Hall of Fame have treated guys like Pete Rose, Barry Bonds, and Mark McGwire. While that may not be a fair comparison to Peterson given the fact that Rose's, Bonds', and McGwire's missteps all altered the integrity of baseball, it does serve as clear-cut evidence that Hall of Fame selection committees do have the power to bypass some of the best players in their game's history if they are so inclined.
At the end of the day, Peterson can end any uncertainty surrounding his future Hall of Fame status with another All-Pro season or two. As it currently stands, though, we are among those who believe that Peterson has done enough that if he retired today he would still eventually earn his election into the Pro Football Hall of Fame. Maybe not as a first ballot Hall of Famer, but he is a near lock to have a bronze bust in Canton, Ohio within the next 15-20 years.
All statistics courtesy of Pro-Football-Reference.