NFL: Could Andrew Luck Become the Best NFL Quarterback Ever?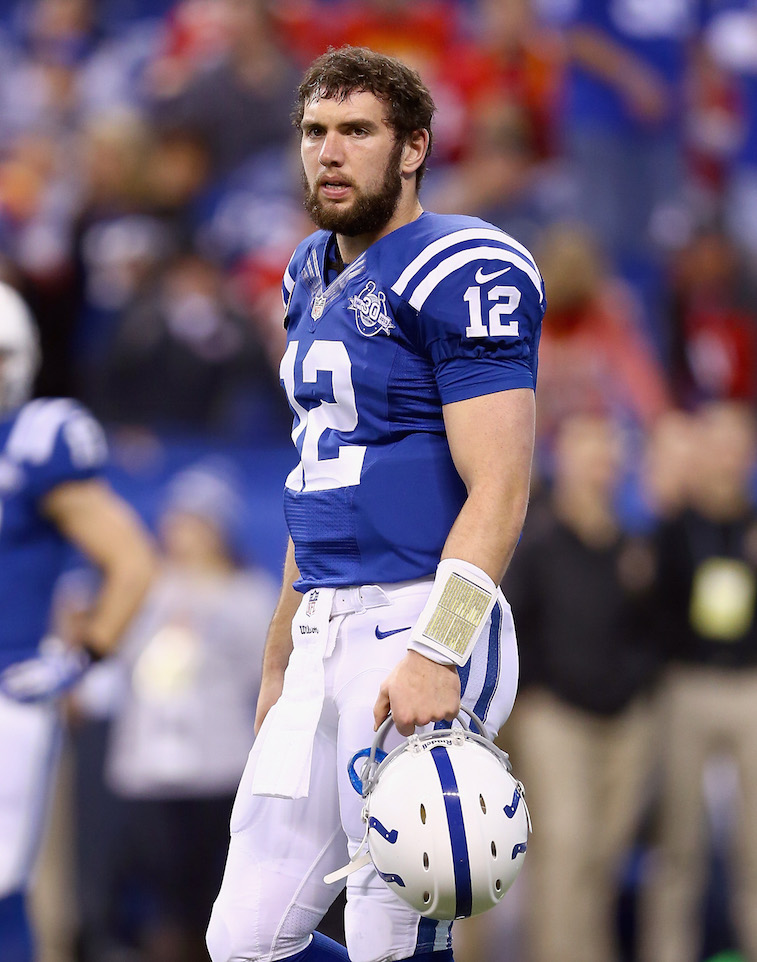 After three seasons in the NFL, it's safe to say that Indianapolis Colts quarterback Andrew Luck has lived up to the enormous amounts of hype that came with being the highest-rated NFL Draft prospect since John Elway in 1983. He inherited a team that had gone 2-14 the year before and led it to an 11-5 record and an appearance in the AFC Playoffs in 2012. Luck followed up his great rookie season by leading the Colts to two straight AFC South titles and has emerged as a guy who will be a perennial MVP candidate.
Colts fans have long been spoiled when it comes to quarterback play, and Luck is the latest signal-caller to join the party. During the franchise's time in Indianapolis, it has had the pleasure of watching Peyton Manning, Luck's predecessor, break records and lead the team to a Super Bowl title. Prior to that, there was Hall of Famer Johnny Unitas.
Granted, Unitas did lead the team while it was still in Baltimore, and it would be safe to assume that very few fans in Baltimore stayed loyal to the Colts after their midnight move to Indianapolis, but he did lead the franchise to a Super Bowl title, and there is no denying that Johnny U was one of the greatest quarterbacks to ever play the game. On top of that, the Colts were the franchise that selected the legendary John Elway in the 1983 NFL Draft.
Elway never did play for the Colts after threatening to play professional baseball if the team didn't trade him, but his status as a Colts draft pick further indicates that they have been incredibly fortunate in the sense that when they have been bad enough the year before to land the No. 1 pick in the draft, there always seems to be a Hall of Famer there waiting for them.
As you can see with the team's long history of great quarterbacks, Luck has a lot left to prove and many feats left to accomplish before he will be considered one of the greatest quarterback in Colts franchise history. With that being said, his first three years in the league have many experts convinced that Luck will not only go down as the best quarterback in Colts history but also the best quarterback in NFL history. After doing a little digging and a fair amount of number crunching, we found that those beliefs are not as far-fetched as we originally thought.
It's hard to predict that a player at any position will be the best to ever play the game after only three seasons. Joe Montana, the quarterback who many people deem to be the greatest ever, didn't take over as the San Francisco 49ers' starter until the tail end of his second season. As a result, his statistics after three years in the NFL pale in comparison to the first three years' worth of stats for several players who would go on to be mediocre NFL quarterbacks.
Additionally, Luck will ultimately have to win at least one — but probably multiple — Super Bowl titles to be included in the discussion about the best quarterbacks in NFL history. A lot can happen over the next 10-plus seasons, but our research into how Luck's first three seasons compare to those of some of the best quarterbacks of the modern era would strongly suggest that Luck is destined to go down as one of the greats.
Passing yards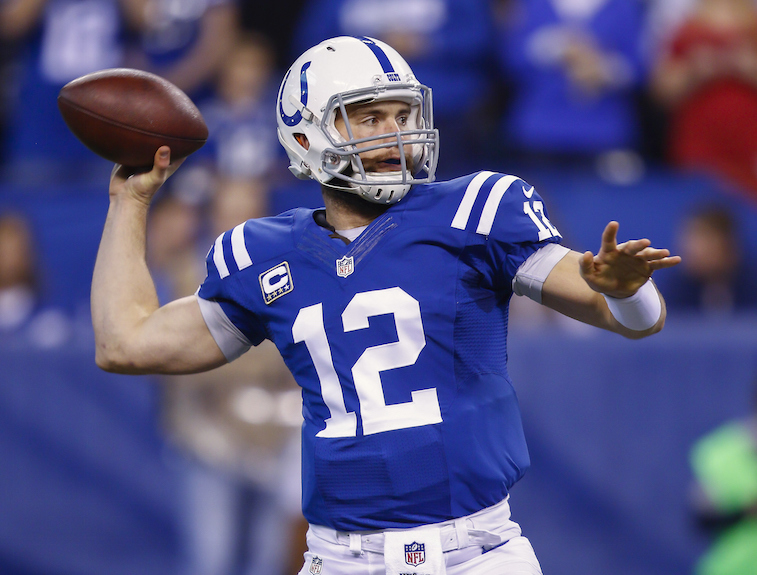 Luck: 12,957 yards
NFL legends:
Peyton Manning: 12,287 yards
Dan Marino: 11,431 yards
John Elway: 8,152 yards
Tom Brady: 6,613 yards
Brett Favre: 6,530 yards
Drew Brees: 5,613 yards
Luck leads in this statistical category by almost 700 yards. He did have more pass attempts than any other quarterback on this list, but he has also played on a team with one of the worst rushing attacks in the league over the last three seasons. At his current pace, Luck will eclipse 50,000 career passing yards well before his 35th birthday.
Touchdown passes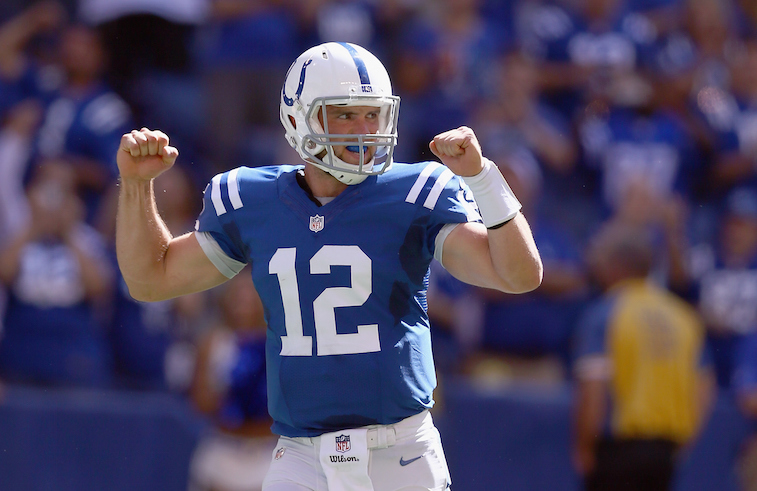 Luck: 86 touchdowns
NFL legends:
Dan Marino: 98 touchdowns
Peyton Manning: 85 touchdowns
John Elway: 47 touchdowns
Tom Brady: 46 touchdowns
Brett Favre: 37 touchdowns
Drew Brees: 29 touchdowns
Dan Marino is the only quarterback to throw more touchdown passes than Luck in his first three seasons in the NFL. He has one more than Peyton, who broke the record for most touchdown passes in a career during the 2014 season. If Luck continues to throw 30 to 40 touchdown passes per season, there is a good chance that he will challenge Manning's record and become the third quarterback in NFL history to throw for 500 or more touchdowns in his career.
Completion percentage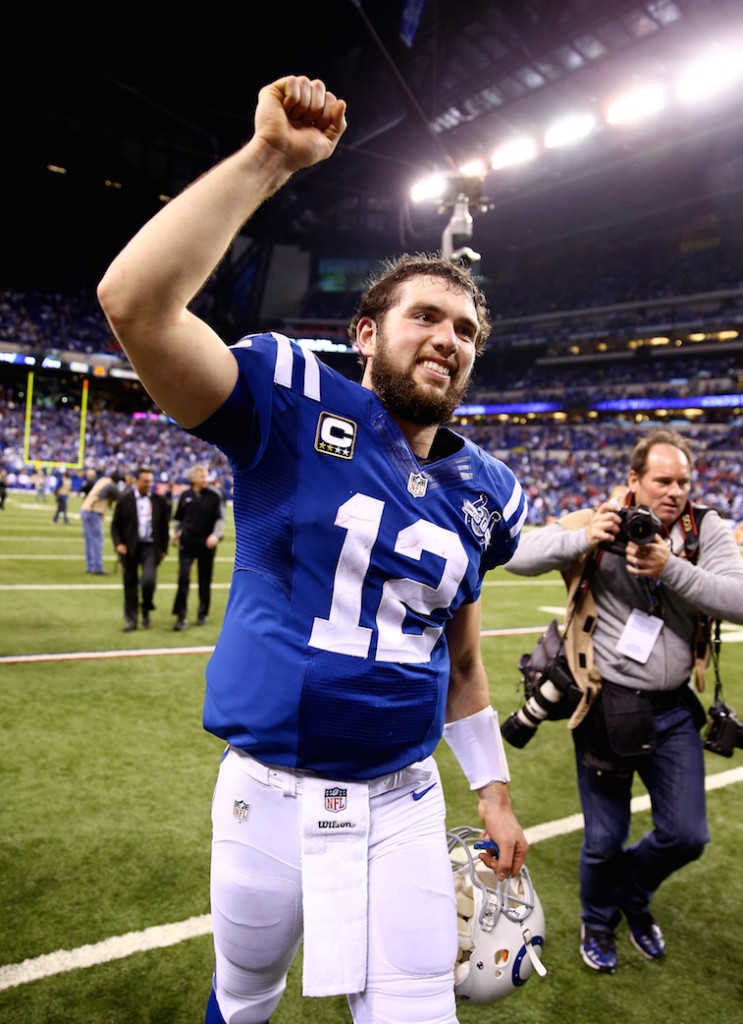 Luck: 58.6%
NFL legends:
Tom Brady: 62.7%
Brett Favre: 62.2%
Dan Marino: 61.0%
Peyton Manning: 60.4%
Drew Brees: 59.4%
John Elway: 53.4%
This is one statistical category where Luck fell short of almost every legendary quarterback on this list. This can be attributed to him having an abnormally high number of pass attempts over the last three seasons, but Luck's track record of improving in this category every season would suggest that he will eventually catch up to the other players on this list.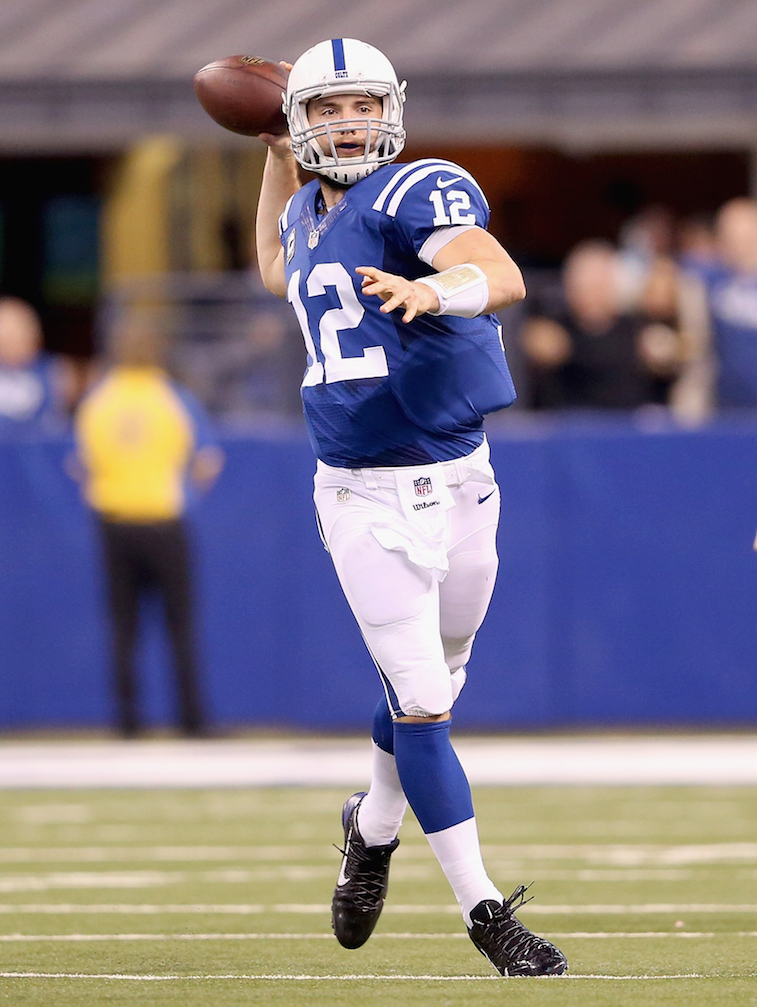 Luck: 86.6
NFL legends:
Dan Marino: 96.4
Tom Brady: 85.9
Peyton Manning: 85.4
Brett Favre: 77.3
Drew Brees: 73.7
John Elway: 69.1
Again, Luck trails only Dan Marino in this statistical category through his first three seasons, and this is another area where Luck has improved upon in every season. Marino had by far his best year as an NFL quarterback in his second season, and without that season, he would have trailed Luck in this category. If Luck can continue on his current pace, he will have a chance to finish his career with one of the best quarterback ratings of all time.
All statistics are courtesy of Pro-Football-Reference.