NFL
NFL: Is Ben Roethlisberger Still an Elite Quarterback?
Since being selected with the 11th overall pick in the 2004 NFL Draft by the Pittsburgh Steelers, Ben Roethlisberger has been a steady force at quarterback, leading the franchise to a high level of success throughout his NFL career. Along the way, he etched himself into franchise history, becoming the all-time leader in career wins, passing touchdowns, passing yards, passing attempts, and pass completions. He's led the Steelers to two Super Bowl wins and three AFC championships while becoming the youngest starting quarterback to win the Super Bowl at just 23 years old.
Roethlisberger has also earned several personal accolades, such as four Pro Bowl selections and 2004 NFL Offensive Rookie of the Year honors. He's established himself as one of the top quarterbacks in the league due to the stability he brings to the franchise, winning at least eight regular seasons games each year with eight playoff appearances. This includes notching double-digit regular season wins eight times and claiming five AFC North division titles.
During this time, Roethlisberger has seen his production rise significantly, landing among the league's best quarterbacks statistically. He topped 4,000 passing yards in three out of the last five seasons while posting a 90-plus passer rating during that span. In 2014, he had the best campaign of his career, tying for the league lead with a career-best 4,952 passing yards and tying his career high with 32 touchdown passes, as well as posting a 103.3 passer rating and a 67.1 completion percentage, which helped Pittsburgh win their fifth AFC North division title.
Although he was limited to 12 games last season due to injury, Roethlisberger strung together another highly productive season, throwing for 3,938 passing yards with 21 touchdown passes, a career-high 68.0 completion percentage, and a 94.5 passer rating. There's no doubt that had he been able to play the entire regular season he would have been in the top five in passing yards and possibly in the top 10 in the league in touchdown passes.
Yes, it certainly helps that Roethlisberger has had arguably the best receiver in the game in Antonio Brown and one of the top running backs in Le'Veon Bell at his disposal, but it doesn't take away from the high level of performance that puts him in an elite class of quarterbacks in the league. He has been a strong source of stability for the organization as the franchise quarterback while putting up numbers that rival many of the league's top players at the position.
Roethlisberger already earns respect around the league as a top quarterback; a perspective that Mike Zimmer, former Cincinnati Bengals defensive coordinator and current Minnesota Vikings head coach, holds. "Roethlisberger, Brady, Rodgers, those guys, when they have the ball in their hands at the end of the game, it's scary for a defense," Zimmer told ESPN.com. "[Roethlisberger] is a great competitor, throws the ball extremely well. He's very much like really all the great quarterbacks. Over the years, we gave him some of the best hits he's ever had and he gets up and shakes them off."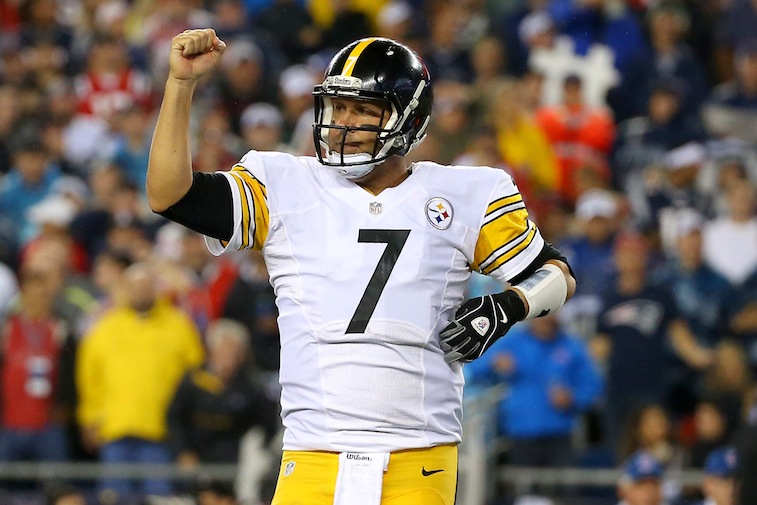 The 34-year-old may not be on the exact same elite level as Aaron Rodgers, Tom Brady, Drew Brees, and Andrew Luck, but he certainly belongs in the same conversation as one of the premier quarterbacks in the league. He can be a game-changer with his arm and shows the ability to come through in crucial situations late in games, which gives him the pedigree of being a franchise quarterback. With Roethlisberger set to enter his 13th season with a full bill of health, Steelers general manager Kevin Colbert believes that the team's longtime quarterback has a few more prime years left in the tank. He told ESPN:
Ben's a franchise quarterback. There are a few that have two [or more Super Bowls since 2004], but he's one of those few. We're very fortunate. We still have, you know, we think three to four more good years in his prime. We're excited to see what he can do in that time period and what we can do to help him be successful.
The larger question at this point in his career is whether or not his health will allow him to continue playing at a high level. Roethlisberger has dealt with a flurry of injuries over his career, but as he gets further into his 30s, his body won't respond how it once did. However, he's physically one of the biggest quarterbacks in the league at 6-foot-5 and 240 pounds, rivaling the size of many of the opposing linebackers, which should help prevent his body from breaking down. His body can take a pounding.
If Roethlisberger's health holds up, he could continue to play at an elite level for a few more seasons with other players. Other similar examples: Brady, Peyton Manning, and Brett Favre all played or are playing extremely well in their mid-to-late 30s. It will all come down to how his body responds at this stage in his career. All in all, Roethlisberger proves that he's an elite franchise quarterback who has been among the best in the league. He could even make a strong argument for being the best quarterback in Steelers' history.