NFL: Is Eddie Lacy Primed to Bounce Back Next Season?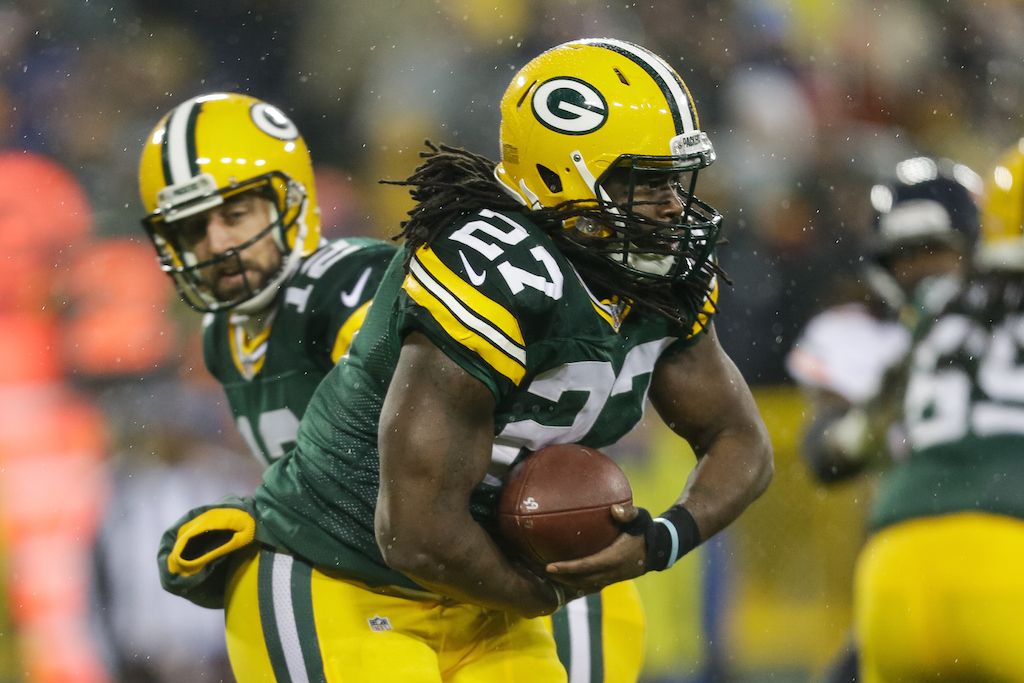 In his third year in the league with the Green Bay Packers, former Pro Bowl running back Eddie Lacy experienced his most difficult season, rushing for a career-low 758 yards and three rushing touchdowns despite missing just one regular-season game. The 25-year-old saw a significant drop in his production, failing to break the 1,000-rushing-yard mark for the first time in his brief career.
It was a wildly inconsistent campaign filled with more valleys than peaks. Lacy broke the century mark just three times while notching 60 or fewer rushing yards nine times, including 10 or fewer yards on four occasions. He also had a noticeable dip in his involvement in the passing game, with career lows in targets (28), receptions (20), and receiving yards (188).
This is a stark contrast from his first two campaigns, when he was a high-impact player making at least 35 catches on 40-plus targets in the passing game while remaining consistent and rushing for over 1,100 yards and a combined 20 rushing touchdowns. The 2015 season was a troubling year for Lacy beyond his lack of production, as he missed the Packers' curfew prior to the team's Week 13 matchup against the Detroit Lions. He subsequently received a minor role in the game, being limited to just five carries for a meager four yards and relegated temporarily to the bench in favor of backup James Starks.
His weight also became a persistent topic throughout the season, with multiple reports stating that he was struggling with being overweight. The Packers remained committed Lacy, but they limited his touches in the second half of the season; he tallied 13 or fewer carries in each of the last five games, including both of the playoff games. During that stretch, he had more than 65 rushing yards just once and notched only two combined touchdowns.
Heading into the offseason, head coach Mike McCarthy deemed Lacy's weight as one of the top priorities for the former 2013 AP NFL Offensive Rookie of the Year. "He's got a lot of work to do," McCarthy said, according to NFL.com. "His offseason last year was not good enough and he never recovered from it. He cannot play at the weight he played at this year."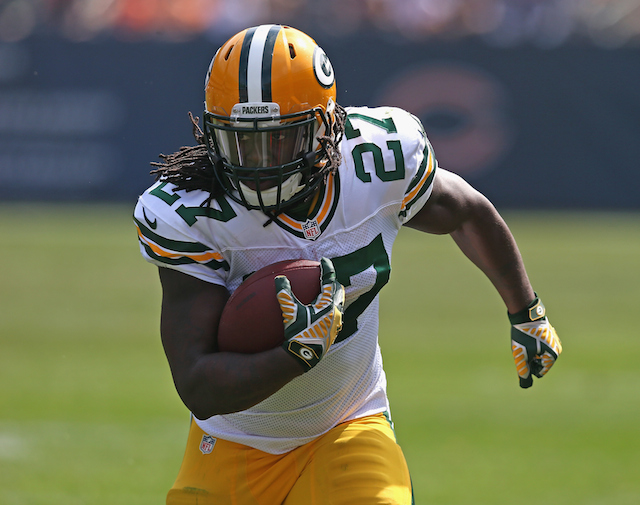 Lacy has appeared to respond to his head coach's personal challenge by tackling his weight problem head on. He's reportedly lost between 15-18 pounds since the end of last season. Lacy spent much of the last three months working out with P90X founder, Tony Horton, which resulted in a more trimmed, fit physique that's earned praise from his coaches and teammates, including two-time NFL MVP quarterback Aaron Rodgers.
"He's a solid football player and a big contributor for us," Rodgers said, according to Packersnews.com. "So he's going to make sure he takes care of himself the right way and he's got an infectious personality that everybody enjoys, enjoys seeing that big smile across the locker room. So we're glad he's our player." In truth, the Packers need Lacy to return to being the steady force that he was prior to last season. He originally brought balance to the offense and eased some of the pressure off Rodgers.
Yes, wideout Jordy Nelson being out the entire 2015 season due to an ACL injury did hurt the team's offense. And Lacy's inconsistent play only made matters worse. Starks may have performed well in a few games, but he isn't the workhorse running back that Lacy can be. It isn't a coincidence that Rodgers had one of the best seasons of his career in 2014, which saw him capture his second league MVP.
He finished that year with 4,381 passing yards, 38 passing touchdowns, five interceptions, an 112.2 passer rating, and a 65.6 completion percentage. The renowned quarterback ranked first in touchdown-to-interception ratio, second in passer rating and yards per attempt, third in touchdown passes, and seventh in passing yards.
What this all demonstrates is that Lacy has the ability to make a tremendous impact, which could have a positively huge ripple effect on the Packers. If his improved physical shape is any indication, he could experience a huge 2016 season.