NFL: Is It Over for Colin Kaepernick in San Francisco?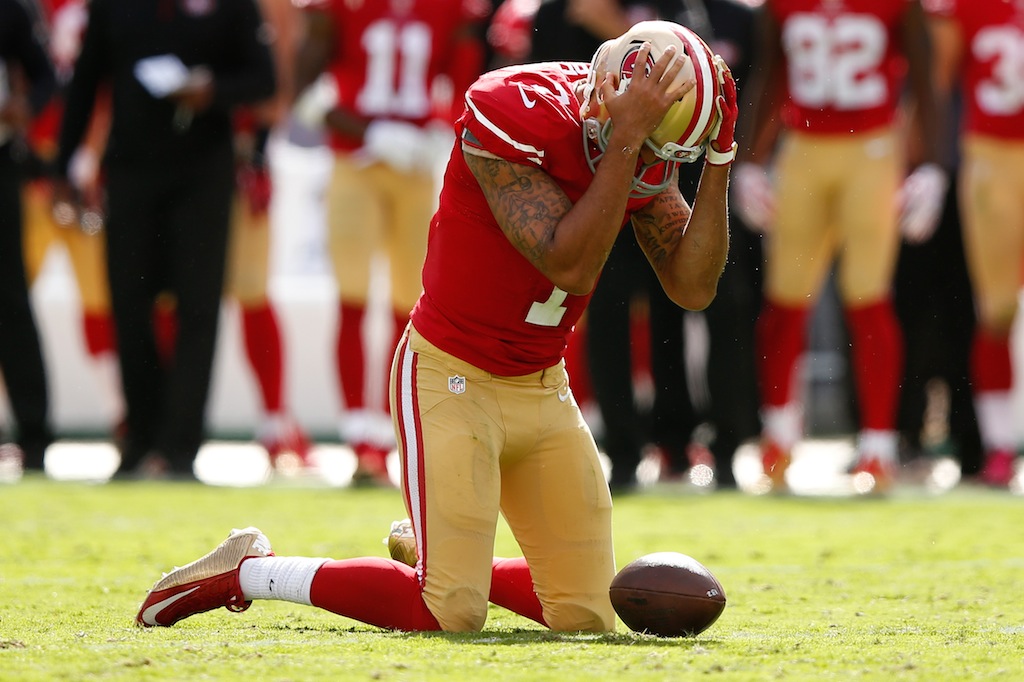 The San Francisco 49ers have officially hit rock bottom. How do we know this? Two words: Blaine Gabbert.
On Monday, when 49ers head coach Jim Tomsula told the media that the team was "evaluating everything," it seemed almost inevitable that quarterback Colin Kaepernick would soon find himself positioned firmly on the pine. Come San Francisco's next game against the Atlanta Falcons, that's exactly where he'll be.
One day after the Sunday's 27-6 loss to the St. Louis Rams, Tomsula determined it was finally time to make a change at the game's most important position, benching Kaepernick in favor of Gabbert, most famous (or infamous) as the Jacksonville Jaguars' former first-round pick .
While we have little faith that Gabbert will be able to turn the team around after its 2-6 start to the year — seriously, have you seen this guy play? — we can't blame the organization for wanting to shake things up. With his lackluster showing so far in 2015, Kaepernick gave the club no choice. Of course, a decision such as this is bigger than just one game. It's now safe to wonder if this latest move signals the end to No. 7's tenure in San Francisco.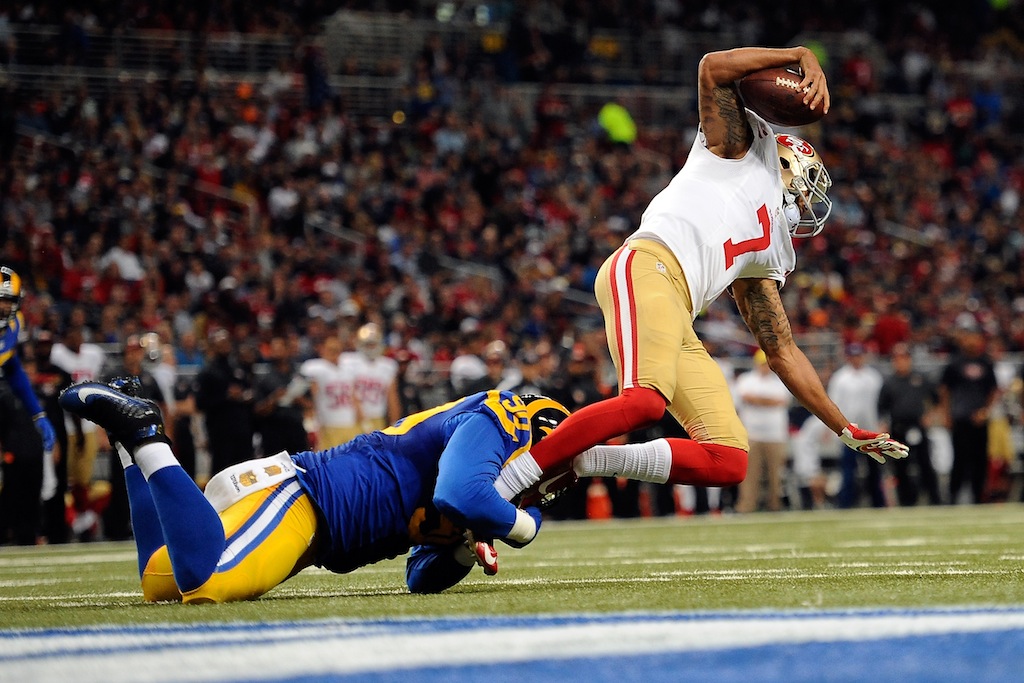 Remember in June 2014 when the Niners signed Kaepernick to a six-year deal worth over $110 million, including $61 million in guaranteed money? They probably didn't see this whole fiasco coming. Then again, the NFL is a fickle beast. One moment you're taking your team to the Super Bowl and being touted as one of the game's rising stars, the next your confidence is completely shot, and you're being relegated to the bench. This is the place Kaepernick now finds himself. How quickly the tables can turn, particularly when you lose your head coach, nearly every worthwhile player on your defense, and have no real improvement (to be kind) from your receiving core. Is that fair? Probably not, but it's the other side of the coin when you're an NFL quarterback — showered in fame during the good times, covered in blame during the bad.
Gone, it seems, is the dual-threat quarterback with the rocket arm and the insane athleticism that caused nightmares for opposing defensive coordinators around the league. In his place is an individual who through eight games this season has managed just 1,615 passing yards, six touchdown passes, and five interceptions while only completing 59.3% of his passes and sitting on a quarterback rating of 78.8. We can think of at least one person who certainly misses having former coach Jim Harbaugh around.
Even if Colin Kaepernick finds himself back as the 49ers starting quarterback this season, we think it's safe to say he's probably no longer part of the organization's long-term plans. Crazy contract or not, the team has clearly lost faith in its 28-year-old quarterback. And if Kaepernick is smart, he'll do everything he can do to get away from this franchise. The San Francisco 49ers have been sinking for quite some time now. For the sake of his NFL future, there is no reason for Kaepernick to go down with the ship.
All statistics are courtesy of Pro-Football-Reference.com, ESPN.go.com, and Spotrac.