NFL: Is Jason Witten Really the Greatest Tight End of All-Time?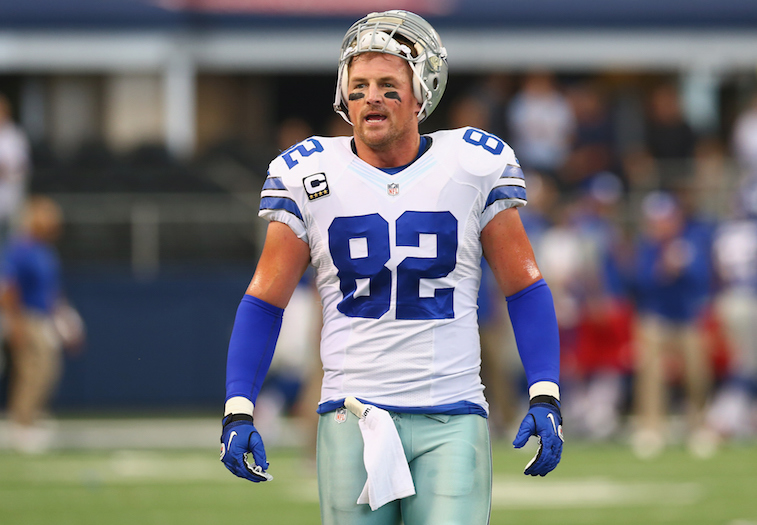 Dallas Cowboys tight end Jason Witten has never been the type of athlete that draws attention to himself. He doesn't need to. He lets his play, and his teammates, do the talking for him. And for the second time within the last calendar year, one of Witten's teammates (this time it was a former NFL player) has made a bold claim as to just how good Witten has been over the course of his 12-year NFL career.
Retired NFL safety Darren Woodson, who played 12 seasons in Dallas and will be inducted into the Cowboy's Ring of Honor during the team's game on November 1, firmly believes that Witten is the best tight end to ever play in the National Football League.
"You cannot tell me there's a better tight end to ever play the game, Woodson said, "I look at Tony Gonzalez. He wouldn't block a soul. A soul. Great, dynamic in the passing game, runs great routes, but won't block a soul. Antonio Gates, turn the film on of him. He won't touch a soul. You already know Jimmy Graham won't block anybody. This guy (Witten), not only is he a great pass catcher, but he'll do everything. He lines up on the edge. He'll reach block you. He'll cut you off. He'll motion in the backfield. He'll lead draw you as a fullback. He does everything. He's a complete tight end."
Woodson now spends his days breaking down film of every player in the league as an NFL Analyst for ESPN, which, combined with his playing experience, makes it hard to simply brush his comments to the side. On top of that, Cowboys quarterback Tony Romo had similar things to say last October.
"He (Witten) might be the best Dallas Cowboy of all time," Romo said. "Literally, his career has been exceptional. He's hit every mark you could ever have, and he's going to go down as the first- or second-greatest tight end of all time. I've just been lucky enough to play with him."
We've always known that Witten has been a great player. But, has he really been good enough to be considered the best tight end to ever play the game?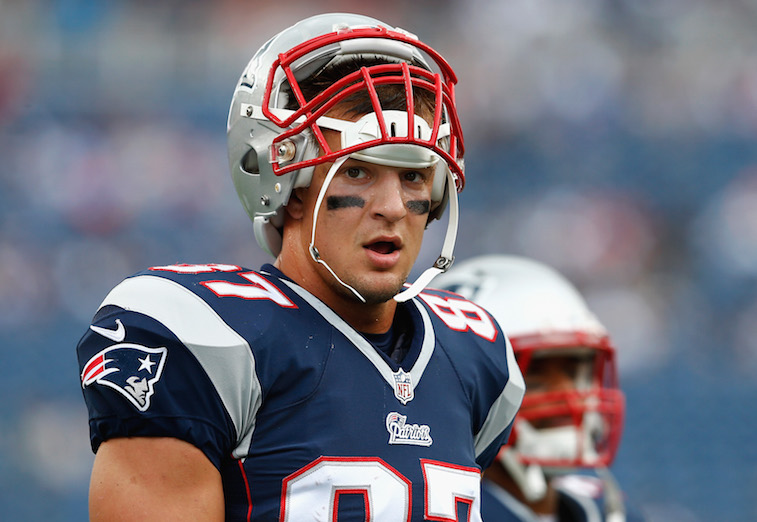 Throughout the course of his career, Witten has proven to be the consummate "pro's pro," and has never had a slip up of any kind off the field. He's the type of professional athlete any parent would want their child to look up to. On the field, Witten has compiled a stat sheet that should make him a lock to one day be enshrined into the Pro Football Hall of Fame in Canton, Ohio. He currently has 943 receptions for 10,502 yards and 57 touchdowns. By the time he's done playing, Witten will likely find himself in the top 10 for career receptions and the top 25 for career receiving yards in NFL history.
We can safely sit here and say that Witten will go down as one of the five best tight ends to ever play the game. However, he will likely never eclipse the stats that Tony Gonzalez put up, and Antonio Gates may end up beating him in two of the three major receiving statistical categories. While Gonzalez, Gates, and 2011 Pro Football Hall of Fame inductee Shannon Sharpe may have all been more dynamic as receivers, Witten does hold an edge over all three as a blocker, which is something that is largely unquantifiable. In today's NFL world where fantasy football performances and flashy personalities are enough to elevate players into superstar status, Witten is more of a throwback to the days of the do-everything guys like Ozzie Newsome, Mike Ditka, and Kellen Winslow. That being said, it is extremely difficult to compare any of today's tight ends to the tight ends from previous eras due to the league-wide change in style of play and expectations of the position.
Even if Witten does indeed go down as the best tight end to ever play the game, his time atop the throne likely won't last for very long. That honor will probably belong to New England Patriots tight end Rob Gronkowski (pictured above). In reality, health will be the only thing that can keep the 6-foot-6, 265-pound Gronkowski from becoming the best tight end to ever play the game. As a receiving threat, he is as good, but likely better, than any other tight end who has played in the NFL and he has the numbers to back that up. In four out of his five NFL seasons, Gronkowski has caught double-digit touchdown passes and he has averaged 62 receptions for 876 yards per season despite missing a total of 15 games over that stretch. By the time Gronkowski hangs up his cleats, there is a very good chance that he could have re-written the receiving record book for NFL tight ends. For as good as he is in the passing game as a receiver, he is equally as dominant with as a blocker.
The fact of the matter is Gronk's blocking ability is as good or better than several offensive linemen around the league, and he consistently grades out among the top blocking tight ends in the league according to Pro Football Focus. If you need further proof as to just how dominant and valuable Gronkowski is, just consider the fact that during the 2014 season the Patriots were struggling to win games against non-playoff teams with him out of the lineup. When he returned to action at full-strength, New England was like a completely different team and went on a run to win Super Bowl XLIX.
He may not have the same body of work as guys like Witten, Gonzalez, Gates, or Sharpe, but in the time that he has been on the field, Gronkowski has been the best tight end that we've ever seen play in the NFL. It would be wise for Mr. Sharper to take note.
All statistics courtesy of Pro-Football-Reference.