NFL: Is Khalil Mack the League's Next Defensive Star?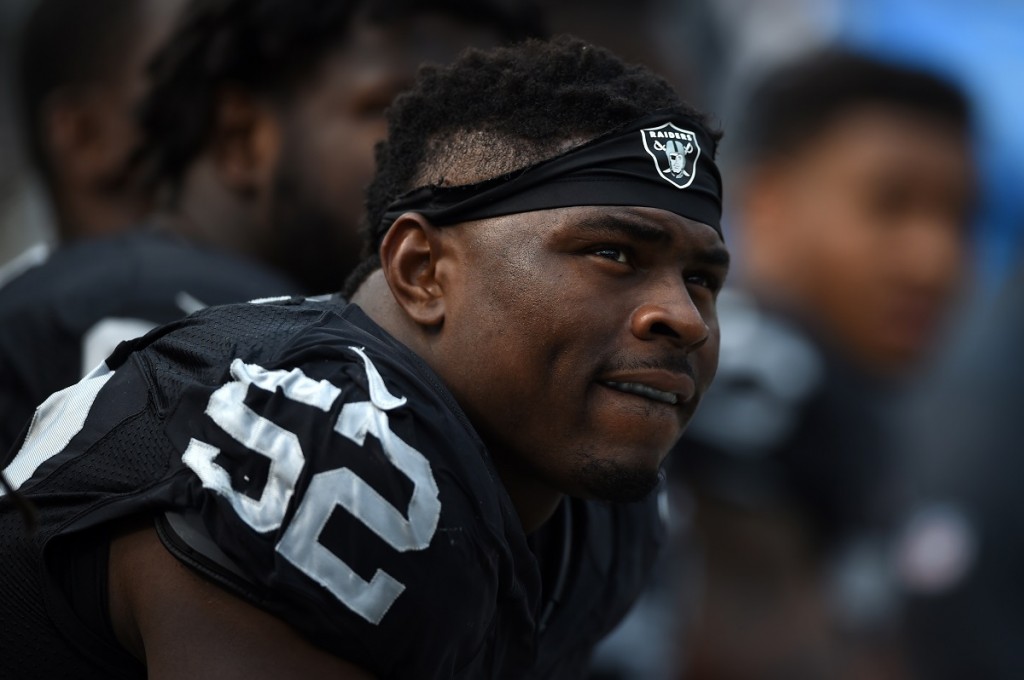 The Oakland Raiders are one of several teams in the NFL trending in an upward direction — loaded with plenty of young talent that gives them a bright future filled with potential playoff appearances including this season. One of the prominent promising players on the team has been standout hybrid defensive end/outside linebacker Khalil Mack, who currently leads the league with 14.0 sacks in his second season.
The 24-year-old is coming off his best career performance in the Raiders' impressive 15-12 road win over the Denver Broncos, where he recorded five sacks. This mark tied a franchise record with Hall of Famer Howie Long in 1983 for the most sacks in a single game (since the statistic became official in 1982). Mack got all five sacks in the final two quarters  of the game, which proved to be instrumental in keeping the Broncos' offense at bay. He has also been on a tear over his last three games, recording nine sacks over that span.
His unique combination of speed and power completely overwhelmed Denver's offensive line as he consistently found himself in the backfield. Mack's quick burst off the line, along with his strength, makes it nearly impossible for opposing offensive lineman to keep him in front of them. This was on full display in Week 14; it had future Hall-of-Fame safety Charles Woodson comparing him to another all-time great:
That was awesome. The way he can get around the corner and get low to the ground, reminds you of Derrick Thomas. We played against Derrick Thomas my first game in the NFL, against the Chiefs, and he had six sacks against us. Today, Khalil kind of reminded me of that.
It's clear that Mack has become a star in the league in just his second year, rightfully garnering well-deserved national recognition. He was a highly-touted collegiate prospect, who was arguably the best talent in the 2014 NFL draft, making his selection as the fifth overall pick a no-brainer for the Raiders. Although his sack statistics weren't exceptional in his rookie season, it was obvious that the former Buffalo Bull had the talent to become something special.
Mack's 14 tackles for loss are third-best in the league behind only Detroit Lions linebacker DeAndre Levy and Tampa Bay Buccaneers linebacker Lavonte David. That said, Mack is still pressuring quarterbacks as he has 40 hurries — only seven fewer than Broncos defensive end star Von Miller.
Speaking of Miller, the Raiders have utilized Mack in a similar fashion to the Pro Bowler due to his defensive versatility. The 24-year-old has the ability be a highly effective pass rusher off the defensive line but can also be an outside linebacker who can go in coverage while still getting to the quarterback.
The fact that he has become a major impact player in only his second season shows the type of elite talent he possesses. Mack also has a relentless work ethic stemming from the lack of attention he received from colleges coming out of high school as a two-star recruit. Mack explained this further to Eddie Paskal of Raiders.com:
It [work ethic] comes from getting one scholarship and going to Buffalo, knowing that there's guys in the SEC and all those big conferences that are good and great. I had a lot of space between Buffalo and those big conferences, so I had to do a lot of work in order to get to that level in my mind, and I'm still the same way.
If that isn't enough motivation, Mack even changed his number to 46 during his sophomore season at Buffalo (he had a 46 overall rating in NCAA Football 10 at the time) to remind him that his true potential is far greater. With this type of work ethic and talent to boot, it only gives more reason for Mack's quick ascension as one of the top defensive players in the league.
There's no limit to his potential, which is mind-boggling to say about a player who has been in the league for less than two seasons. All in all, Mack's career-best day against the Broncos could be the first of many eye-popping performances from him in a Raiders' uniform.
Statistics courtesy of Pro-Football-Reference.com, ESPN.com, and NFL.com.