NFL: Will Robert Griffin III Make a Comeback in 2015?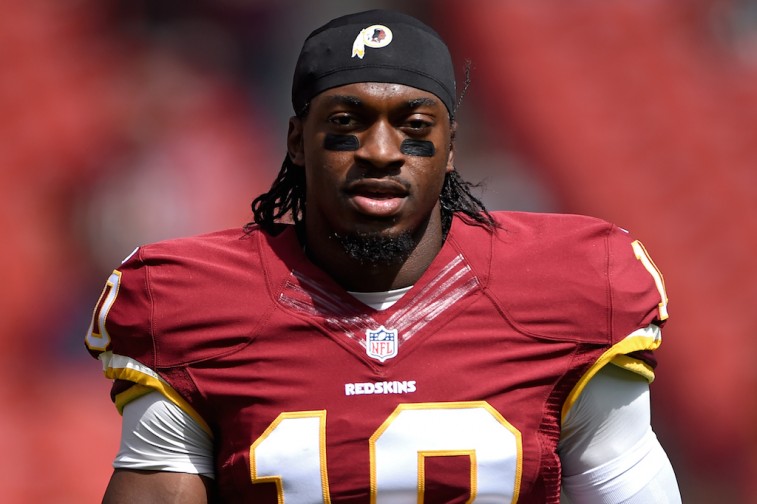 The most important position in professional sports is the quarterback. It's not even close. This position, and the person who inhabits the role, is the difference between winning and losing; success and failure. They make the franchise tick — they can change the direction of an organization. If you expect to win the National Football League, then you better have yourself a good one. However, if you plan on holding the Lombardi Trophy at the end of the season, then you better have a great one. And believe us, there is big difference between the two.
In just a regular quarterback alone, you need a player with athletic ability and mental toughness. You need someone who can take a physical pounding and still react quickly enough to get the ball out. You need someone with smarts, instincts, guts, a fire in their belly to be great, and a work ethic to make it happen. You need someone with desire and passion; you need a natural leader. You need a hero.
These are the tools one needs to be able to get it done; especially when playing at the NFL-level. You need all these things if you're hoping to just be "good." If you're looking for greatness, well, that's having all of the above and being able to propel yourself  to an entirely different level. Not everyone has what it takes to do that. But you know it when you see it — so does everyone else. And right now, if you ask league insiders, the Washington Redskins don't have it — not in Robert Griffin III.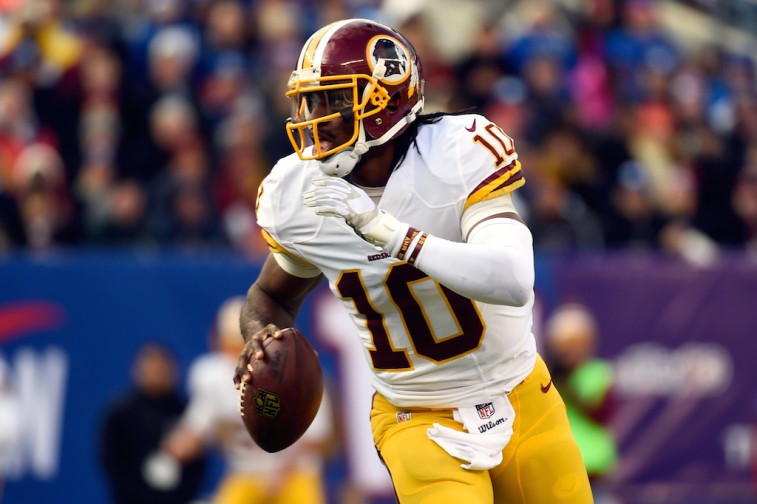 Coming out of Baylor and following a spectacular Heisman campaign, expectations were sky-high for the ultra-athletic RGIII. The Redskins believed he had all the makings of a franchise quarterback; so much so that they gave away a king's ransom for the opportunity to move up to the No. 2 overall spot in the 2012 draft to get him. However, after a stellar rookie season — one that saw him walk away with the Offensive Rookie of the Year Award — Griffin has seemingly regressed. Whether this is a result of injuries or system changes or his inability to properly read a defense, there is little faith this once-heralded prospect has what it takes to get back on track. This isn't us talking, it's coming from those who've seen him up-close.
In his second annual "Quarterback Tiers" project (subscription required), ESPN.com's NFL Insider Mike Sando polled 35 league insiders (all anonymous) and asked each of them to place the 32 projected starters into one of five separate tiers — Tier 1 being for the very best and Tier 5 being for the very worst. Where did Griffin place in this list? At No. 28, with an average rating of 3.91. Compared to last year's list, which saw the three-year pro come in at a tied for No. 19, Griffin's overall rating dropped 30.5%. If you thought RGIII's place in Tier 4 — and toward the way bottom of the NFL quarterback food chain —  was harsh, it's nothing compared to what the insiders had to say about the 25-year-old.
The most brutal criticism of RGIII came from one offensive coach, who had no qualms with placing him in the lowest possible tier. "Five, and there's no coming back," he said. "He is done. The reason is, the injury slowed his legs, and his ego will not allow him to hit rock bottom and actually grind his way back up the right way."
The fact this assessment was extremely blunt, doesn't mean it's not entirely untrue. Griffin's athleticism and ability to run was part of what made him such an enticing prospect. With those qualities now limited, he has yet to prove he has the know-all to be a legitimate drop-back passer. However, while these physical issues are problematic, in reality, RGIII's overall attitude may be the main thing holding him back.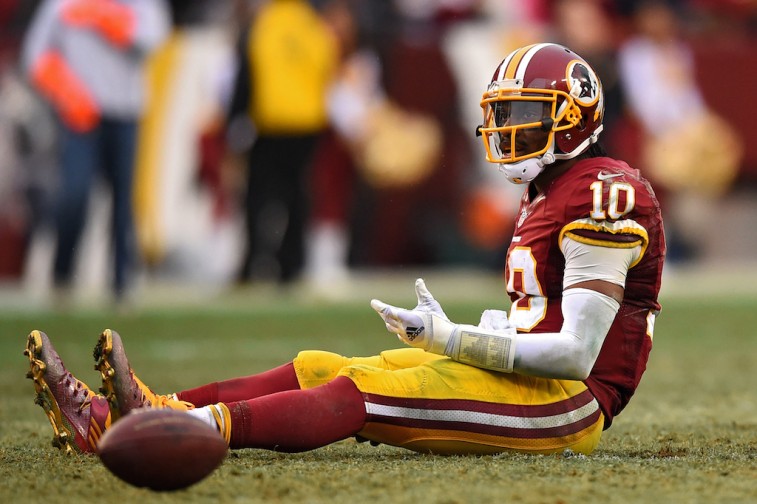 Some say the first step on the road of recovery is to admit you have a problem. According to one of the people interviewed, Griffin seems unwilling to face this reality.
"To get better in this league, you have to have a degree of humility," a personnel director said. "Griffin sees himself like Peyton, in that light. When he looks in the mirror, he is seeing things that everybody else is not seeing. That is why I was surprised when they gave him the fifth-year [option] and said it was an easy decision."
Of course, not all the participants in the poll had negative things to say about the young quarterback — one person — a GM who gave Griffin a Tier 2 vote — believed, it was impossible to overlook the change in the Redskins offensive system.
"I know how hard it is for a quarterback to go into a system for the first time," he said. "I go back to Brett Favre. He was a 1, but he goes to the Jets and he was probably a 2 or a 3. Then he went to a familiar system in Minnesota and was a 1 again. With Griffin, I'm taking into account the new offense, the new personality at head coach, coming off an injury. He showed his rookie year that he could be a 1. He is a young guy. I'm going to give him the benefit because of that."
After reading this piece, we can see the value in each person's assessment. While Griffin has shown himself capable of playing in the NFL, he has also been unwilling to truly admit his faults and limitations as a quarterback. It's not enough to have the physical gifts, to be elite in this game, you have to have a superior mind. RGIII needs to use this upcoming 2015 season to show that he can learn, progress, and grow. It's time to forget about what people are saying. Stop listening to the pundits and analysts; tune out the haters and even the fans. Robert Griffin III has one more season to prove he belongs in the National Football League — a make or break year, if you will — and he better do whatever's necessary to come out on the winning end. Either way you look at it, someone is going to be right about this young man. Only Griffin can decide which one.
All statistics are courtesy of Pro-Football-Reference.com and ESPN.go.com.