NFL: Is the Season Already Over for the Philadelphia Eagles?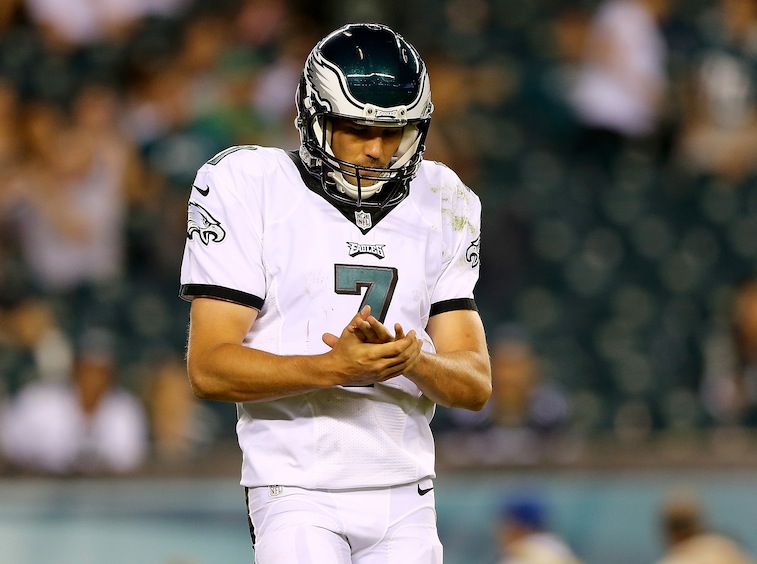 Two games.
After arguably the most impressive preseason showing out of any team in the entire National Football League, all it took was two games for the Philadelphia Eagles — and their emotionally unstable fan base — to come back down to earth. That's how miserable this team has looked thus far in 2015.
This past Sunday's "Game of the Week" against NFC East rival Dallas Cowboys was pretty much unwatchable. Not only did the Eagles lose 20-10, but their offense looked worse than it did during the team's Week 1 defeat to the Atlanta Falcons. Truth be told, we didn't even think that was possible.
With a three-headed running attack led by last season's rushing leader DeMarco Murray, the Birds managed to pick up just seven yards on the ground. Seven. Considering the talent in the backfield, that figure is completely unacceptable. Then again, when the offensive line isn't creating any holes, even the best players don't stand a chance.
"It obviously doesn't get any worse than this on offense," said Eagles center Jason Kelce after Sunday's loss. "That was the worst rushing attack I have ever been a part of here. I don't know. Obviously, missed blocks are huge. I'd like to say [the Cowboys] did something different than what we expected, but I don't think they did."
Coming into this season, expectations were sky high for the Philadelphia Eagles. Folks weren't just talking division title, they were talking Super Bowl. Now, two games into the year, all anyone can talk about is how bad this team is. And what's worse — can they fix it?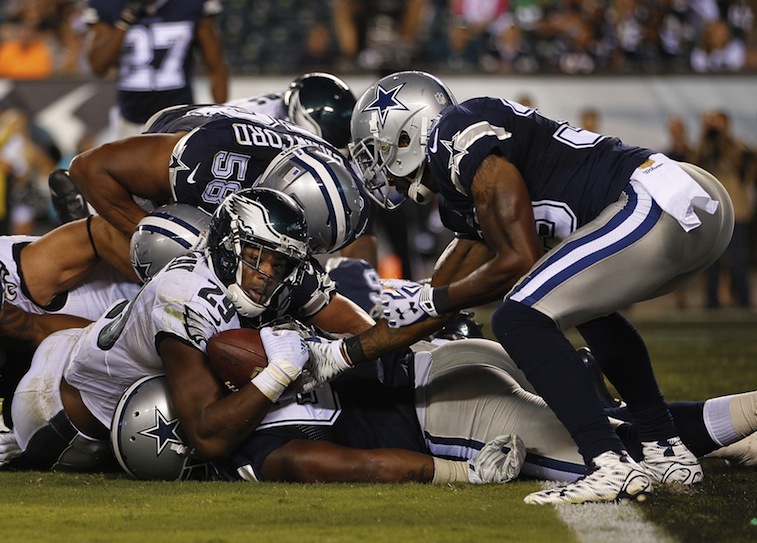 If you know anything about a Chip Kelly offense, then you know that it all starts with the run. If the run's not working, the team is in big trouble, and right now, they're on life support. A fact that isn't lost on the third-year Eagles head coach: "Running the ball the way we're running it right now, we're not going to win any football games," Kelly said. "We've got to get back and get that figured out."
Even the most optimistic fan (those who somehow managed to stomach sitting through sixty minutes of awful football yesterday) could easily see that Philadelphia was dominated in the trenches. The offensive line got absolutely no push. If this continues, then it won't matter who's in the backfield for the Eagles. This team, like it's inexcusably inept offense, will be stuck going nowhere.
In an uptempo offense, the key to success is to establish a rhythm. When everything is firing on all cylinders, it's a beautiful show to watch. However, this hasn't been the case with the Philadelphia Eagles. And everyone — especially the viewers — has suffered. If the Eagles are going to turn their season around, then it's time for the group to come together and do a bit of soul-searching.
"It's going to come down to this week," Eagles right tackle Lane Johnson said. "This week is really going to define our season. We can't point fingers at each other — who's wrong and who's doing this. We've got to come together collectively or it's going to go downhill from here.

"We're going to have a team meeting, a come-to-Jesus meeting. We've got to figure something out and come together and communicate better."
Two games into the season and the Philadelphia Eagles already find themselves against the ropes. Can they become the contender many expected them to be prior to the start of the season, or are they destined to turn into the latest example of a team that failed to live up to the hype? We'll know soon enough.
All statistics are courtesy of Pro-Football-Reference.com and ESPN.go.com.