NFL: Is There a Double Standard in Regards to Winston and Mariota?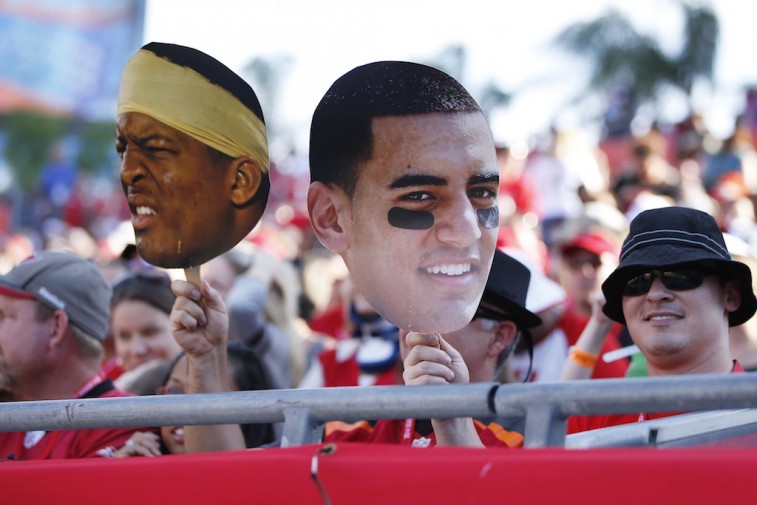 Perception is everything.
We're not saying it's fair, it's just how things are. In this day and age, the reality — especially in the world of sports — is how an athlete appears to the public tends to supersede how that person might actually be. And in no case does that hold more true than when we look at the two top-rated quarterbacks in the 2015 NFL Draft class.
If we were to judge Jameis Winston and Marcus Mariota from simply a football standpoint, the Heisman Trophy winner from Florida State would appear to be the more NFL-ready quarterback. Winston has spent his college career in a pro-style offense, he has an incredibly high football IQ, and is much more comfortable in the pocket.
While Mariota, who is clearly the more athletic of the two and put up monster numbers this past season, is often penalized for being the product of the offensive system used at Oregon. In the eyes of most pundits, Winston is the clear No. 1 pick in this year's draft. However, in the case of these two athletes, you can't just look at their on-the-field performances, you need to focus on their images as well. And that's when the conversation starts to shift.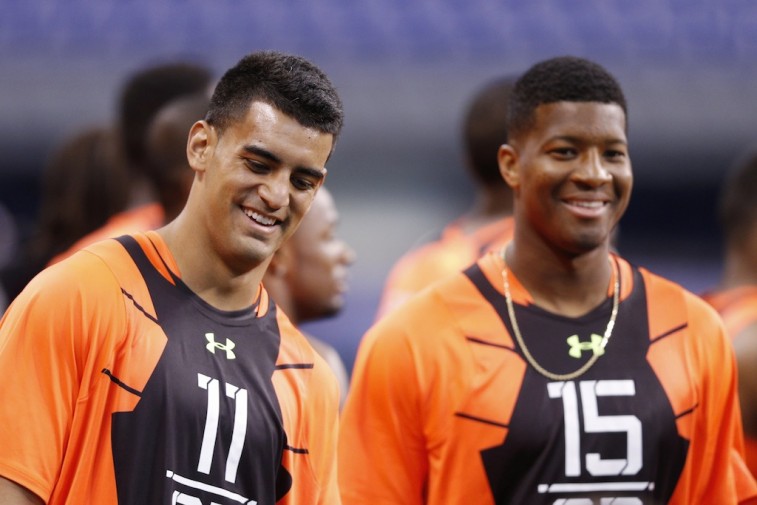 Mariota is the golden boy. He's the silent leader with the clean-cut persona. Aside from a speeding ticket and oftentimes being considered too humble, Mariota can do no wrong. This is the complete opposite of the perception of Jameis Winston. He is thought to be arrogant, childish, and a troublemaker. No matter how often he finds himself under the microscope, Winston can't seem to get it together. The evidence speaks for itself. You may love his talent on the field, but is it worth the baggage that comes with it?
That seems to be the question that is most often raised. One kid has the game, but is overshadowed by his antics. The other may not be as good, but can do no wrong. The fact is, appearance matters. There's a reason why NFL teams are stalking Winston on flights, rather than surreptitiously following Mariota around. And in the eyes of the public, Mariota has the better overall appearance. He has made the better decisions and he's been praised for that. But what about when these two prospects make the same choice?
According to league sources, Mariota has decided not to attend this year's NFL draft. Instead, he is opting to watch it with friends and family back in Hawaii. For the former Duck, this decision is not just important for personal reasons, but it is also culturally significant. And even though Mariota will not be in Chicago to hear his name called, we have a feeling that the backlash won't be as significant as the one felt by Winston when he opted to stay home as well.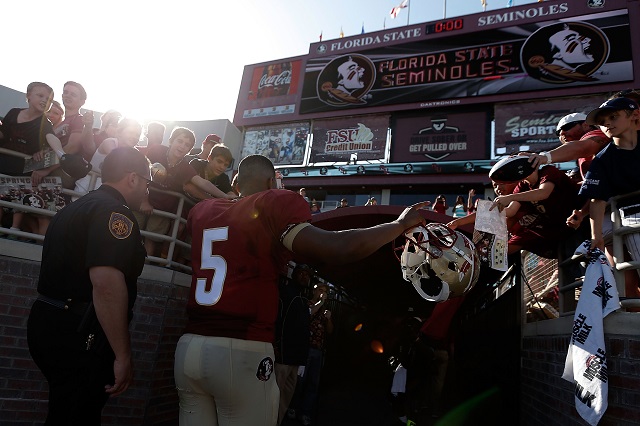 While speaking with the NFL Network after his pro day on Tuesday, Winston discussed his reason for considering skipping the draft. And like Mariota, it was all about family. But that doesn't mean he hasn't been feeling the pressure.
"My grandmother, she can't travel, she has Type-2 diabetes and has multiple surgeries and I want her to be there," Winston said. "I want the people who I've been with since Day 1 to be around me and enjoy this moment. It's a celebration to me and it's a once-in-a lifetime opportunity."
"We really haven't made that decision yet," Winston said. "There's been a lot of pressure on people trying to get me to come and make the draft."
Winston may sound sincere in his explanation, but there is always going to be doubts surrounding any unpopular decision he makes. Is he really skipping the draft for family reasons, or can he just not handle the spotlight? To silence the doubters, Winston probably should attend the draft. But that doesn't mean his decision should be looked upon any differently than Mariota's. Unfortunately, that's just the nature of the beast. Two different people, with differing personalities and styles, make the same choice for similar reasons. But one will most likely be praised, while the other will be doubted. Is that fair? No. Is that the reality? Afraid so. Welcome to the world we live in.