NFL: Jameis Winston vs. Marcus Mariota for Rookie of the Year?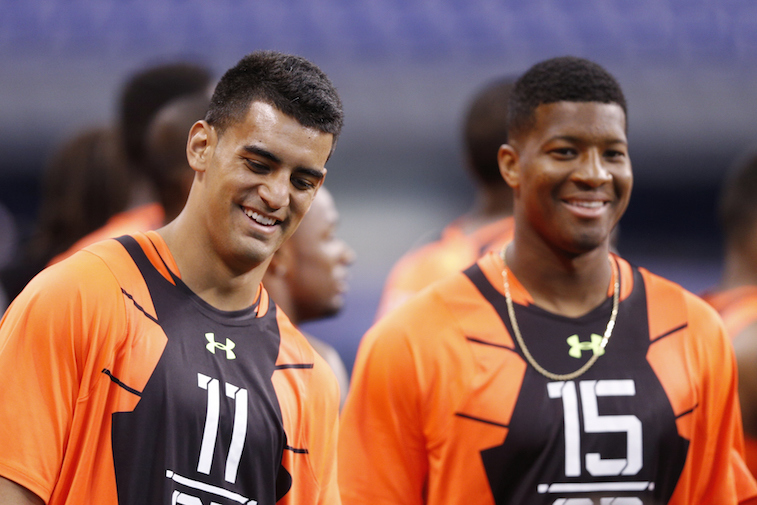 At the risk of sounding too confident, there is a pretty good chance that the 2015 NFL Rookie of the Year award will come down to one of our top two picks from this year's NFL Draft. These choices, of course, were Jameis Winston of the Tampa Bay Buccaneers and Marcus Mariota of the Tennessee Titans. While there are other players who could push these two out, it will more than likely come down to these two.
We know who has the edge in terms of their team's success to this point, but let's take a more in-depth look at both players and compare their resumes. Last but not least, we'll make a selection for Rookie of the Year. Regardless of the outcome, both the Buccaneers and Titans should be happy that they held onto their picks and seem to have their quarterbacks of the future right in front of them. We'll start with Winston, as he was the top pick.
Jameis Winston's Rookie of the Year resume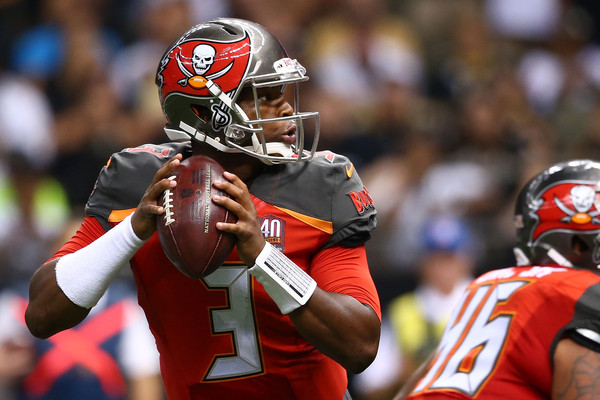 Before getting into the resumes, let's not forget that this is through just 12 games, so obviously both players will improve over the next four weeks and possibly tack on a few interceptions. Time to talk about Famous Jameis.
221/337 (58.6 percent), 2,877 yards, 17 touchdowns, 11 interceptions, 85.6 quarterback rating
42 rushes, 160 yards, five rushing touchdowns
Over the past few weeks Winston has been a different player compared to how he started out his NFL career. Over the first four games, we saw Winston throw six touchdowns against seven interceptions. Since then, he's thrown 11 touchdowns against four interceptions. To top it off, he had five touchdowns and no interceptions against the Philadelphia Eagles just three games ago.
Winston is the real deal to say the least, and his leadership ability isn't something you can break down on paper. His teammates respect him and believe in what he's preaching. This, in turn, has led to the Buccaneers sitting at 6-6, with their wild card chances very much alive. If you had said that the Buccaneers would go from having the No. 1 pick in the draft to potentially making the playoff the next season, we aren't sure that many people would have believed you.
Winston is the real deal, he's a great leader, and he's going to be an incredible NFL player. Watching him go toe-to-toe with Cam Newton again in Week 17 will be fun to watch, especially if there's a playoff spot on the line for the Buccaneers.
Marcus Mariota's Rookie of the Year resume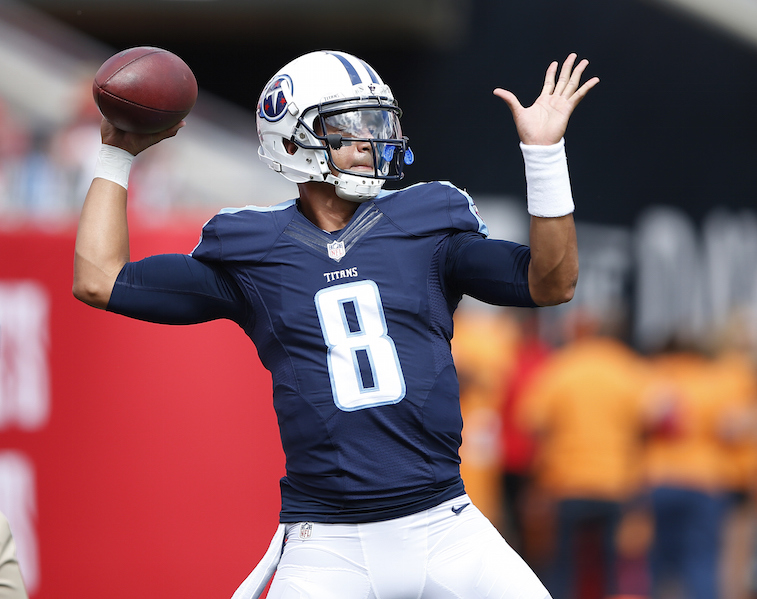 For Mariota, it's important to note that he missed two games this season due to an injury. Even so, his numbers are very impressive and compare well with Winston's.
206/325 (63.4 percent), 2,512 yards, 19 touchdowns, nine interceptions, 95.1 quarterback rating
31 rushes, 249 yards, two rushing touchdowns
You can't deny the fact that Mariota is a stud, especially as of late. After throwing for six touchdowns in his first two games, he ran off just three touchdowns against five interceptions in the next three games, and then bounced back with another four-touchdown performance.
Over the past two games, Mariota has thrown six touchdowns against three interceptions, but his team lost one of those games (against the Oakland Raiders), when he completed just 45.9% of his passes. We really can't judge that one single performance from Mariota though, as he's completed 62.9% of his passes or more in every game except two this season.
Best of all, his 87-yard touchdown run was one of the plays of the year. So, while Mariota has lit it up, we still ask, what's the issue here? Well, his Tennessee Titans are 3-9 and look like they'll have another top-three draft pick in 2016. Mariota's play has been solid, but it hasn't resulted in the turnaround that we've seen from the Buccaneers.
Consensus: Winston for Rookie of the Year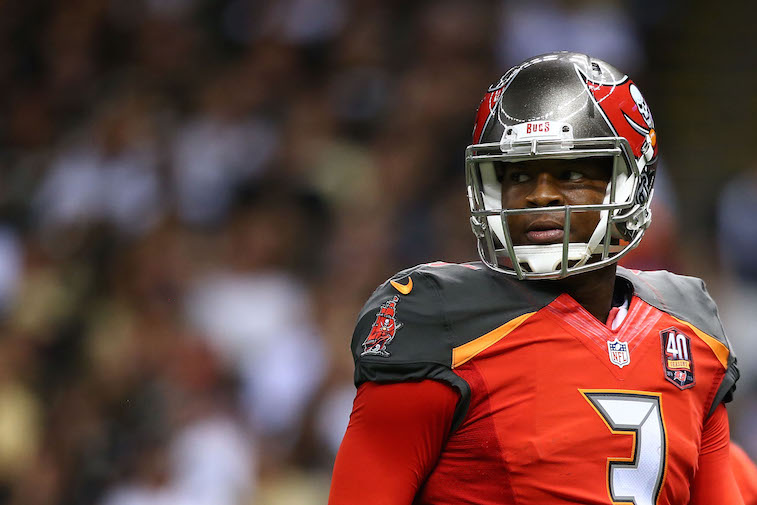 If we absolutely had to base it purely on numbers and only work with what we've seen so far, Mariota would get the nod, but there's far more to consider. The fact that Winston has his team on the fringe of a playoff berth is huge. To top it off, he should have no issue adding to his already impressive statistics. There's a good chance that over the next four games, we could see Winston add another 7 to 8 touchdowns as well.
Mariota has a good chance to do the same, but has a few brutal upcoming matchups with the New York Jets, New England Patriots, and Houston Texans. There's no reason to believe that the Titans won't wind up at 3-12 when the year concludes. Winston's impressive numbers and potential playoff berth versus Mariota's impressive numbers and top-three pick. Who's got the edge? Winston.
Follow Jeff Smith on Twitter @JSM8ith