NFL: Jerry Rice Explains Why Larry Fitzgerald is the Second-Best Wide Receiver Ever
Hall of Famer Jerry Rice is widely regarded as being the greatest player to ever play in the NFL. This has given much weight to his opinions about the league and the game of football itself. With that in mind, Rice recently had some huge praise towards future Hall of Famer Larry Fitzgerald about where he ranks all-time.
Larry Fitzgerald's illustrious NFL career
Since entering the NFL as the third overall pick in the 2004 draft, Fitzgerald has been one of the most productive wide receivers in league history.
The All-Pro wide receiver has notched some impressive feats along the way while continuing to add to his first-ballot Hall of Fame career, currently ranked second all-time with both 1,326 receptions and 16,579 receiving yards, and 12th with 118 total touchdowns.
He has recorded nine 1,000 receiving yard campaigns, 100 or more receptions five times, 60-plus receptions all but once, and double-digit touchdown receptions on five occasions. Fitzgerald also holds several NFL and Cardinals all-time marks such as eight 90-reception seasons along with the most receptions (30), receiving yards (546) and touchdowns (seven) in a single postseason.
This has all helped him earn 11 Pro Bowl selections, a First-Team All-Pro nod, two Second-Team All-Pro Selections while leading the league in catches and receiving yards twice each. Fitzgerald's numerous accolades have only solidified his status as an all-time great.
Jerry Rice gives Larry Fitzgerald the ultimate praise
When the conversation shifts to who is the greatest NFL player of all-time, Rice is typically the first or if not one of the first few names that are mentioned. Since his retirement in 2004, he has stayed around the game keeping a strong pulse of the league and the players that have played after him.
During an interview on the Rich Eisen Show on Monday morning, Rice voiced that he believes Fitzgerald is the second-greatest wide receiver to play the game behind only him.
"I put Larry Fitzgerald up there. He's still playing at a very high level. I love his approach to the game. The way he conditions himself, he's always in top shape. He's always going to go out and give 100 percent."
Rice has often spoken highly of the Cardinals star wideout about his work ethic and dedication to the game. There is a great deal of respect and admiration from the 56-year-old around the type of career that Fitzgerald has put together over the last 15-plus seasons.
Larry Fitzgerald's last hurrah?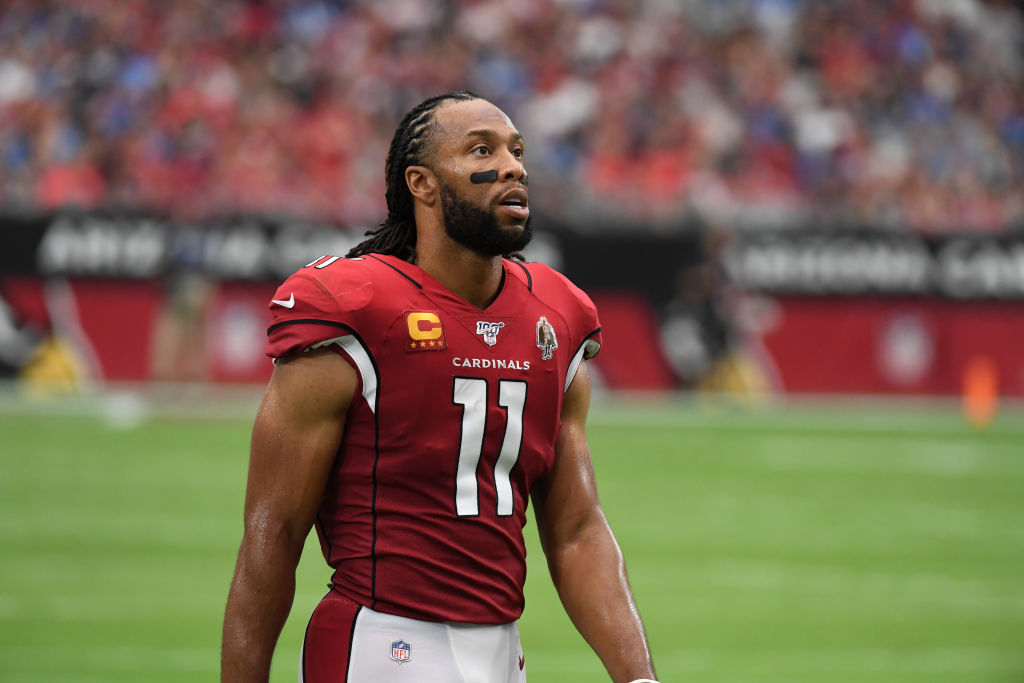 In his 16th campaign, Fitzgerald has continued to prove to be an ageless wonder, recording 23 catches for 300 receiving yards and two touchdowns through the first month of the season. That has put him on a trajectory to finish with 92 catches, 1,200 receiving yards and eight touchdowns.
The 36-year-old has also notched a pair of 100 receiving yard performances to begin the year while making at least five catches in each of the first four games. Although there is clearly no decline in his play, Fitzgerald has flirted with retirement over the last couple of offseasons.
Fitzgerald didn't take much time after the 2018 campaign to decide on his NFL future as he signed a one-year deal in mid-January to play. It will likely be the same thought process for him next offseason as the deciding factor may lie if he feels his body will allow him to continue to perform at a high level and can handle the physical rigors of a season.
Regardless of when Fitzgerald chooses to finally step away from the game, he has already cemented his status as an all-time great in the eyes of his peers and fans alike.