NFL: Just How Valuable Is Cam Newton to the Panthers?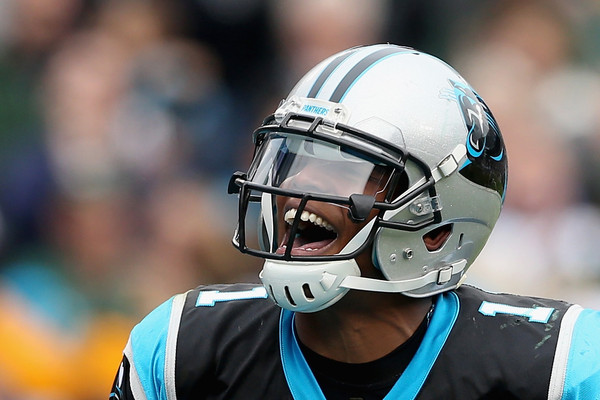 In a league full of great quarterbacks, Cam Newton isn't among the names you see at the top of the QB hierarchy. The former No. 1 overall pick's numbers typically aren't spectacular, but there is no denying that Newton is a dynamic game-changer at times. Here, in season five of his career, he finally appears to be getting the recognition for the great player that he is.
In large part thanks to his Carolina Panthers being 8-0 at the halfway mark of the year, Newton is among the early list of league MVP candidates this season. On the surface, it may seem absurd that his name is anywhere near this list, as Newton is only completing 53% of his passes. However, Newton's value stretches far beyond his passing statistics. Let's look at a few of Newton's characteristics that build his MVP profile and make him so vital to the success of the Panthers.
The legs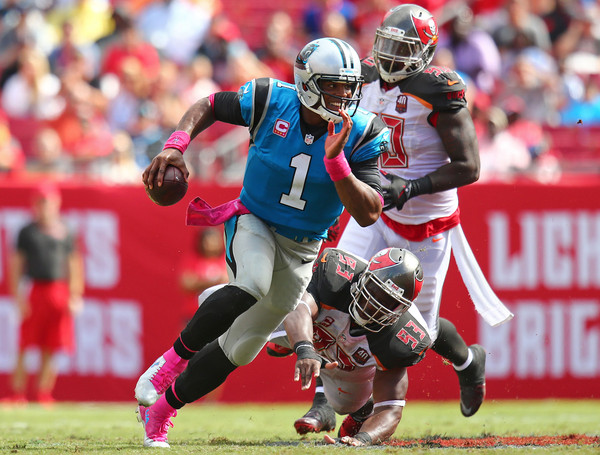 There might not be a more dynamic runner at the quarterback position in the game today. Newton's running ability makes the Auburn product the perfect quarterback for the game plan that the Panthers want to follow. Aside from being the second leading rusher on the team this season with 343 yards and 5 touchdown carries (the most on the team), Newton has proven time and time again that he can grind out those tough yards to either give his team a critical first down or put them in a better situation on an earlier down.
He's not afraid to take a hit (and is strong enough to withstand them) and runs with a fire that some running backs in the league can't match — critical to the Panthers' 8-0 start. Sure, Jonathan Stewart is a solid running back who can get the job done on the ground. However, having a quarterback who can do that as well gives Carolina an element in their offense that is difficult to defend.
The attitude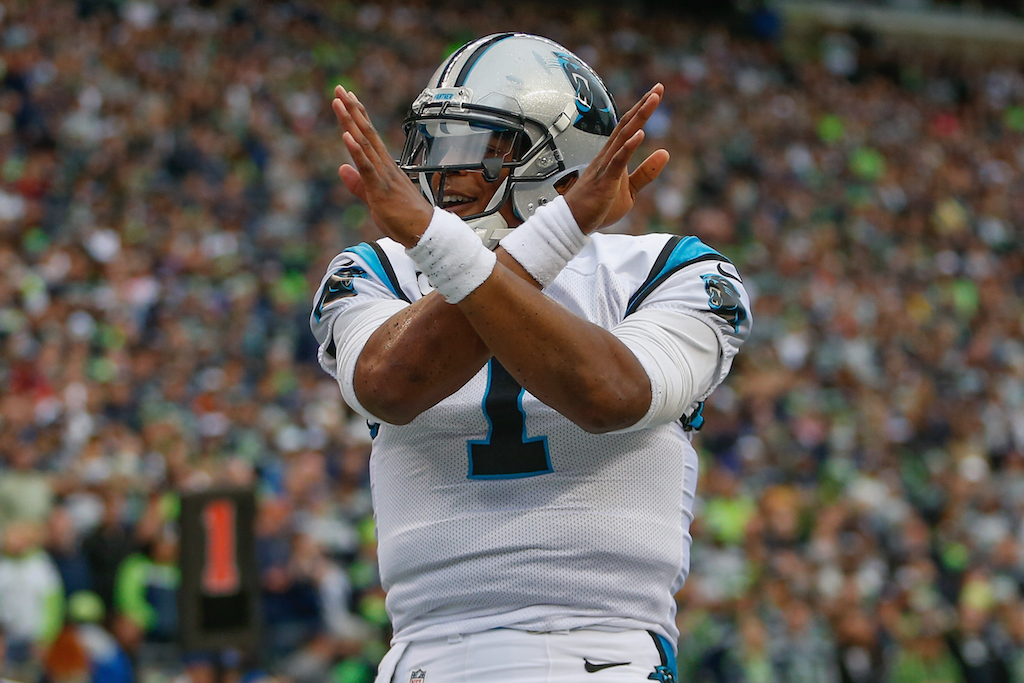 The Panthers are a physical team that hits hard and plays ugly (at times). There might not be a quarterback who fits that style more than Newton. It obviously starts with his running ability. The reason Newton gains those yards on the ground is because he is tough, physical, and doesn't hide his emotions. The Panthers want to beat you and let you know about it afterwards. Newton does that just about every time he makes a big play. You can always tell how the QB is feeling at any point in the game, which can be a negative thing at times. However, his emotion appears to be something that fuels the Panthers. That infectious smile doesn't hurt either.
Just a couple seasons ago, Newton's attitude was thought to be a flaw in the young quarterback's development. He would always throw a towel over his head on the sideline, making people think he was sulking. Now that he is succeding and still doing the same thing on the sideline, it is clear that it is just part of Newton's mantra. If his team keeps winning, people may start to ask if the secret is in the towel.
The leadership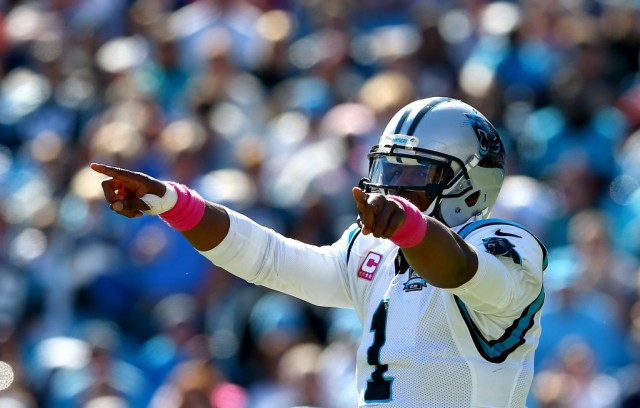 Carolina's offense is full of young, inexperienced, and unproven players. It was supposed to be an issue for this team, especially after solid receiver Kelvin Benjamin went down in the offseason with an injury. Instead, Newton's leadership abilities were able to come to fruition. Nobody outside of Newton, Greg Olsen, and Stewart have had a notable season offensively for the Panthers. Despite that, many players are making plays and playing critical roles in each of the team's victories.
Whether it's Ted Ginn Jr. or Corey Brown making a huge touchdown catch or some other player stepping up, the players on this team are finding ways to emerge and it's because of Newton. He has been able to keep everyone on that offense together, even amid adversity, while continually putting people in positions to succeed. The true sign of greatness in any individual is their ability to make those around them better. That ability shines this season for Newton, making his value to the Panthers nearly immeasurable.
Success in the clutch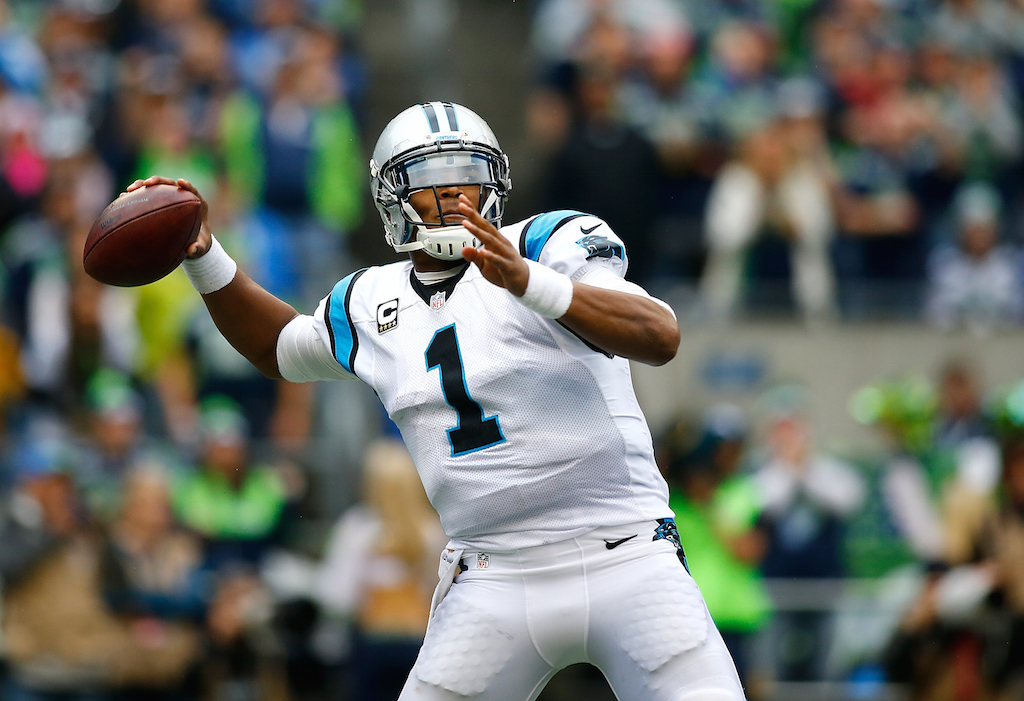 The Panthers' record may be perfect so far, but their play has been far from perfect. On several occasions this season, the team appeared down and out of a game, either because of poor play on offense or inconsistency on defense — or both. Each time, the team emerged victorious. Newton is the main reason they've been able to do that.
Of the many notable clutch performances from Newton this season, three stick out the most. First, his unbelievable comeback against the Seattle Seahawks. Entering the fourth quarter down by 9, Newton led a great drive to get the Panthers within three yards with about four minutes left. Then, with 32 seconds remaining, he fired a perfect pass to Olsen to steal a victory on the road and keep the team undefeated. That victory has had a ripple effect on the Panthers ever since.
A couple weeks later, Carolina hosted the Indianapolis Colts on Monday Night Football. After giving up a big lead on three drives by Andrew Luck, the Panthers found themselves down by three in overtime, needing at least a field goal to keep the game going. Newton led that game-tying drive, putting his defense in position to make a clutch play, which ultimately led to the win. This was a true game of grit and overcoming adversity, and Newton was at the heart of the effort.
Newton's most recent clutch performance in a big game came this past weekend against the Green Bay Packers. He put up three touchdowns in the first half (one on the ground) to give the Panthers a big lead. Then he threw a critical fourth quarter touchdown pass that ended up being the difference in the game. This victory cemented Carolina as the team to beat in the NFC.
With his great play, physical attitude, legs, and (yes) even his arm, Newton's value to the Panthers has kept them above .500 this season. Even though Carolina is good defensively, their offense wouldn't be nearly as productive without their tough-minded quarterback leading the charge. Newton might not be league MVP, but if he continues to lead the Panthers to this kind of success, that award will be the farthest thing from his mind.
All stats and info courtesy of ESPN.com and Pro-Football-Reference.com.