NFL: Khalil Mack Sets the Tone for the Bears With 3 Simple Words
The Chicago Bears suffered a heartbreaking defeat in the playoffs last season to the Philadelphia Eagles. The team lost when kicker Cody Parkey was unable to convert on a last-second 43-yard field goal. Despite their woes in the kicking game, the Bears should contend for the playoffs again in 2019.

One of their top players, linebacker Khalil Mack, emphasized this point recently when he set the tone for the Bears' season with three simple words. The quote reflected the urgency surrounding the Bears but also the confidence Mack and the team have heading into this new season.
So what did Mack say, and how likely are the Bears to make his words come true?

The three words Khalil Mack said that set the tone for the Bears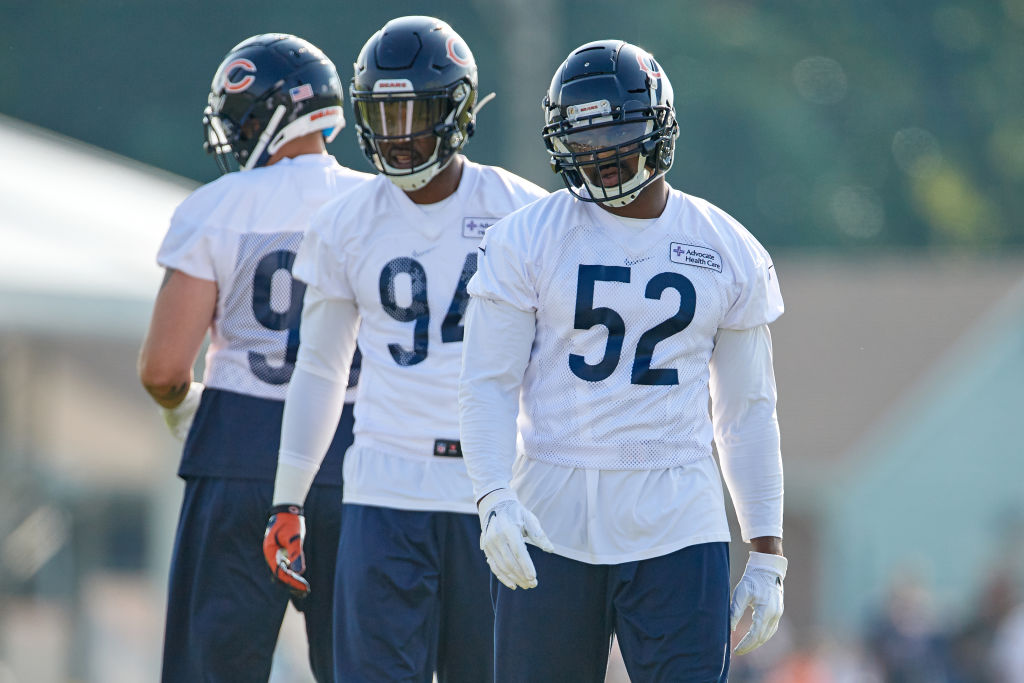 When asked about how important it was for the Bears to win this season, NFL.com reported that Mack answered succinctly:

"No one would define Khalil Mack as an old man, but the Chicago Bears' pass-rushing bully spoke like a man with urgency to win it all before it's too late. 'Absolutely," Mack said, via the Chicago Sun-Times. 'You've gotta win. Gotta win now.'"
"Gotta win now" is a pretty accurate summary of how many teams in the league view their season. This quote emphasizes the team's despair over losing last season's playoff game after coming so close. After nearly advancing, the team had victory snatched away from them. According to Mack, they need to capitalize on that feeling by winning now before their window of relevancy closes.

Khalil Mack's career
Mack's sense of urgency may be tied to the fact that he has so rarely played for a winning team. Last season was Mack's second playoff appearance. During his four prior seasons in Oakland, the Raiders managed to qualify for the postseason only once, in 2016.

Khalil Mack is one of the finest defensive players in the league. He has 53 career sacks and 350 career combined tackles. He's also amassed 102 quarterback hits. He was the 2016 NFL Defensive Player of the Year, is a three-time All-Pro and a four-time Pro Bowler.

In 2018 Mack continued his stretch of greatness. He had 12.5 sacks, 37 solo tackles, and six forced fumbles on his way to a Pro Bowl selection.
While Mack is no doubt a great team player, the thought of being a great player who spends his prime years on losing teams is a difficult prospect. Mack is still relatively young at only 28, but he surely wants to use his prodigious talents to help a team win a championship now while he's still elite.

What are the Bears' chances for 2019?
Last season, head coach Matt Nagy helped bring the Bears back from the brink of four consecutive last-place finishes to finish 12-4.
2018 was something of a breakout (if not at times inconsistent) year for Bears' quarterback Mitchell Trubisky. That said, the Bears are still heavily reliant on their defense. New defensive coordinator and former Indianapolis Colts head coach Chuck Pagano will have plenty of talent to work with. The unit boasts several Pro Bowlers including Mack, defensive end Akiem Hicks, safety Eddie Jackson, and cornerback Kyle Fuller.

The defense can only do so much. Trubisky needs to step his game up to franchise quarterback level if the team wants to go deep into the playoffs. They'll also need receiver Allen Robinson to emerge as a better No. 1 option in the passing game. Robinson was recovering from a 2017 torn ACL last season, so he should be at 100% this season.

If the Bears offense can keep up with their impressive defense, they may have the ability to win now like Khalil Mack said they should.