NFL: Larry Fitzgerald Believes the Kyler Murray Hype is Real
The Cardinals used the first overall pick in this year's draft to select Kyler Murray from Oklahoma, meaning they have faith in him to be their franchise quarterback for years to come.  There has been a lot of hype surrounding Murray entering this season, and future Hall of Fame teammate Larry Fitzgerald thinks the Murray hype is real thanks to the rookie's early training camp performance. Here's what Larry Fitzgerald had to say about his new quarterback.
Kyler Murray's college career
After a season at Texas A&M in which he only played in eight games and threw 121 passes, Murray transferred to Oklahoma for the 2017 season and became the team's starter in 2018. That season, he threw for 4,361 yards and 42 touchdowns with just seven interceptions in 14 games. He also ran for 1,001 yards and 12 touchdowns on 140 carries. Those stats were good enough to earn him first-team All-American honors and the 2018 Heisman Trophy, among other accolades.

Murray and the 2019 draft
Despite only have one full season as a starter under his belt in college, the Cardinals weren't afraid to take Murray with the No. 1 pick just a year after using the 10th overall pick on QB Josh Rosen. They traded Rosen to the Dolphins after drafting Murray. That makes Murray the team's unquestioned starter heading into the 2019 season — probably — and, they hope, beyond that.

Larry Fitzgerald's Hall of Fame career
Fitzgerald is entering his 16th season in the NFL, and he has played with a lengthy list of quarterbacks — from stars such as Kurt Warner and Carson Palmer to journeymen such as Brian Hoyer and Josh McCown.

Regardless of who has thrown Fitzgerald the ball, he has put up Hall-worthy numbers. He is third in league history with 1,303 receptions, second with 16,279 receiving yards, and sixth with 116 receiving touchdowns — and he is the active leader in all of those categories. 

Fitz talks up Murray
With all of his NFL experience, Fitzgerald knows a thing or two about quarterbacks, and he knows a good one when he sees him. So when he talks up Murray, people listen.

When talking with Warner, who now works for NFL Network, the Hall of Famer asked Fitzgerald how Kyler Murray looks. Fitzgerald answered by saying he's "never seen a quarterback come in so quickly and be able to command an offense."

He went on to say that from the first day of camp, Murray's "understanding of the offense is crazy."The praise didn't stop there, as the wide receiver continued by telling Warner that "giving [Murray] the keys to the car and letting him [go] is going to be great for" the Cardinals, who are looking to improve upon last year's three-win season.

Cardinals' 2019 outlook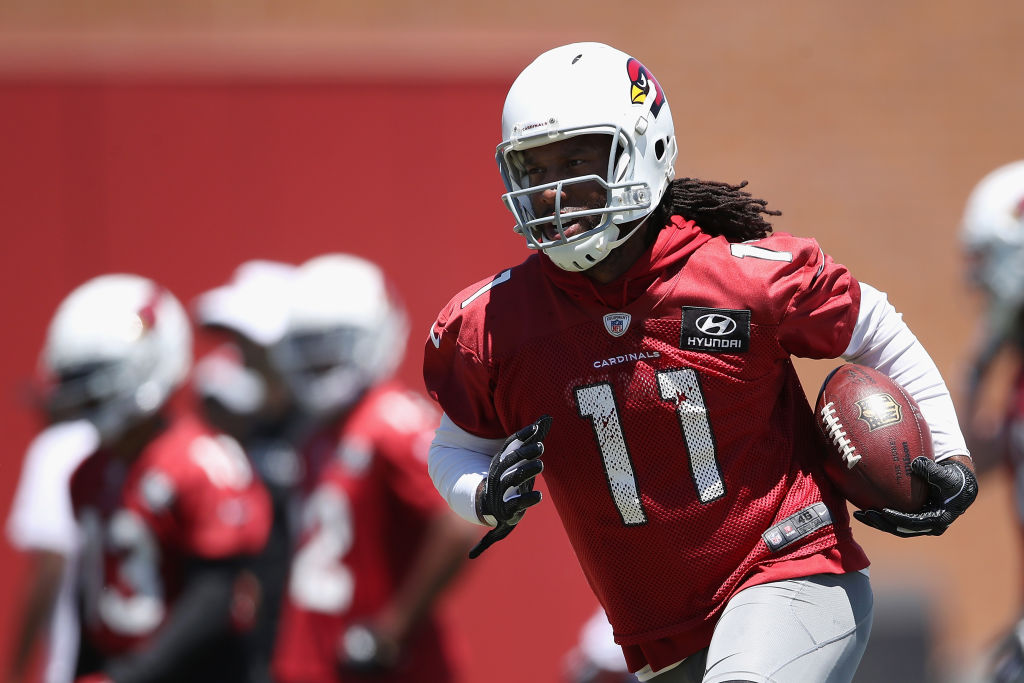 Rosen and Sam Bradford were the Cardinals' starting quarterbacks last season, and they combined for just 13 passing touchdowns; Bradford had two of them in his three games, which was only one more than Fitzgerald threw in his only pass of the season. That is why the Cardinals felt that they needed to take Murray in this year's draft.

Despite Murray's upside, he will have a hard time putting big numbers on the scoreboard for the Cardinals because of the lack of offensive weapons around him. Other than Fitzgerald, there is RB David Johnson and a bunch of guys who are either average or unproven. That includes TE Charles Clay and WR Christian Kirk, who both sit at the top of the Cardinals' depth chart.

The Cardinals also have a first-year coach in Kliff Kingsbury. The combination of a rookie quarterback and head coach, along with a questionable offense aside from a couple of guys means that the Cardinals are probably at least a year or two away from being competitive. Still, the way Fitzgerald sees it, any success Arizona has this season will be because of Kyler Murray, and not in spite of him.