NFL Legacy Watch: 7 Quarterbacks Who Have the Most on the Line for 2014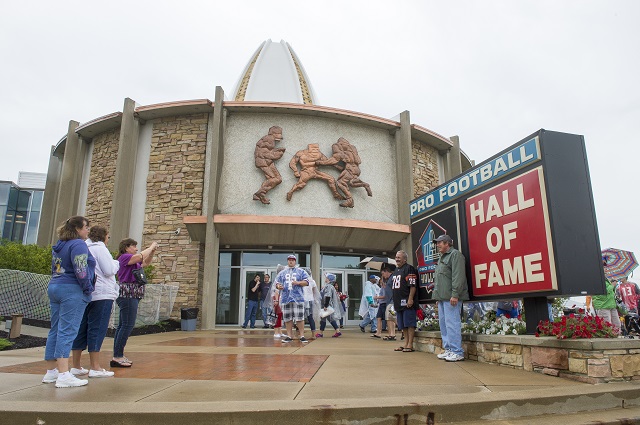 Few things can dominate a conversation about the NFL more thoroughly than a discussion on the legacy of a player. Because the league takes so much out of a player so quickly — NFL careers are brutish, painful, and short — tomorrow's rising young star becomes yesterday's grizzled veteran in the blink of an eye, and a promising start can turn into an unmatched watermark before anyone has any idea. As quarterbacks are the natural focal point of a professional football team, their legacies and post-career accolades are constantly stoked, stuttered, and squandered season after season.
2014 is no different, and as we get set to break ground on the new NFL season, after the always-unsatisfying preseason games and many long months since the Super Bowl, let's take a look at the seven quarterbacks who have the most to gain –and lose – in terms of their public perception over the next 16 weeks or so.
7. Johnny Manziel, Cleveland Browns
The Manziel hype train is completely disconnected to his actual performance on the football field, since he played kind of awfully during the preseason and couldn't even beat out Bryan Hoyer for the starting signal caller's gig for the Browns. But Johnny Football, more than any other rookie save perhaps Jadeveon Clowney, stands to have his path written out before him as soon as possible. Everyone wants to know if he'll be the next Ryan Leaf, the next Tim Tebow, the next Russell Wilson, or just the next Greatest Quarterback of All Time Forever With No Exceptions. No pressure.
6. Robert Griffin III, Washington Redskins

Few players have exemplified the impressive speed of the likely career arch more exhaustively than RGIII, who enters into his third season after a breakout rookie year, a devastating injury, and a season that looked lost to rust, rustled nerves, and rehabilitation. Griffin's career will, in all likelihood, be forever paired to the trade that sent the St. Louis Rams an army of Washington draft picks in exchange for the second overall draft pick. Now that Sam Bradford tore his ACL and is done for the season, the Rams are looking like they ought to have just taken Griffin, but his play this year could swing the pendulum back the other way once again.
Griffin's play is important because he's still on his rookie deal, and because Washington has some glaring holes elsewhere and few assets to fill them with, since they sent them out in order to land their presumed franchise QB. If Griffin fails to reach the lofty standards of his rookie year for a second consecutive season, they'll be looking S.O.L. for yet another year in D.C.
5.  Matt Ryan, Atlanta Falcons
This is the first year of Matt Ryan's massive $100 million contract extension (and, like most of those NFL contract extensions, it's much less expensive than it looks when you talk about guaranteed money) after six years of roundly solid regular season play and very little playoff success to show for it since being drafted third overall back in 2008. Ryan's not a bad quarterback – far from it – but he does seem to be falling into a reputation that doesn't include long runs into the postseason. Now that Ryan's officially done with his rookie deal, the gloves have come off regarding his legacy, too — not that they hadn't before, of course. Fans are nothing if not fickle.
4. Eli Manning, New York Giants

No NFL fan could hope to be as fickle as the football talents that Eli Manning seems to be in erratic possession of, though. After throwing 27 interceptions against just 18 touchdowns last year, the be-ringed Manning brother didn't look all that different from his performances when he was, you know, winning Super Bowls. And he has been the quarterback for two separate NFL champions, despite the fact that, regardless of the outcome, Eli always seems like he's fluked his way there — be it a championship or a 7-9 finish. A third Super Bowl, or failing that, a convincing postseason run, would (probably) work wonders on Eli's Of Mice And Men demeanor.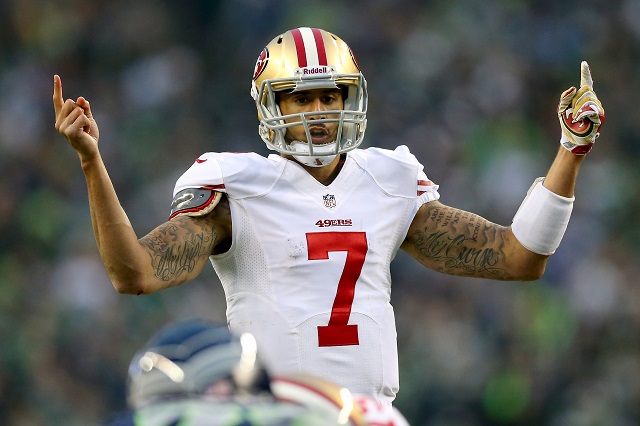 3. Colin Kaepernick, San Francisco 49ers
The second entry into the young guys who just got paid category, Kaep has finally moved beyond the ohmigod-he-has-tattoos clutter to become, undoubtedly, one of the best quarterbacks in the NFL on a team that looks really good but hasn't actually won anything substantial yet. And, no, getting stomped on by Seattle isn't meaningful in any way, shape, or form, except that they lost. Being the quarterback on a Niners squad that loses a lot isn't the end of the world — just ask Alex Smith — but there's a reason the Bay Area team gave him such a huge extension this early, and it wasn't to play like the guy who wound up in Kansas City.
2. Tom Brady, New England Patriots
At this point, Tom Brady has become an extension of Bill Belichick's noted belief-slash-performance art that it is possible to field a successful NFL team while lowballing everyone, all the time. The Patriots' receiving corps has come to resemble a wet paper bag more and more as Brady finishes out the last 10 years without a Super Bowl win despite being a perennial playoff presence. Also, being able to claim another title would do wonders toward assuaging any lingering SpyGate criticism, valid or not.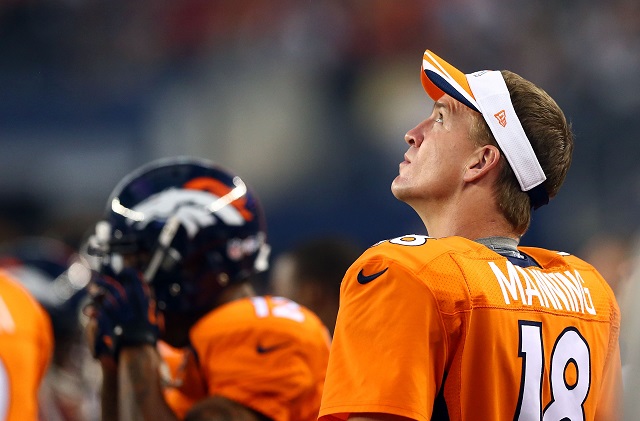 1. Peyton Manning, Denver Broncos
In many ways, 2013 was the ultimate Peyton Manning season, in that it validated almost everything that's ever been put on paper about his play, right up to his team's inability to come up in the clutch when it really mattered — the Super Bowl. There's no better summary of the 38-year-old's surefire Hall of Fame career than that, at least, up until this point. Leading Denver back into the postseason and back to a triumphant turn at the Super Bowl would quiet the doubters, although perhaps not derail the narrative in its entirety.